16 Flares
Made with Flare

More Info

'>
16 Flares
×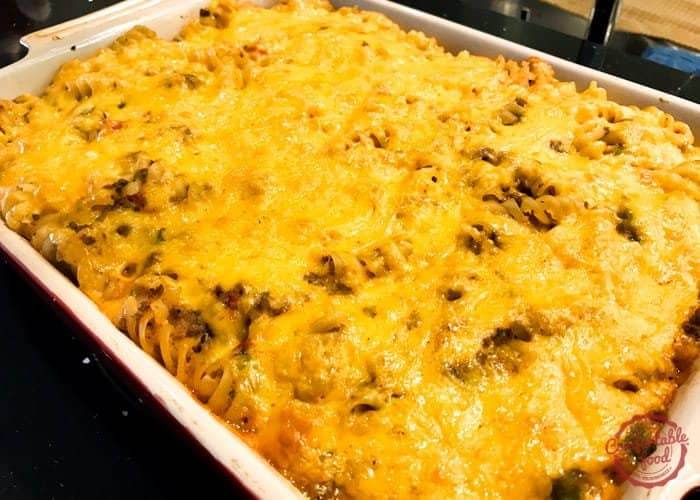 Making dinner that can please an entire family – kids and adults alike can be a bit challenging.  This casserole solves that problem, it's rich and cheesy, hearty and absolutely delicious.  It will keep the young ones and grown ups alike coming back for more.
It's very easy to modify, you can use reduced fat cheese if you want and ground turkey instead of beef to lighten up on the calories a bit.  You can jazz it up with some crushed red pepper if you have spicy eaters in your home.  No matter what – it's a sure fire hit any night of the week.  Delicious.
from: ben rayl
the meaty mac 'n cheese casserole
prep time:

25 minutes

total time:

30 minutes

makes:

enough for 6 people
Ingredients
how to
Bring a large pot of salted water to boil and heat the oven to 400 F.
Cook the pasta in the salted water to 2 minutes less than package directions, then drain and rinse with cold water and set aside.
Melt the butter in a large heavy bottomed skillet over medium low heat, then add the garlic and cook for a minute or two, then add the onion and green pepper and cook until softened.
Increase the heat to medium high and add the ground beef and cook until almost cooked through, then add the basil, oregano and paprika and cook until done.
Reduce the heat to low, then sift the flour over the top of the beef and stir in until well combined.  Stir in the milk, tomatoes, salt and pepper to taste, and mix well.  Simmer on low heat for 5 minutes to allow the flavors to combine.
Put the cooled pasta in a large bowl, and pour over the beef mixture and 1/2 of the cheese.  Mix well.
Grease a 9x11" baking dish, then pour the pasta mixture into it, patting it down with the back of a wooden spoon.  Sprinkle the remaining cheese over the top, and bake for 25 - 30 minutes, or until the cheese on top is golden brown and bubbly.
Allow to cool for 5 - 10 minutes before serving.
click here for a printer friendly, text version