Whether you're in the mood for something decadent, light, or hearty, these vegan comfort food recipes are sure to satisfy your cravings.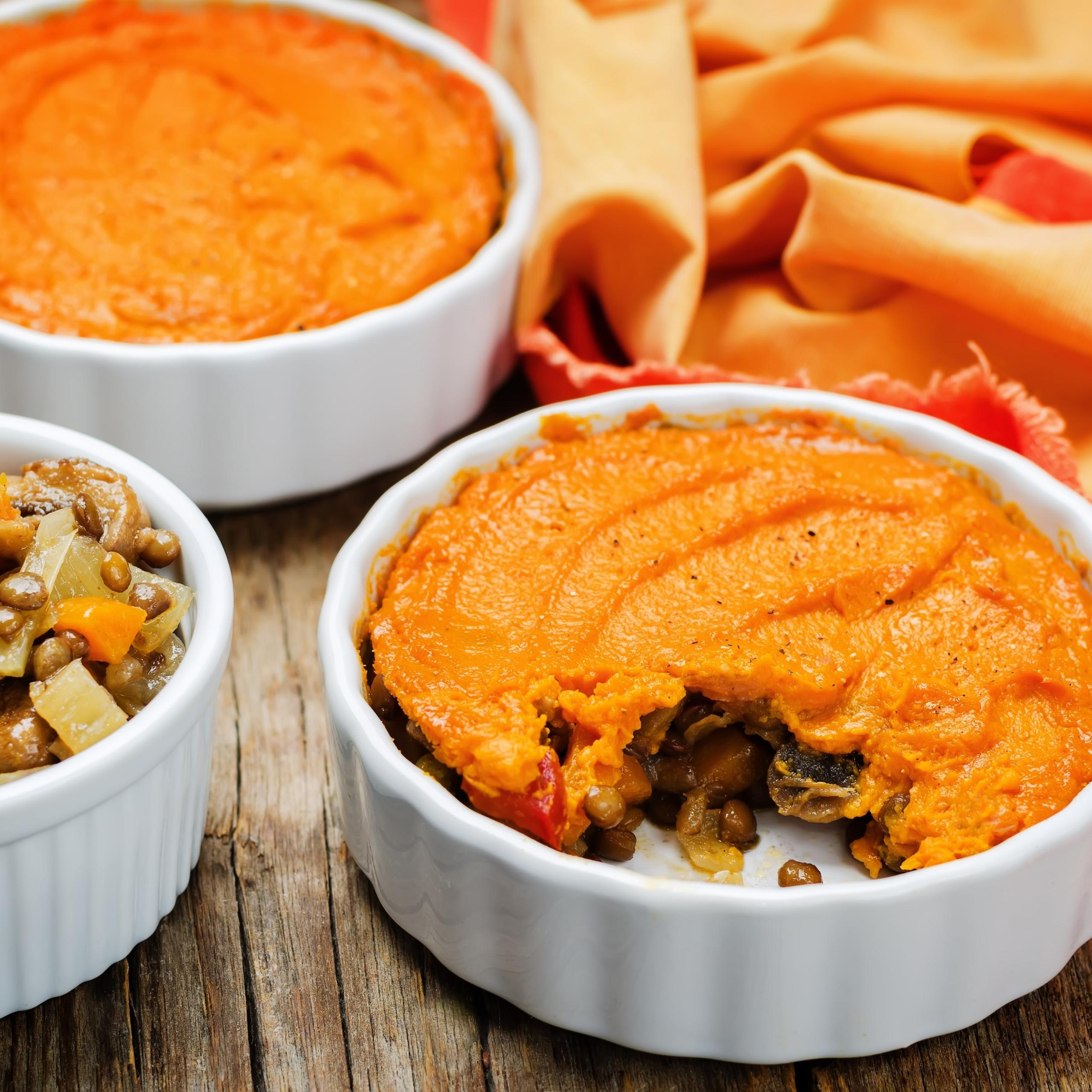 While we all have different ideas on what counts as comfort food, one thing remains clear - comfort foods, plant-based included, are absolutely delicious.
To prove that, we've rounded up this list of our favorite vegan comfort foods. From breakfast to dessert and everything in between, this mouthwatering selection has it all.
When the weather turns cold and gray, there's nothing better than a warm bowl of French onion soup. This vegan version is made by simmering caramelized onion in veggie broth, red wine, Worcestershire sauce and fresh herbs.
The result is a deliciously rich, incredibly flavorful, and super comforting meal that's ridiculously easy to make.
Topped with toasted French bread, it's hearty enough to be served as a main course.
Sweet potatoes, white beans and guacamole combo not only pack a nutritional punch but tastes amazing too.
It has the perfect balance of sweet, savory and nutty flavors that's sure to please vegans and meat-eaters alike.
A drizzle of citrusy tahini dressing on top helps round out the tastes. Add your favorite toppings, if desired. But keep it savory to counter-balance the sweetness of sweet potatoes.
Take your taco Tuesdays to the next level with these addictively good vegan birria tacos. Sauce-dipped corn tortillas are filled with flavorful and saucy jackfruit & oyster mushrooms, fried to crisp perfection, then topped with vegan cheese, lime and cilantro.
Serve with the remaining ancho and tomato sauce for dipping.
Smothered in cashew cheese sauce with nutritional yeast, this healthy twist on the classic is the most luxurious and creamy mac and cheese you'll ever make.
The thyme-seasoned breadcrumb topping adds a nice crunch and flavor with every bite. This will soon become your go-to recipe when the comfort food cravings hit.
Pair with a green salad for a great vegan dinner.
Easy to whip up, full of hearty, good-for-you ingredients and ready in an hour - you'll want to keep making this butternut squash curry recipe all winter long.
Plus, it freezes well, so you can make a big batch and enjoy it later when you're pressed for time and need a hot dish stat.
This curry is perfect for serving alongside rice for a cozy, cold-weather meal. A crunchy salad and pillowy naan are great accompaniments too.
Add a splash of color and nutrients to your morning with this wholesome breakfast bowl of berries, banana, creamy peanut butter and dates, topped with crunchy granola and vegan chocolate.
But feel free to add your favorite choppings. Nuts, seeds, dried fruits, coconut shavings are excellent additions.
This bowl of nutritious goodness can also be enjoyed as a healthy dessert or colorful snack.
Consider this amazingly crispy vegan option of corn dogs. It's almost every bit as delicious and comforting, but made with a vegetable and gluten-free, vegan batter.
These hand-held delights are a great snack option or tasty lunchbox addition. They're also a smart way to sneak some veggies for the kiddos.
Best of all, they freeze well for grab-and-go convenience.
When it comes to vegan comfort food recipes, it doesn't get much more comforting than this spaghetti marinara and lentil balls.
Baked and full of flavor veggie balls are served over a bed of spaghetti smothered in hearty oil-free marinara sauce. It's then topped with extra sauce and basil for a nice finishing touch. It tastes so delicious, your whole family will love it.
Preparing the lentil-mushroom balls might take a little extra time, but the results are absolutely worth the effort.
This Irish stew with savory herb dumplings recipe has all the richness and heartiness of its beef counterpart.
It's packed with earthy mushrooms, lovely root vegetables and rich broth seasoned with garlic, fresh herbs and a shot of beer.
This stew recipe is sure to warm you up on chilly nights.
This dairy-free take on the classic pecan pie is as decadent and as it is delicious. It has a truckload of cinnamon, maple and vanilla flavors, and a sweet & savory crust to pair with it.
This dessert recipe is sure to put a smile on everyone's lips. And the leftovers will make a yummy treat with a cup of coffee or tea the next day.
The recipe uses homemade crust, but you can use a store-bought one that's naturally vegan.
Crispy on the outside tender on the inside, these tofu nuggets are just as tasty as chicken nuggets.
These tasty bites aren't complete without a nice super creamy dipping sauce on the side to balance out the flavors.
The creamy dressing is a little herby, a little tangy, which complements the nuggets perfectly.
This is vegan comfort food at its finest. It has it all - crunchy walnuts, earthy mushrooms, nutty tofu, refreshing bok choy, spicy peanut sauce and hearty rice noodles.
The best part is that this easy recipe only takes about 30 minutes to come together. It's a perfect weeknight dinner the entire family will love.
Eating healthy doesn't mean depriving yourself of yummy food. This vegan lasagna is deliciously rich, hearty and tastes heavenly - it's the perfect weekend indulgence.
Gluten-free lasagna sheets are layered with creamy tofu ricotta with spinach and savory pasta sauce, then finished off with a touch of the extra sauce and vegan mozzarella.
Once you taste this recipe, you'll never want your lasagna any other way.
The name says it all. This chili recipe is extremely easy to make and chockfull of healthy, wholesome ingredients. Plus, everything comes together in just one pot, so there's minimal cleanup!
It's a fantastic recipe when you need a fuss-free dinner.
This one-pot recipe is delicious and filling on its own, but you can make extra special with toppings such as tortilla chips, avocado, cilantro, etc.
These meatless wraps are packed with texture, delicious flavor and are anything but boring.
The nutty, tangy, spicy and bright peanut dressing gives the dish an intense depth of flavor that's sure to please just about everyone.
If you're not a fan of peanut butter, consider another nut or seed butter like cashew, almond, or sunflower seeds.
One of my favorite fall soup recipes, this drool-worthy pumpkin soup with exotic Thai flavors is guaranteed to warm you up on a chilly day.
Sweet pumpkin, fragrant garlic, tangy ginger, creamy coconut milk and cozy pumpkin pie spice provide a generous amount of flavor that you're going to love. There's no doubt this soup recipe will become your favorite too.
It's also impressive and festive enough to serve at Christmas dinner or get-togethers with friends.
This vegan twist on the classic enchilada casserole is the ultimate comfort food. The best of everything is found here - vegan cheese, black beans, enchilada sauce, veggies, spices and corn tortillas.
It's insanely tasty, filling, comforting and will be a hit with everyone at the table.
Top the casserole with your favorite Mexican toppings and enjoy.
With veggies and pasta in cashew cream sauce, this weeknight pasta dish is sure to satisfy the whole family, even picky eaters.
A sprinkle of hemp adds an extra punch of protein, while the red chili pepper flakes provide the right amount of heat to balance out everything.
This recipe is delicious as it is, but you can use any vegetables you have on hand.
Try one of my comfort recipes for your next family meal! And if you have any questions, I'm here to help!