This dish is truly a culmination of two of my favorite things. I can hardly go to a restaurant that has pork tenderloin on the menu and order something else, and my love for chipotle chiles runs deep and true. This marinade and sauce combines the smoky spiciness of this amazing chile with zesty lime and sweet honey and the result is fantastic.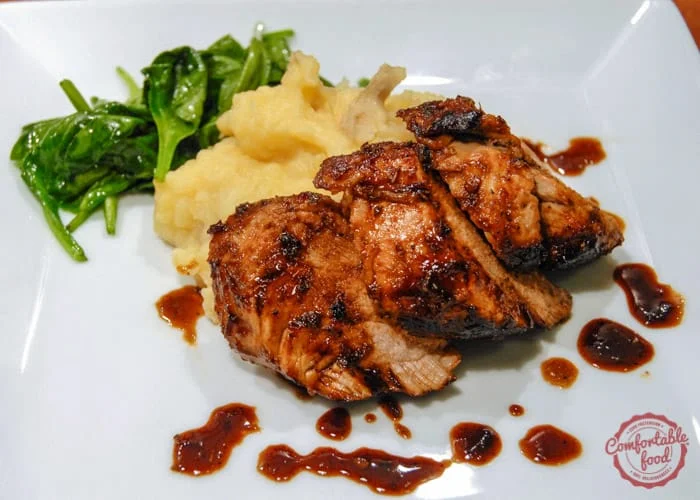 The cumin, garlic, and oregano add an exotic yet subtle element—they should not be left out.  The pork takes these flavors so well and I really recommend you marinate it as long as possible. I left this one in the fridge for about 24 hours and it came out absolutely perfect. I paired it with some creamy mashed potatoes, sauteed spinach, and a glass (or two) of a nice Ribera del Duero, and it was an exceptional dinner.
If you are in a mood for more pork meals then you should try my braised pork shanks recipe.
📋 Recipe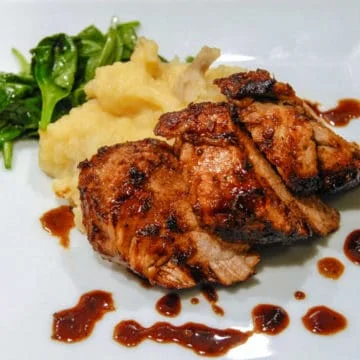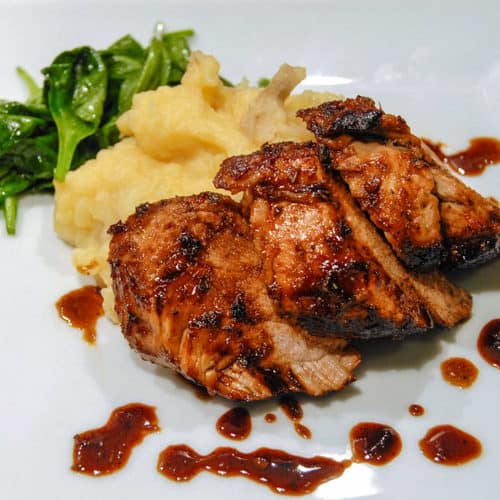 Marinated Pork Tenderloin
This Marinade Pork tenderloin  and sauce combines the smoky spiciness of this amazing chile with zesty lime and sweet honey and the result is fantastic.
Print
Pin
Rate
Share
Ingredients
½

cup

orange juice

-

fresh squeezed

¼

cup

lime juice

-

fresh squeezed

zest of 1 lime

¼

cup

honey

2

teaspoon

kosher salt

1

teaspoon

garlic powder

1 ½

teaspoon

cumin

-

ground

2

teaspoon

oregano

1

chipotle chile

-

chopped

1

tablespoon

adobo sauce

-

from canned chipotles

1

pound

pork tenderloin

1

tablespoon

vegetable oil

chopped

-

for garnish cilantro
Instructions
Put the orange juice, lime juice, zest, honey, salt, garlic powder, cumin, oregano, chipotles and adobo in a blender or large food processor, and pulse a few times to make sure it's well blended.

Put the tenderloin in a large zip lock bag and pour in about half of the marinade. Make sure the pork is completely surrounded by marinade by removing as much air as possible from the bag, then put it in the fridge to marinate for at least 2 hours, up to 24. Put the remaining marinade in a sealed container in the fridge.

Remove the tenderloin and reserved marinade about 30 minutes before you're ready to cook it and allow it to come to room temperature. Preheat the oven to 425°F (225°C).

Heat the oil in a cast iron (or oven safe) skillet over medium high heat. Place the tenderloin in the skillet and sear on all sides; about 2 - 3 minutes per side, then place the skillet in the oven and continue to roast the tenderloin for about 15 more minutes. Remove the tenderloin from the skillet to a plate, and cover with a foil tent while you make the sauce.

Put the skillet (with juices in it) back over a high flame, and pour in the reserved marinade. Stir and cook until the sauce thickens.

After letting the tenderloin rest for about 10 minutes under the foil, place it on a cutting board and slice into medallions. Serve topped with the sauce and sprinkled with chopped cilantro.
Nutrition
Calories:
274
kcal
|
Carbohydrates:
26
g
|
Protein:
24
g
|
Fat:
9
g
|
Saturated Fat:
4
g
|
Trans Fat:
1
g
|
Cholesterol:
74
mg
|
Sodium:
1998
mg
|
Potassium:
580
mg
|
Fiber:
1
g
|
Sugar:
21
g
|
Vitamin A:
108
IU
|
Vitamin C:
20
mg
|
Calcium:
43
mg
|
Iron:
2
mg