Sweet Potatoes, baked to perfection and stuffed and topped, make the ultimate comfort food. Learn how to bake a sweet potato perfectly in the oven or microwave.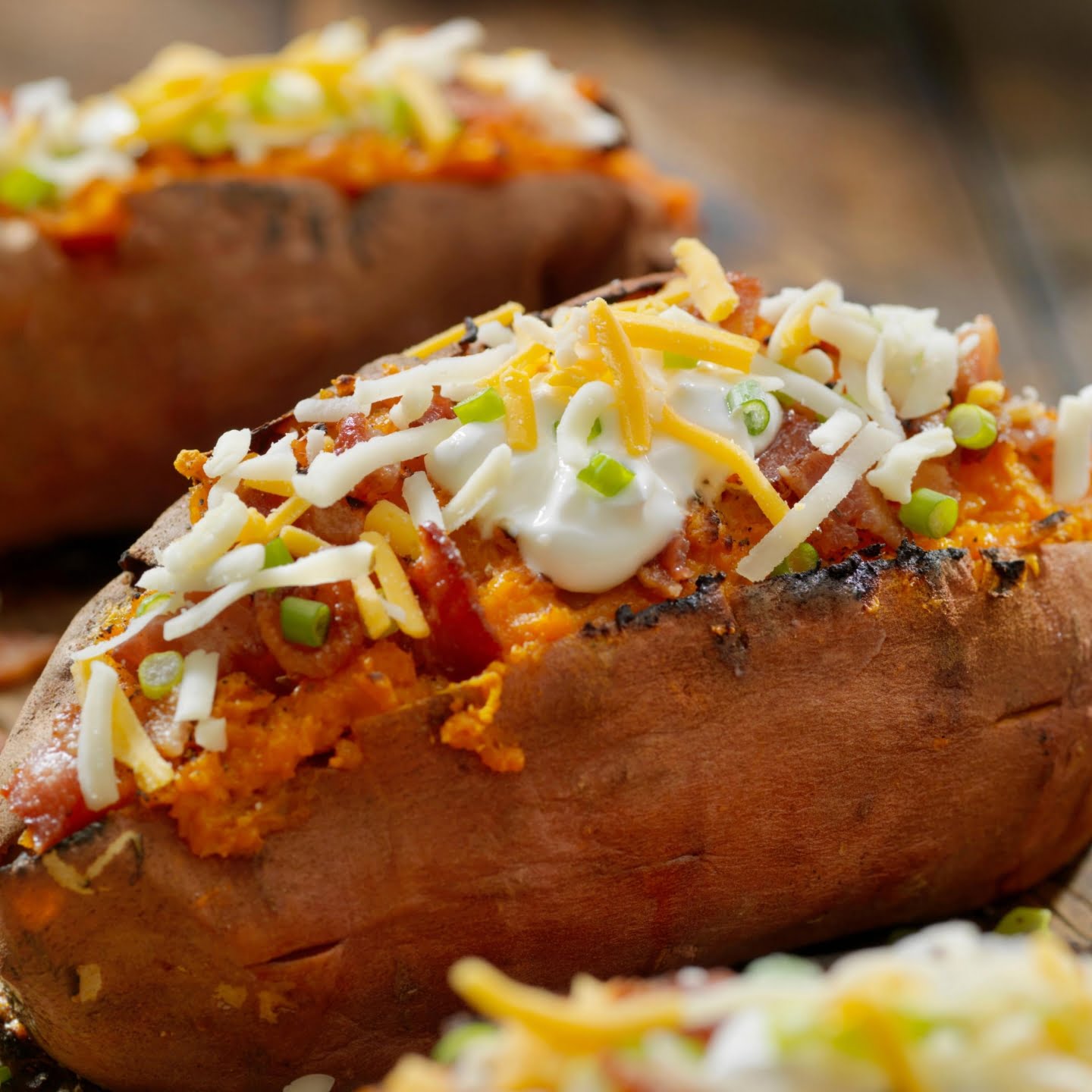 Contents
Sweet Potatoes are delicious and nutritious. These vegetables are full of fiber and vitamin C, making them very healthy. You do a lot with them, and whether you want to use them as a base or a topping, the possibilities are endless.
You can use them to make fries, wedges, mash, soups, and anything in between, including the worldwide favorite - baked. Sweet potatoes are high in vitamin A, whereas white potatoes are known for their high potassium levels. Of course, both potatoes are delicious, but there is just something special about sweet potatoes.
Health Benefits of Sweet Potatoes
Other than sweet potatoes being high in fiber, protein, carbs, vitamins A, C, and B6, they also contain healthy amounts of manganese, potassium, and copper, which are all essential parts of a healthy diet. The purple and orange varieties of sweet potatoes are rich in antioxidants, which help maintain good health. As a result, sweet potatoes are also great for gut health.
How to Cook the Perfect Baked Sweet Potato
There are two primary ways to bake a sweet potato: the oven and the microwave. These methods technically result in a baked potato, but the results are very different. Not to mention that the time difference is astounding, so if you are in a rush and need a baked sweet potato, the microwave method will be your best friend.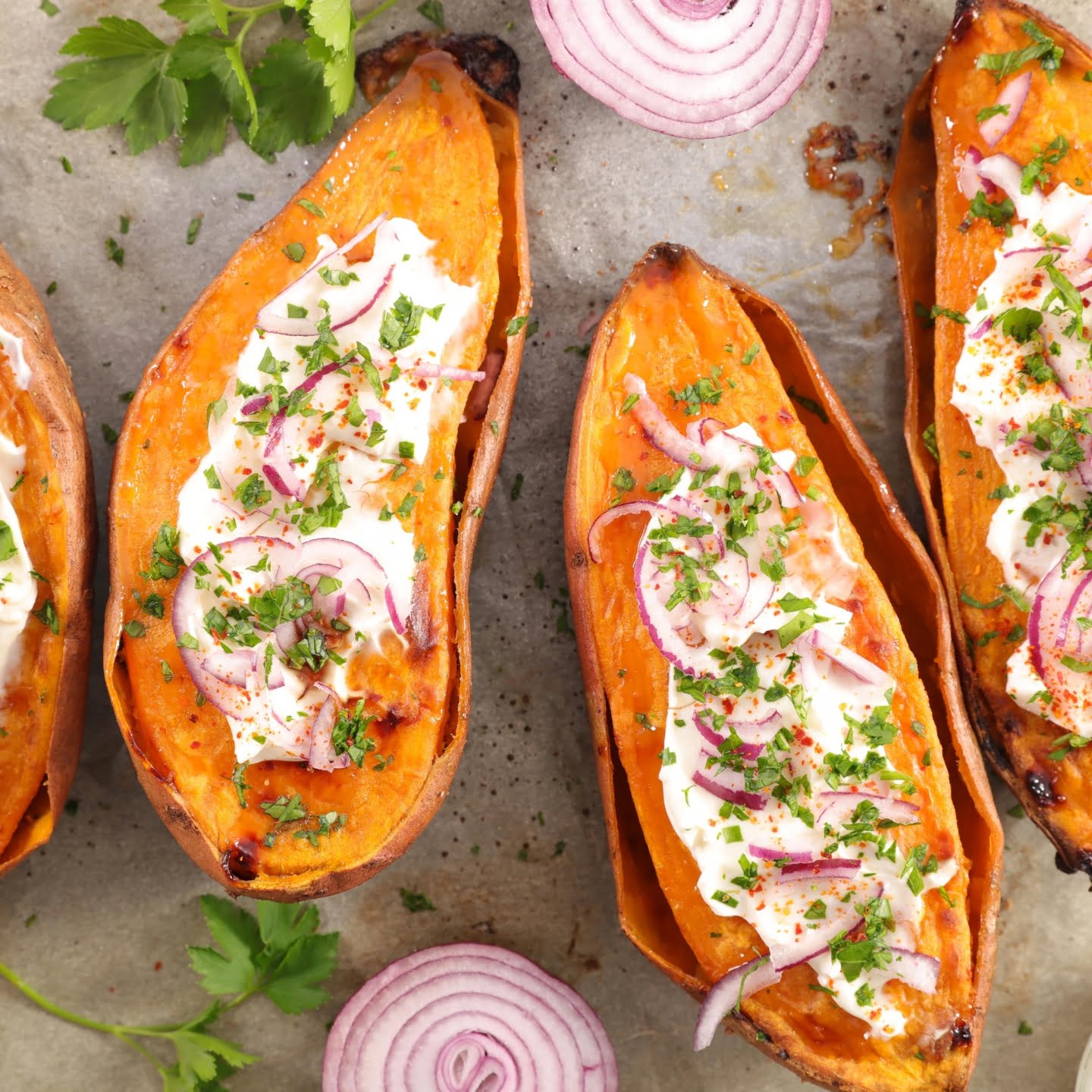 The Oven Method
The first thing you need to do to your sweet potato after preheating your oven is wash it. There will likely be dirt on it, and nothing ruins an otherwise delicious sweet potato that gritty skin. Lightly scrub the root vegetable until it looks spotless to avoid this problem.
Secondly, whip out the foil and line your baking sheet with it. Doing this will help you in the aftermath when you enter the cleanup stage - sweet potatoes are notoriously juicy when they get baked, and there will be a mess to clean up otherwise. The third thing you need is to poke holes into your sweet potato.
This technique is done with both regular and sweet potatoes and ensures that the potato won't burst, not to mention it will cook faster because the heat can get to the middle of the vegetable easier.
Number four is simple - bake until tender. If you aren't sure when this is, after around 45-50 minutes, stab a fork into the potato's thickest part. If it feels hard, the potato isn't ready, but if it is soft with resistance, the potato is ready.
If you aren't planning on eating the sweet potato skin, this is all there is to baking a sweet potato using an oven. If you want to eat the potato skin, rubbing oil over the potato once it's been pricked with a fork is a good idea. Doing this will help make the skin crispier and give it a better flavor.
A Common Mistake
Many people make a mistake when baking any potato is covering it in foil. Wrapping your sweet potato in foil will not do it any favors. It might ruin the whole thing for you. The potato's flesh will cook while the skin becomes slimy from the trapped moisture.
Leaving your sweet potato bare, or slathered in oil at the very least, means that you can get the iconic crispy, puffed skin that everyone loves.
A Tip For When You Are in a Hurry
If you have 30 minutes to get your sweet potato ready, chop it in half before baking it. Make sure you rub them in oil and place them skin-down on a baking sheet. This will cut the cooking time by almost a half, making it a great go-to if you are short on time.
The Microwave Method
The microwave method is a lot quicker but won't give you that delicious crispy skin so many of us want and need in our lives. Like the oven method, you firstly need to wash your potatoes and then dry them.
Use a fork to stab the clean, dry potatoes and get a sheet of paper towel to dampen and wrap them around the potatoes. One sheet should cover one potato, so use as many as required and ensure that the sheet is not dripping wet.
The cooking time will vary depending on the number of sweet potatoes you are baking. If you are baking one potato, put it in the microwave for 3 minutes on each side. Like you do with oven potatoes, stab the potato with a knife to check if it is ready. If it is not soft, put it back in the microwave for another minute and test it again.
If you are cooking several potatoes, the cooking time will go up. Trying to cook more than three potatoes at a time in a microwave is not recommended, so try and stick between one and three. For two or more, microwave the potatoes for 4 minutes on each side before testing if they are ready.
In general, this method could take up to 10 minutes. This depends on how powerful your microwave is and the size of the potato(es) you are baking.
When the potatoes are cooked, enjoy them with your favorite topping or filling, and dig in.
Sweet Potato Toppings
There are a number of toppings that go with sweet potatoes, and everyone will have a different preference. Some people will only use sweet things for their topics, such as sugar, while others will use 'regular' potato toppings like cheese. Some great options for sweet potato toppings include:
butter, cinnamon, and sugar
sour cream and chives, mushrooms or chickpeas
chili con carne
guacamole and salsa
pesto
greek yogurt
tahini sauce
variety of cheese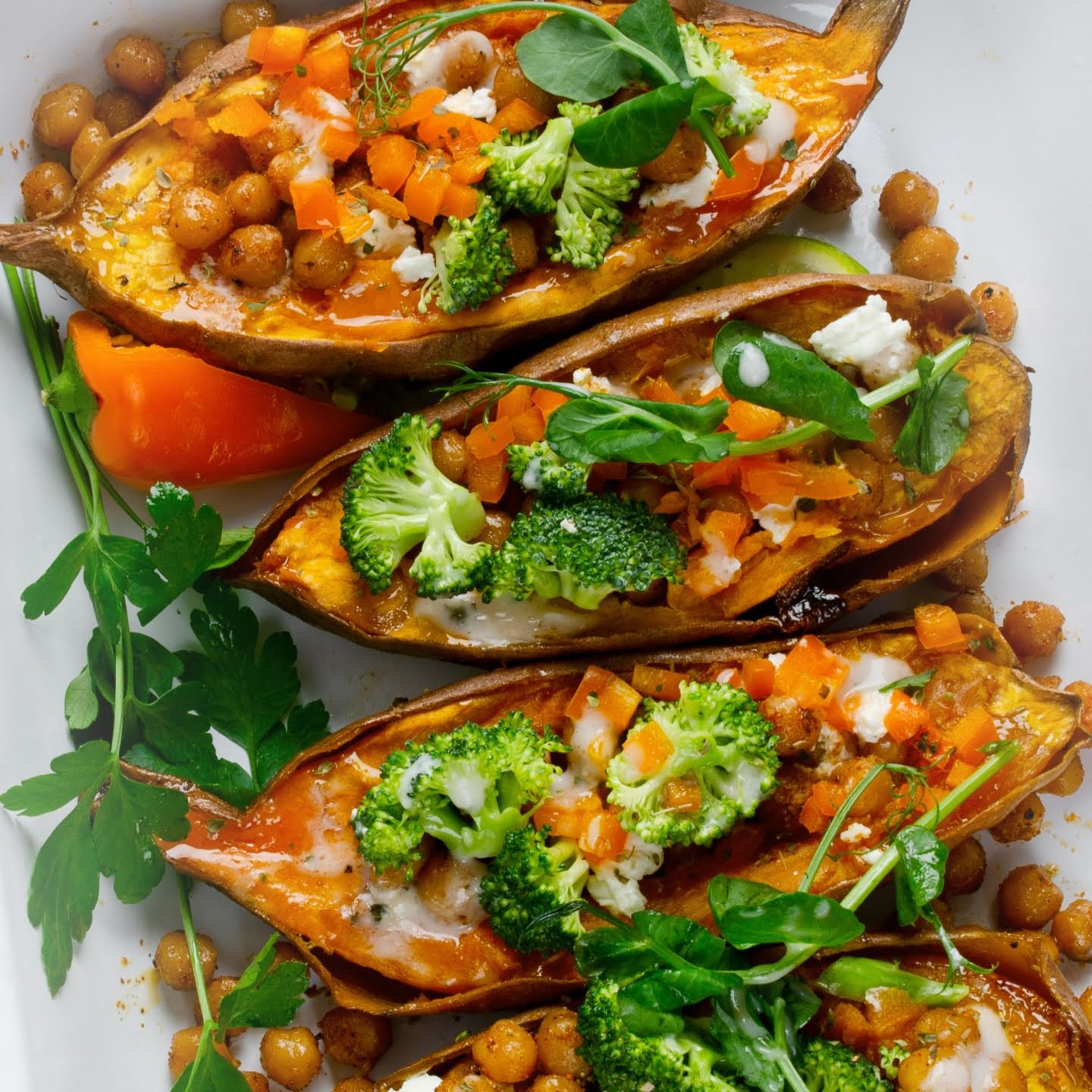 Anything goes when it comes to sweet potatoes and fillings. If you haven't tried a filling that you often use on regular potatoes, why not try it out on their sweet cousins? Chances are, it would be delicious, if not more delicious, than with the white potatoes.
Related Potato Recipes
If you love potatoes, try one of these easy and delicious recipes for your next meal! Including my Hasselback potato recipe.
Frequently Asked Questions
Do you have to peel sweet potatoes before baking?
Sweet potato skins are full of fiber, other nutrients and antioxidants that can help support a healthy gut. They're also rich in beta carotene which has been shown to increase feelings of fullness when consumed with meals! So if you want the most nutrition out of your sweet potatoes then keep those peels on for dinner tonight.
Can you eat sweet potato skin?
The most important thing to remember about sweet potato skins is that they're safe and nutritious. You can add them easily into your diet, so give these healthy snacks a try!
Related Cooking How-tos
Do you love ingredients, hearty comfort food recipes and learning? Check out these amazing cooking kitchen how tos and always keep learning something new.
Final Thoughts on Sweet Potatoes
If you haven't made sweet potatoes part of your regular life, maybe you should. They are delicious and healthy and difficult to beat. If baked sweet potatoes aren't your thing, try making sweet potato fries or mash, there will be something that is the perfect fit for you and your palette.
How to Bake A Sweet Potato Video