Baking asparagus is a wonderful way to get a fantastic flavor that boiling or pan-frying won't achieve.
Baking or oven roasting asparagus is a sure way of getting a tender, strong taste that will work as a perfect accompaniment to a variety of different dishes.
As well as a cooking technique for flavor, baking asparagus is excellent if you don't feel like supervising your vegetables as they cook.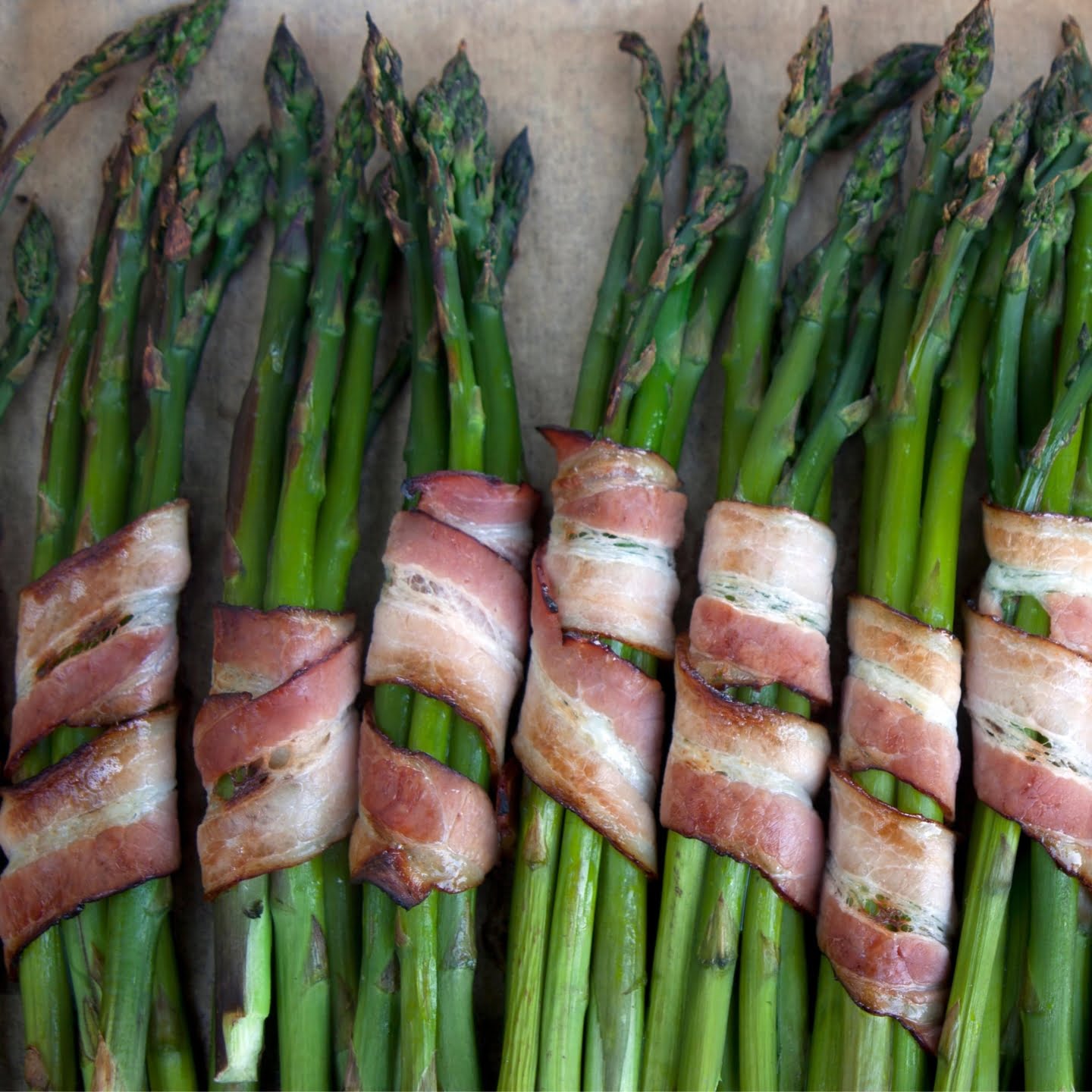 Contents
But baking/roasting any vegetable is something you should approach with at least some measure of caution. If you throw them in the oven without respecting the temperature or properly seasoning them, you can end up with burnt, bad-tasting asparagus.
For this reason, we've written this short guide to bake asparagus to help you through the process.
Below you'll find a step-by-step guide that will spare no expense in showing you exactly how to cook them. I've also added a section at the end which outlines some of our best spices you can add to make something unique and packed with flavor!
So get your oven ready and grab some tinfoil - let's bake some delicious asparagus!
What is the best kind of asparagus for baking?
Not all asparagus are created equal! If you're buying asparagus specifically with the intention of baking, there are some things to consider when looking for the perfect fit.
Believe it or not, there are dozens of different varieties of asparagus that you can buy. We recommend thick asparagus spears for baking, as they are less likely to burn quickly and are more likely to stay tender and juicy.
Thin asparagus tend to dry out and become chewy.
How to bake - a step by step guide
Learn how to make perfect asparagus every time with easy to follow step-by-step instructions.
One - Preparing your Asparagus
Firstly you'll want to preheat your oven to 400 degrees Fahrenheit. It's important that your oven is hot before you start baking the asparagus, or else the cooking time will vary.
Next, you'll want to prepare your asparagus by rinsing them off and cutting off the bottom end.
Where exactly you have to cut them off is at your discretion - generally try to trim your asparagus at the point where it becomes too thick and tough. As a general rule, around 2 inches is a good starting point.
Two - Seasoning your Asparagus
Next, you'll want to drizzle them in olive oil and add any additional herbs or spices.

Next, you'll want to drizzle them in olive oil and add additional herbs or spices.
It's generally best to be modest when it comes to seasoning your asparagus. After all, these are likely to be a side dish to whatever food you're making, so you don't want them to be too intense.
We recommend kosher salt, pepper, and perhaps some garlic if you'd like a stronger overall seasoning.
Three - Baking your Asparagus
Here is the part where you bake them in the oven. You'll want to make sure your season asparagus rests on tinfoil in an oven tray.
Once your oven is preheated to the right temperature, slide them in and let them bake for 9-12 minutes.
They may need more or less time, depending on their size. I'd recommend checking up on them once or twice to see how they're doing.
The best way to check if your asparagus is done is to cut into them with a fork or knife to see how tender they are. The goal here is firm but tender - it can be a difficult middle-ground to get right!
Four - finishing touches
There are lots of different ways you can finish off your asparagus tips. Some
There are lots of different ways you can finish off your asparagus tips. Some popular additions are vinegar, lemon juice, olive oil, or light cheeses.
I recommend not adding more, especially if they're for a side dish to complement something larger! Keeping it simple and easy is the best option.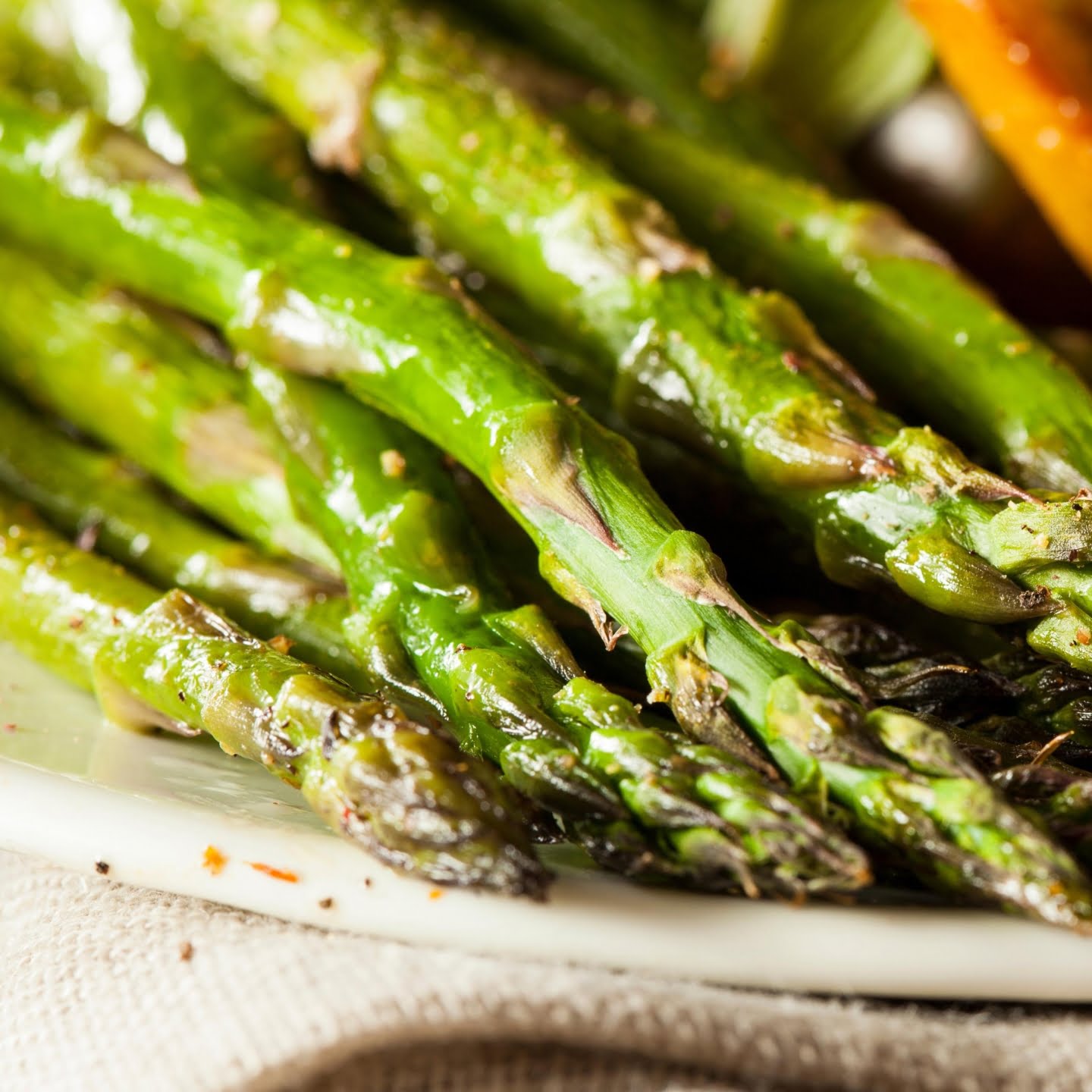 What Seasoning is best for asparagus?
There are a lot of spices and combinations that you can add to your asparagus to make them taste fantastic, so we've created a short guide to some of the best pairings you can make!
Chilli, cumin, and paprika - this is a mix here that would be fairly strong but worth adding if you're looking to add something hot to your asparagus!
Earthy herbs - thyme, rosemary, basil, and dill. These are great subtle additions to your asparagus that can give it just enough flavor to be exciting but not so much as to be overpowering. These all pair well with salt, pepper, and garlic, so adding them all together is not a bad idea.
Honey - if you're looking for something a lot more adventurous, you can honey-roast your asparagus. You'll want to apply a thin glaze to help them as they bake. Be careful not to drown them in honey, though, as this could be super overpowering!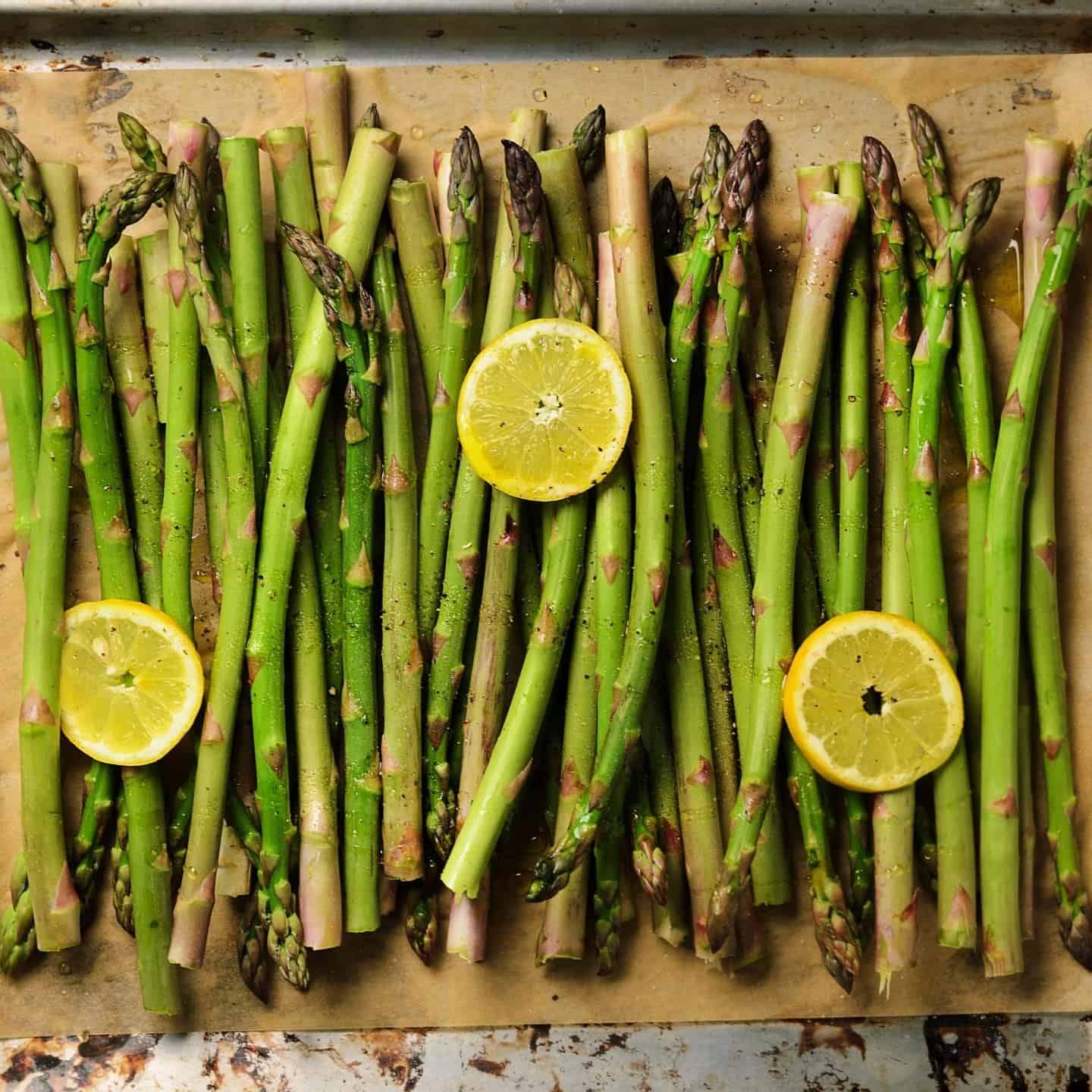 Should you soak asparagus before cooking?
As with almost all vegetables, it's important to wash them before cooking. With asparagus, it's important to be careful not to damage the spears when doing this.
If you start prodding the spears around with your fingers, you might end up damaging them, so one of the easiest ways to clean asparagus is to soak it in a bowl of water.
Fill a bowl with cold water, place the asparagus spears in, and allow them to soak for 5-10 minutes. Then take them out, rinse them off, and you should be ready to go!
Is asparagus good for you?
Asparagus is a good vegetable for you to eat. It is lightweight and low in calories, but it also has a great number of nutrients - vitamins A, C, E, K, and fiber.
Asparagus has been linked to a whole host of different health benefits, including lowering blood pressure, weight loss, and improvements in microbiome and gut health.
Asparagus is also a rich source of folate, a vitamin that helps make red blood cells. Folate is one of the reasons why asparagus is often called a vegetable that can help women during pregnancy - as it helps with fetal development.
Some modern research suggests that asparagus might work as an anti-inflammatory, though this is still being studied.
Easy Asparagus Recipes to Try
Check out these fantastic asparagus recipes, and I'm sure you'll find the perfect side dish.
Frequently Asked Questions
How much should I trim my asparagus?
The trick for trimming asparagus is easy. Asparagus has a natural breaking point, so if you bend and snap, it'll break off that inedible woody end. You can break each one individually or take that one and use it as a guide and cut the entire bunch.
How to tell if asparagus is good or not?
Asparagus spears should be nice and stiff. If they are super bendy and slimy at all, they've gone bad.
Final Thoughts
We hope this guide has run you through the ins and outs of baking asparagus.
Baking is a great and often overlooked way of cooking vegetables that can transform bland dishes into something flavorful and delicious.
If you want your asparagus to be the talk of the dinner party, try some of our suggestions and see!