You might have heard of 'Brown butter,' which is a way to make butter taste incredibly nutty and more vibrant, just by simply adding a little bit of extra heat! 
But what is brown butter? How was it discovered? And, most importantly, how do you make it?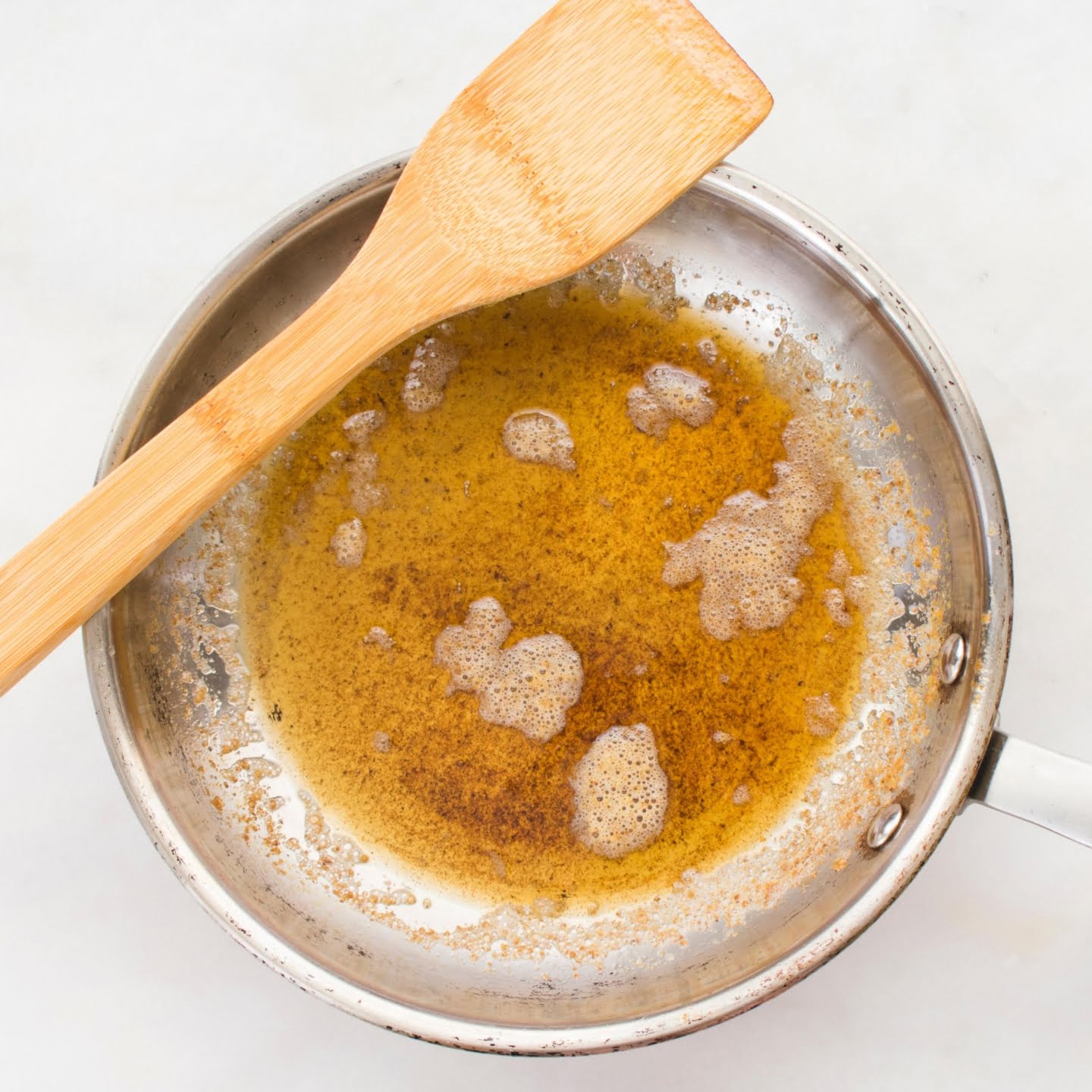 Contents
What Is Brown Butter?
Brown butter is an effortless thing. There is no need for added ingredients, no brown sugar, or anything like that. All that's needed to make brown butter is butter!
Brown butter occurs when butter is cooked. You can choose to use either salted or unsalted butter, though unsalted butter will be slightly sweeter once browned.
As the butter slowly begins to melt, small elements called 'Milk Solids' will start to cook separately from the butter.
'Milk solids' refer to small pockets of protein and fat that are included within an average portion of milk. For example, when butter is created from milk, the milk solids remain, though you cannot see them with the naked eye.
When you cook butter to just the right point, you will notice tiny brown dots appearing in the melted butter solution. These are cooked milk solids, and they are responsible for creating the brown color of brown butter!
The cooked milk solids take on a slightly nutty and sweet taste, which is why brown butter is so sought after and beloved.
How Do You Create Brown Butter?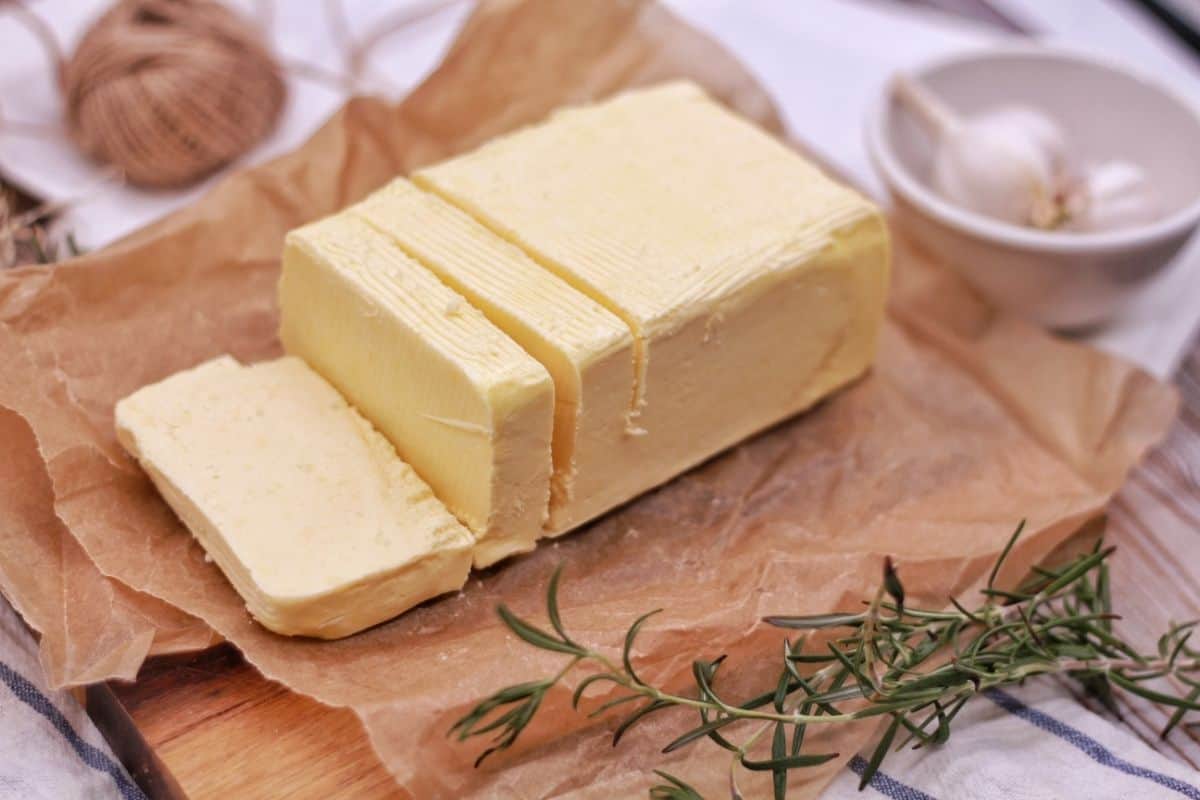 Now that you know what brown butter is, your interest is likely piqued, and you want to try your hand at making it for yourself.
Luckily, I've done the tough work for you and found a perfect method to help you achieve that fantastic nutty brown butter flavor! So let's dive right in with our first step!
Step 1 - Melt Your Butter
The first step is the easiest. First, you will want to determine how much brown butter you want to create. This will help you to determine how much butter to use.
Once you have chosen your butter, you should chop it into smaller slices so that they will melt more quickly and more evenly throughout.
Once they have been chopped, drop them into a heated skillet and allow them to melt. You should be sure to be stirring the butter throughout this step, as it will begin to melt very quickly.
Step 2 - Keep Your Eyes Peeled
This next step requires some careful attention! Once the butter has begun to melt entirely, keep stirring it slowly. Again, you want to keep your eye out for small brown spots appearing within the melted butter.
The butter may also begin to take on a light brown hue throughout. Give the butter a good smell, and see if you can pick up on any nutty aromas flowing through.
If you notice all three of these things, you should quickly remove the butter from the heat. This is because it is very easy for the browned butter to become burned.
Once the milk solids have browned, they are at peak perfection, and it is easy for them to become burned if not removed from heat quickly. In addition, burnt brown butter will have a very bitter taste that may not be very appealing.
Step 3 - The Finishing Touches
Once your butter has taken on that perfect and warm brown color and you have taken it from the heat, you should aim to transfer it to a bowl or another container.
This will allow the butter to cool slightly and will keep the milk solids from burning in the still-hot pan.
You can place the butter into sealed containers, such as jars, and then put them into your refrigerator. This will allow the butter to last until you are ready to use it another day.
However, you should try to use the butter within a week of placing it in the refrigerator to avoid spoiling and losing that characteristic pleasant taste.
You might even want to use the butter right away once you smell its unique aromas, but what can you use brown butter to make? I've seen some fantastic brown butter recipes out there, so let me tell you some things you can do with it!
How Can You Use Brown Butter?
One of the best ways to utilize freshly made brown butter is to include it in your baking!
Whether you're making muffins, cookies, or cakes, adding a little bit of brown butter to the recipe can help to add a rich and nutty flavor that you won't be able to resist.
You can also use brown butter as an oil replacement to cook and fry foods in a nutty solution that will make every bite just so good.
And, of course, all of this is to go without mentioning the simple pleasure of pouring some brown butter over other foods. Try pouring some of it over some mashed potatoes, or use it as a dip for bread, alongside some olives.
Honestly, the possibilities are endless, so make sure to use your imagination when putting your brown butter to use!
Learn How to Cook
I routinely make comfort food recipes that are savory, rich, and taste fantastic. I also drop helpful tips and cooking how-tos for popular cooking techniques.
Frequently Asked Questions
Why did my butter turn black?
Your pan is too hot! Butter is sensitive to high heat and will quickly burn and turn black. Avoid high heat; start on low heat to melt and medium heat to brown butter.
Can you brown butter in microwave?
Yes, you can brown butter in your microwave. Place 1 stick of butter into a microwave-safe bowl covered with parchment paper to stop the butter from splashing your microwave. Cook on full power for 5-7 minutes, checking for perfectly golden brown butter every minute. You'll notice immediately is smells like toasted nuts!
Why is brown butter so good?
When it comes to comfort food, we're constantly striving for deep, rich, and savory dishes. Brown butter adds another layer of depth to every dish that regular butter can not match. In laymen's terms, brown butter makes everything taste better!
To Conclude
Brown butter may be a relatively simple discovery, but it has opened up entirely new realms of possibility when it comes to cooking or baking.
The nutty flavor is pleasant and easy to access, pairs well with so many recipes, and adds extra flavor that you may not have otherwise assumed would work!
I hope you give this method a try so that you can experience the pleasures of brown butter for yourself!
Try one of my comfort recipes for your next family meal! And if you have any questions, I'm here to help!