Learn how to cook brown rice from start to finish, avoid common brown rice cooking mishaps, and learn how to make fun and delicious brown rice recipes.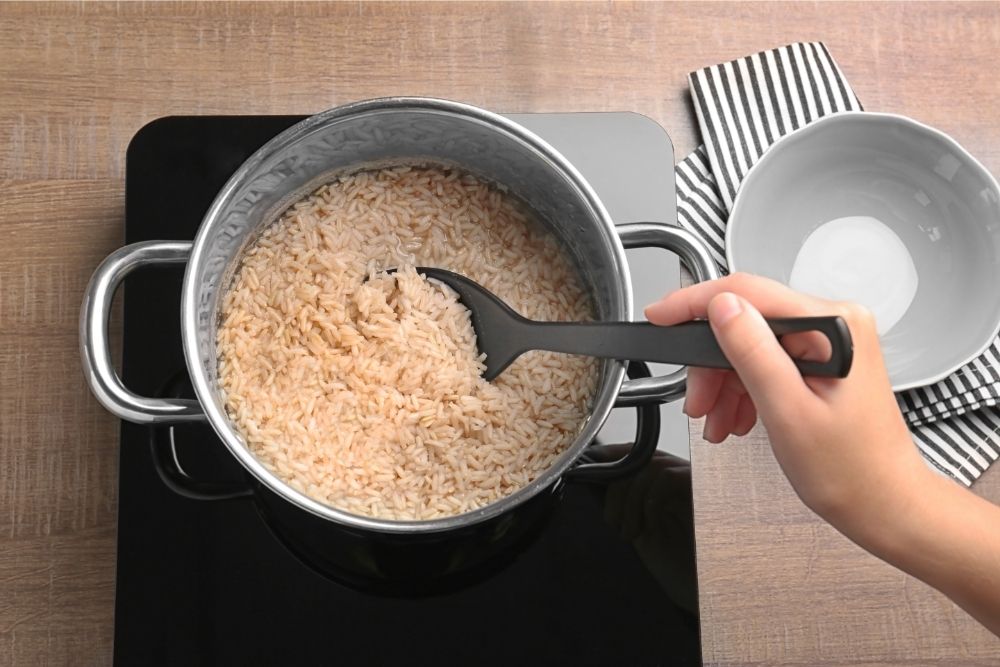 Contents
Brown Rice vs. White Rice
It's first best to understand the difference between the two kinds of rice. Brown rice will certainly take longer to cook. Brown rice is a whole grain - the reason it's brown because the hull on the outside of the grain is still present.
It's packed with more fiber and tastes a little nuttier than white rice because of the hull, along with the bran and germ. In comparison, white rice has these things taken away, which allows it to be cooked far quicker - sometimes in as little as 15 minutes. Learn how to cook jasmine rice which I used to make my easy rice salad recipe.
Brown rice, on the other hand, can take as much as 45 minutes to cook - okay, it's more time, but it's worth the wait.
Let's Start Cooking
So, we've established that brown rice will take some time to cook up. So, it's probably best if you put the rice on to cook before you start anything else. Of course, you'll have to keep an eye on your rice as you're preparing the rest of the meal. If everything goes well, the rice will be fully cooked when your other meal components are ready.
Styles And Sizes
When you buy brown rice, you may have noticed that it says short grain, medium grain, or long-grain on the packet. It's important you know which rice you have because the cooking times can vary.
Cooking time for brown rice:
Short grained takes 25 minutes to cook.
Medium grained takes 15-20 minutes to cook.
Long grained takes 45 minutes to cook.
Brown rice styles:
Short grained rice works well for sushi and clings together.
Medium grained rice is common in soups and salads.
Long grained rice is popular due to its light and fluffy texture.
Pots For Rice: Choose Wisely
Let's say you are cooking about 2 cups of brown rice. A simple 2-quart pot will be more thane enough because if your pot is too big, the steaming process of the rice will not work correctly.
Whereas, if you're using a pot that's too small, the water will boil right over the top and cause a horrible mess, leaving your rice sticky and pointless. In that case, I also recommend reading how to clean stainless steel pans, as I'm sure it'll save you some time.
While on the subject, you'll need to choose a pot with a lid that fits just right to allow the air to escape safely. You'll want to check the rice now and again but fight the urge to keep opening the lid every 2 minutes.
It will let all the steam escape and prolong the cooking time.
Put It On Low - Take It Slow
This is one area that people have often struggled with when cooking rice.
You'll want to have the water boiling before you add the rice. You'll also want to have the heat set to medium and ensure the lid remains on at all times. If, at any point, you can hear a whistling or similar sound coming from the pot, reduce the heat but keep the water bubbling.
Keeping a consistent, slow, and steady approach to rice cooking allows each grain to cook thoroughly and consistently. And, as we said - you don't want boiling water flying over your stove.
Speaking of your stove, it may take some time to work out the perfect setting for brown rice to cook without the need to change the heat because a lot of stoves differ. Don't worry; the more practice you get - the better you'll get it. Experience is the key.
Time For Some Checks
When the brown rice starts to boil, set a reminder for around 30 minutes and return. Lift the pot's lid and check for holes around the top of the rice. These holes are caused by steam, and this is a sure-fire way to ensure the rice is cooked.
Tip: you can peak, quickly to check your rice at various stages while cooking. Try to avoid removing the entire lid and retain as much of the steam as possible.
Rice Needs Rest Too
Patience is a virtue, and it ensures the best quality of rice. Letting your rice sit for around 10 minutes after you've established it has been cooked is the difference between rice that is acceptable and rice that is exceptional.
Do I Need To Add Salt?
Some people believe that adding salt benefits the boiling process by removing starch from white rice and potatoes. It's actually a myth. To a minor extent, it can soften the water - but if anything, it just changes the water to saltwater. It's probably unnecessary to add salt to your water, but it won't hurt unless you plan to have something with the rice that contains more salt.
Common Rice Mishaps
You might have noticed the following problems with rice. Here's how you fix them:
Watery rice:
Strain the excess of the liquid out and return the rice.
Let it cook on a slow setting.
If the rice is hard, put the lid.
If the rice is soft, take the lid off.
Mushy rice: You've likely cooked the rice too long. It's edible, though, and great in rice pudding.
Dry or crunchy rice: In this case, the brown rice isn't cooked enough, or you didn't let it rest when you brought it out. To fix, add ½ cup of water and simmer with the lid on for another 5 minutes and recheck the rice.
Burnt rice: The most common cause of burnt rice is lack of water and high heat. If the bottom layer is burnt, you may be able to save the top ¾ using a spatula. However, if the rice tastes burnt, you're better of starting over.
How To Make Rice More Fun
Rice can be very versatile, but some people get bored of it. There are ways you can make rice much better, though. You could begin by adding some spices or herbs to the rice before cooking it. Or, instead of boiling the rice in water - try using a meat or vegetable stock!
Related Brown Rice Recipes
As mentioned above, it is easy to take bland rice and turn it into something fantastic. Check out these fantastic brown rice recipes!
Do I Need To Rinse Rice Before Cooking?
There's no real reason to rinse rice before cooking. It's another myth that it removes starch. It can get rid of things like dust if it was left out and, again to a minor extent, can help cook the rice at a more even plane. Generally, though, there is no benefit to this.
Rice Cooker Options
Learning how to cook brown rice can be rewarding and fun. However, there is always a scenario where we're busy and need an easy and foolproof way to cook brown rice.
And while you may not have nor want another small kitchen appliance, rice cookers are inexpensive and convenient. And most rice cookers include steamers for steaming vegetables, which is fantastic.
Check out this Aroma Rice Cooker with nearly 50,000 ratings to date. At $40, this 4 cup uncooked (8 cups cooked) multi-function rice cooker is perfect for couples and families.
Final Word
That's all you need to know! We hope you've enjoyed our guide - good luck with your brown rice cooking! If you have any leftover rice don't hesitate to check my delicious best leftover rices recipes.