Cooking ground beef is a simple task, but it can also be tricky. There are several ways to cook ground beef, and each method has its benefits and drawbacks.
The best way to cook ground beef is in a skillet. This method is quick and easy, and it results in juicy, tender meat that is cooked just how you like it!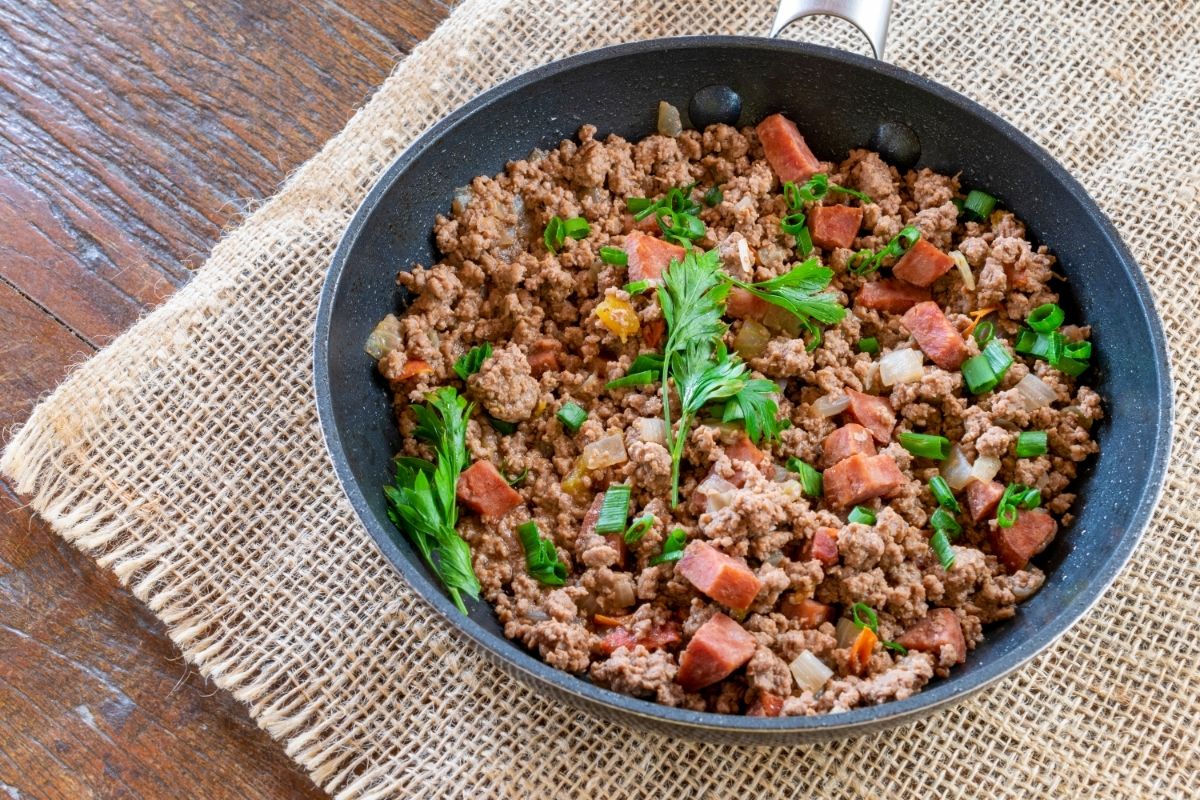 If you want to master cooking ground beef, follow our simple steps.
Contents
First, however, you have to remember how important it is to use a good-quality pan when cooking ground beef.
Aluminum pans don't work well because they tend to burn the outside of the meat. This means your food could be charred and almost inedible before the inside cooks all of the way through.
Cast iron skillets are the best for this job because they distribute heat evenly and brown the meat beautifully. And if your in need of new cast iron skillets, this set is amazing.
How To Cook Ground Beef
If you prefer your ground beef on the stovetop, there are two methods you should know about: searing and sauteing.
Seared ground beef is usually cooked with a cast-iron skillet or griddle over high heat. The surface of the meat gets very hot, which helps seal in all of the flavor and gives you that lovely brown color.
Sautéed ground beef is often cooked by adding oil to a large frying pan over medium-high heat.
When the oil starts smoking, add the ground beef and break it up before stirring and adding to your favorite ground beef recipes such as chili or spaghetti bolognese.
So, how do you cook the perfect ground beef? Well, it all starts with seasoning.
How To Season Ground Beef
Ground beef is one of those foods you will need to season correctly. It is not hard to make ground beef taste great, but it can taste slightly bland and unappetizing if you do not season it right.
However, the seasoning depends on what dish you want to make.
For example, if you are making homemade burgers, then you will need to season with, at the very least, a little salt and pepper, as this can make all of the difference once they are cooked.
When I first started making my homemade hamburgers, I would always season them with just salt and pepper.
But, after doing a little research, I realized that most people prefer their burgers seasoned with garlic powder, onion powder, and other spices to give them that authentic flavor.
Four amazing ground beef seasoning combinations:
Steak infused ground beef with a touch of cumin. For this delicious treat I highly recommend Montreal Steak Seasoning combined with cumin.
Blackend Saskatchewan Dry Rub is A-mazing! If you love pepper and garlic, season your ground beef, and give this one a try.
And for a top notch all-purpose seasoning I recommend using McCormick's All-Purpose to season your ground beef as it goes well with pretty much any dish.
It contains salt, pepper, paprika, garlic, onion powder, and cayenne pepper, so it gives you everything you need to have your meat bursting with flavor.
If you prefer Mexican cuisine, you can season the ground beef with this premium taco seasoning to give it that slightly spiced flavor while cooking.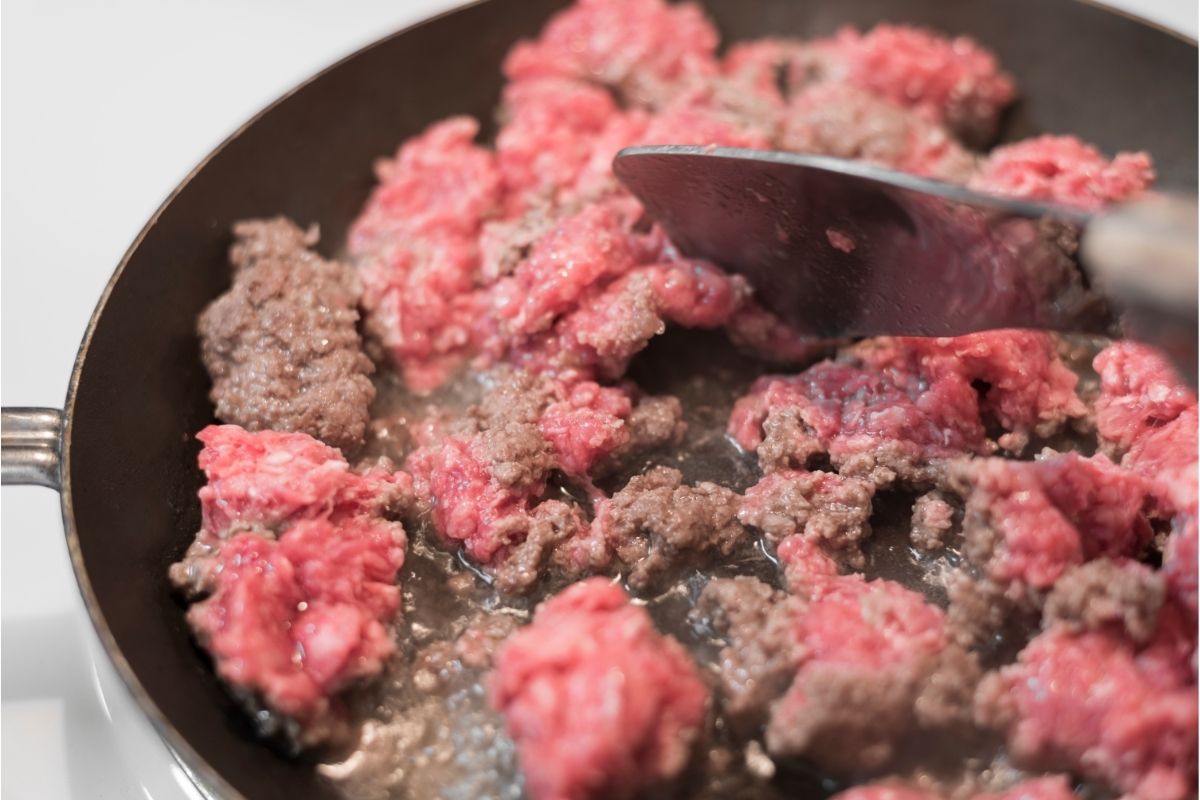 How To Brown Ground Beef
Browning ground beef is a technique used to get the meat's exterior nice and crispy without overcooking the interior.
You can use any method to achieve this result, including sautéing, searing, or even microwaving.
You should sear the meat in a pan until it has a dark brown crust for the best results.
Once it reaches this stage, remove it from the heat and set it aside. Then, finish the rest of the cooking process either in the oven or as directed by whichever recipe you follow.
You want to brown the ground beef first because it begins to dry out when you cook it for too long. This means that the texture becomes tough and chewy instead of tender and juicy.
In addition, searing the meat creates a barrier between the inside and outside, preventing moisture loss while sealing in juiciness and flavor.To brown about 1 ½ pounds of ground beef, you'll need either a 10 inch or 12-inch skillet for the best results.
To brown the meat perfectly, you first need to heat the skillet with a bit of oil until it's scorching. Here is how I made my baked beef empanadas with ground beef.
Then, add the beef into the hot skillet, and break it into a few large pieces. Break up the meat and brown with a wooden spoon for a few minutes.
As it begins to cook, break it into smaller pieces again with the spoon, and keep doing this as the beef browns.
Cook the beef until completely browned, but try not to stir too much until you can see each part of the beef has that golden brown color.To get that brown color instead of the unappealing gray color, you will need to allow the beef to maintain contact with the pan.
So, only break it up initially into large pieces, and leave to cook. Then, break it up into smaller pieces, but keep in mind that more moisture will evaporate and cause it to steam rather than brown as you break it up.
So, leave the meat for a few minutes to cook and brown before breaking it up for the best results.
How To Drain The Fat Off Ground Beef
Once the beef has been cooked through, you may find fat left in the meat or sitting in the pan. If this is the case, drain off all the excess fat.
Once your meat has no pinkness left to it, you will need to drain it off the excess grease.
You can do this using a drainer or strainer, placing a plate or lid over the top of the skillet, and pouring out the grease by keeping the beef from falling out of the pan.
Just remember to leave a small amount of the fat in the skillet, as this will keep the meat nice and moist.
How To Store Ground Beef
If you're not using the ground beef right away, then allow it to cool before spooning it into an airtight container and store in the refrigerator for up to five days before using.
If you need to freeze the beef, you will want to place it into a freezer-safe bag such as a Ziploc bag and press out any air before placing it in the freezer. Then, you can keep it safely for up to three months!
Recipes that use Ground Beef
Here are a few ground beef recipes that readers and I love. Including my delicious salisbury steak recipe ready in 30 minutes!
Summary
To summarize, cooking ground beef is easy. As long as you have a good, high-quality skillet with some hot oil, you can brown that beef oh so nicely.

Just ensure that you follow our steps and drain off the fat at the end, and you'll be able to enjoy ground beef in a range of recipes, from tacos to chili, to spaghetti bolognese!
Related Cooking How Tos
If your starting out or love cooking and want to learn more. Check out these helpful cooking how tos and learning something new.
Try one of my comfort recipes for your next family meal! And if you have any questions, I'm here to help!