Pasta is one of the most versatile foods out there. You can use it in soup recipes, casserole recipes and without a doubt comforting Italian recipes.
It's a staple dish across the globe and one that I think everyone should be able to cook and enjoy pasta.
But cooking pasta can be a little tricky. You can be left with tough and chewy pasta or mush that melts in your mouth, and no one wants that!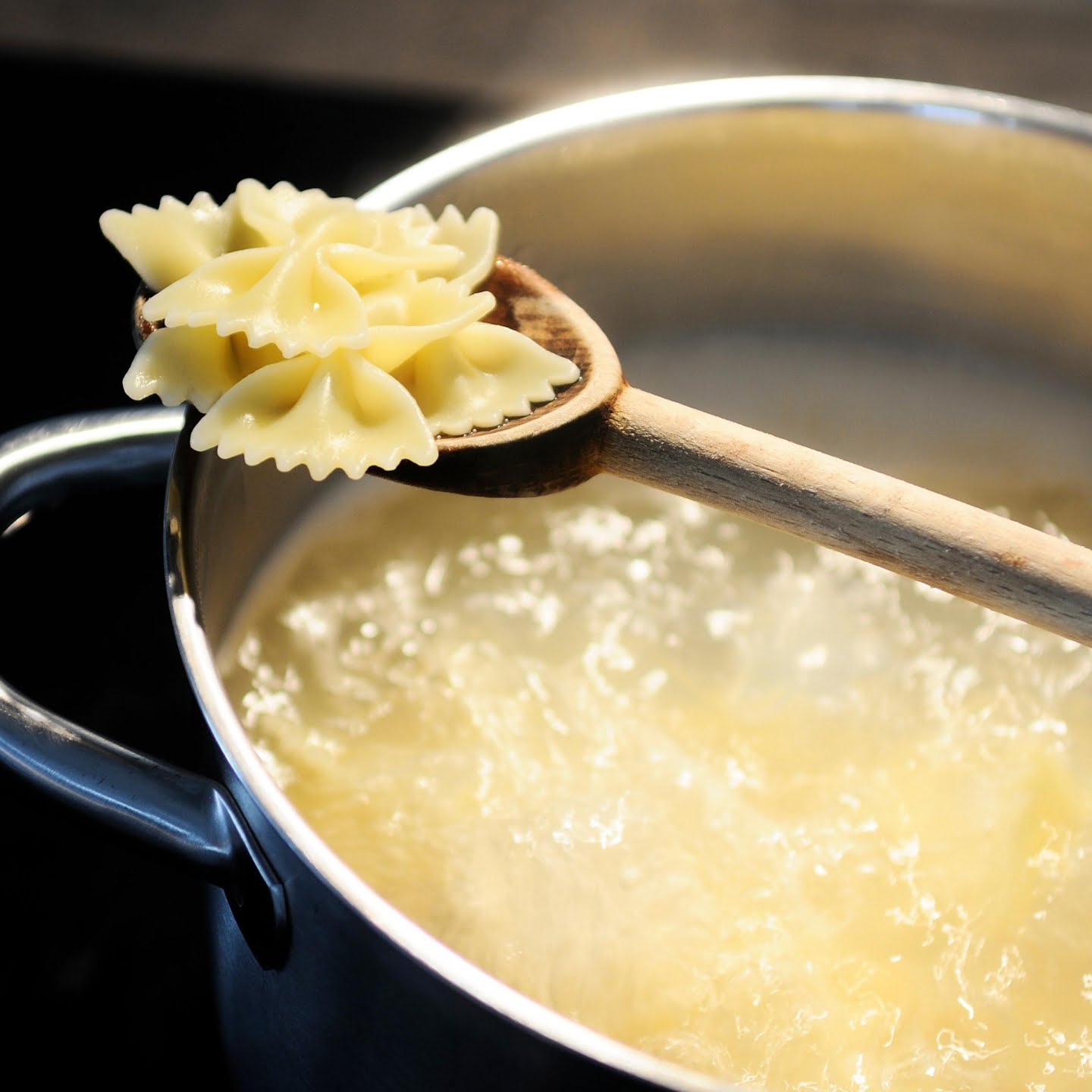 Contents
After all, food is to be enjoyed, not just swallowed down with a grim look on your face. So how do you cook pasta? And more importantly, how do you cook good pasta?
Well, that's what I am here to tell you! So, keep reading to learn how to cook pasta and see our complete guide to making the best pasta.
How Do You Cook Pasta?
Cooking pasta isn't challenging and can be done super easily!
However, if you have been burned by hard pasta or flavorless mush before, then it can be off-putting to cook pasta.
And, rightly so, you are probably dubious of any guide that declares to have found a fool-proof way to cook pasta. Follow our step-by-step guide to see how to cook pasta!
Use The Right Pot
One thing that will make a huge difference when cooking pasta is choosing the right pot.

A large stockpot works well as it has a wide surface area which means you can cook lots of pasta at once.

However, if you don't have a big enough pot, you may need to cook the pasta in batches.
If you want to get fancy, you could even buy an electric pasta cooker. These are great because they are designed to cook pasta quickly and efficiently.

They also keep the pasta from sticking together, which is essential when you are trying to avoid clumps of pasta.
This fantastic T-Fal Stock Pot is a perfect example.
Get The Right Amount Of Water
The first rule of cooking pasta is always to add the correct amount of water to the pan.
This ensures that the pasta cooks properly without drying out. Too much water will cause the pasta to stick together, but too little will result in soggy noodles.
You can use a measuring cup to measure the water, but you can also use a strainer to pour the water directly into the saucepan.
The amount of water you need will vary depending on the size of your pan, but you always want enough to cover the pasta entirely.
I recommend filling it halfway or three-quarters to the top, depending on the amount of pasta you are cooking.
Once you have added the hot water, place the lid on top and wait until the water comes to a boil.
If you want to save yourself some time, why not use boiling water from the kettle?
First, measure the amount of water that you need, pour it into the kettle, and wait for it to boil.
You can then take your boiling water and add it to the pan, speeding the process up a little.
Don't Forget To Season The Water
While the water starts to boil, you can turn your attention to seasoning it. To season the water, you need to add salt.
This will help give the water a good flavor and cook the pasta without making it taste salty!
Add a pinch of salt and taste the water. Take care not to burn yourself when tasting the water. You will want to add more salt to the water until you can taste it.
Once you have the desired level of saltiness, you can wait for the water to finish boiling!
Boil The Water
Once the water has been seasoned, you need to wait for it to boil. Boiling the water is crucial to getting the best results from the pasta. The water needs to reach a full rolling boil before adding the pasta.
This means you will want to see the water bubbling away before adding the pasta to the water.
When the water boils, turn the heat down to medium and leave the pan there until you are ready to add the pasta.
Add The Pasta
Now it's time to add the pasta. You will want to add the pasta carefully to the water so that none of the boiling water splashes you.
Ideally, you want between 75g and 100g of pasta per person. You can make adjustments to this if you wish, but that's an excellent guideline to follow.
These are adult portions, so don't forget to lower the amount if you are cooking for children.
Once the pasta has been added, give it a stir to prevent it from sticking together and place the lid on the pot.
Now, you can continue making your sauce or other parts of your meal if you wish. I recommend setting a timer for ten minutes so you know when you need to check on it.
While the pasta is cooking, don't forget to stir it occasionally!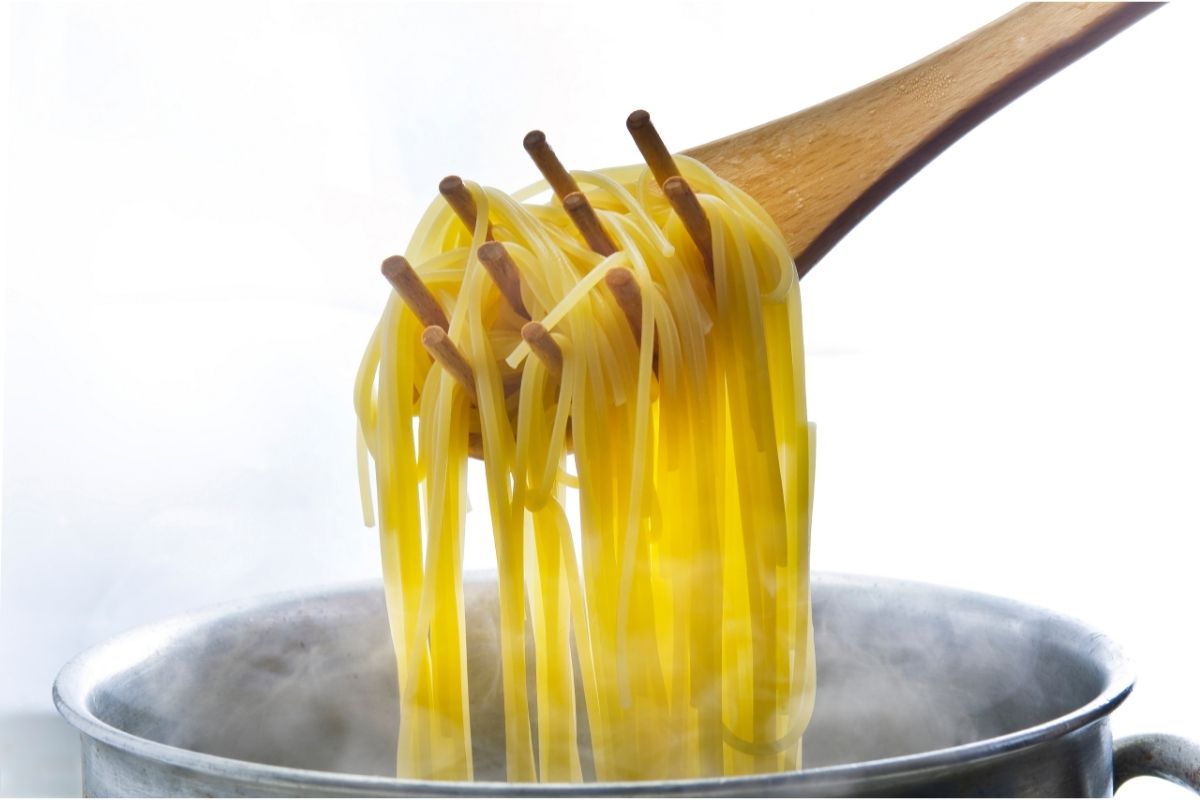 Test and Drain
After about ten minutes or so, test the pasta. If it is to your liking, then you can skip to our serve step!
However, if it is still a little hard or chewy for your preference, then leave it for a further two minutes. It's worth noting that different types of pasta cook at slightly different speeds. For example, spaghetti will cook quicker than fusilli.
Fresh pasta will also cook faster than dried pasta. Be sure to check the cooking instructions on the packet to give you a better idea of how long the pasta should take to cook.
If you don't want to follow timings, then you can just look at the pasta. Once it starts to float, it's ready.
Drain the pasta in a colander and toss it in a bowl with the sauce. Serve
immediately.
Save Some Pasta Water
If you can, it's always worth saving a scoop of pasta water. The starch from your pasta will be in the water and can help to add some thickness to any runny sauces!
You can take a spoonful or two while cooking or wait until the end and skim some off the top of the pan; the choice is yours.
Fantastic Pasta Recipes
When it comes to pasta night, these fantastic recipes are delicious and comforting.
Including my collection of best shrimp pasta recipes and gemelli pasta recipes with lots of tasty recipes for you to explore.
Final Thoughts
And there you have it, the complete and fool-proof way to cook pasta!
While you will need to adjust the amount of water and pasta yourself, this guide will help you cook tasty pasta each time. Just don't forget the salt, and you are good to go.
Try one of my comfort recipes for your next family meal! And if you have any questions, I'm here to help!