Of course, ground beef tastes best once cooked into various recipes, and we don't tend to enjoy eating it right out of the freezer! So, naturally, the first step in using frozen ground beef is to defrost it.
But how do you go about doing that? Is there an optimal way to do it? Or is there a quick and efficient method to defrost quickly?
So why don't we find out the best way to defrost some of that ground beef in your freezer? Join me below!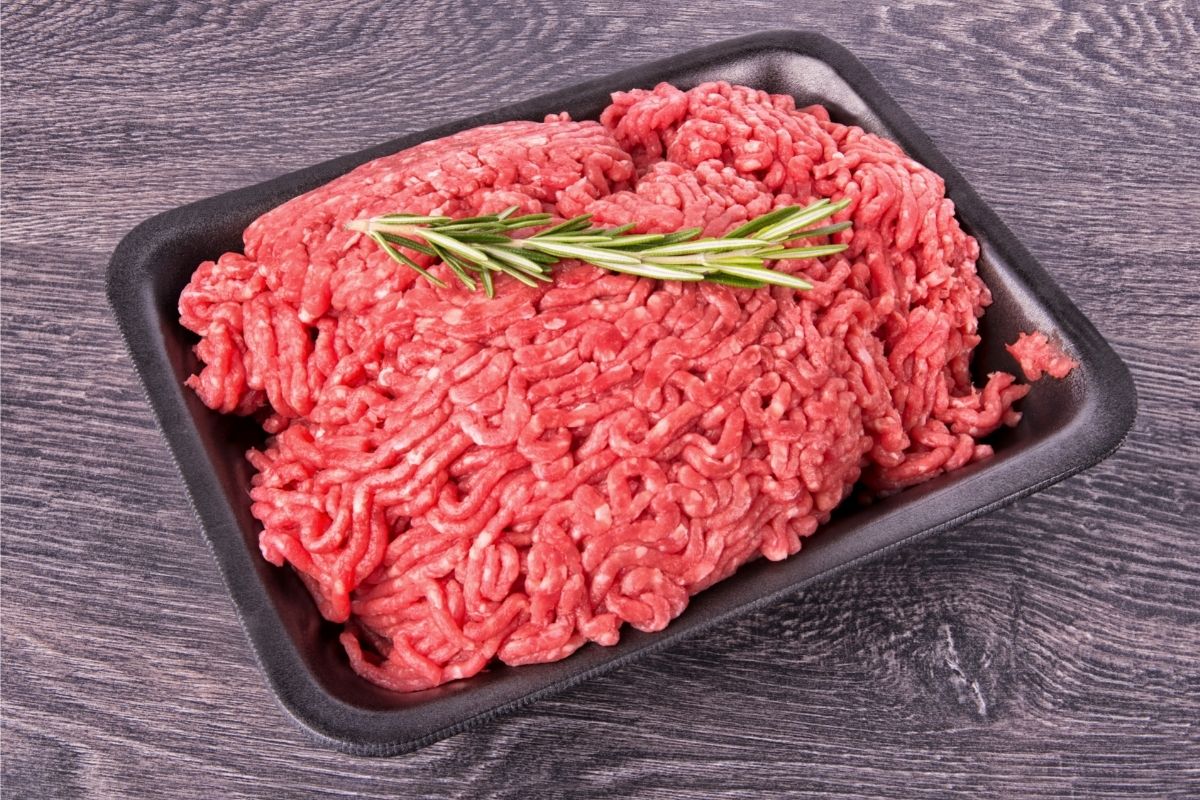 Contents
Ground beef can easily be placed into many recipes, thanks to its simple flavor and ease of cooking. There's a reason that people love to stockpile it within their fridges and freezers.
If you were to check the freezer of an average suburban family home, you'd likely find ground beef in there somewhere.
While freezing ground beef helps allow the meat to last a lot longer, trying to work out the timings to ensure that it is fully defrosted before cooking can be a true hassle in itself.
Sometimes we leave it to defrost for too long, or sometimes we forget to defrost it until five minutes before we start cooking! You can try my baked beef empanadas that are crispy and flaky delicious!
How Do You Defrost Ground Beef?
The best ways to defrost ground beef will largely depend on how soon you need that beef to be defrosted.
You might be planning more than 24 hours ahead of time to use your ground beef or deciding at the last minute to use it. Each would require a very different defrosting method.
Let's start with a long-form defrosting method.
How Do You Defrost Ground Beef Overnight?
If you are planning ahead of time to use your ground beef in a recipe, then the best thing you can do is to allow it to defrost slowly and naturally over time.
Remove the ground beef from your freezer, place it into a container or onto a dish and allow it to defrost.
You can allow ground beef to defrost at room temperature on your kitchen counter, but the best and safest place you can allow it to defrost is within your fridge.
The cold conditions of the refrigerator are just right to allow the beef to defrost without becoming at risk of developing bacteria.
Bacteria thrive in warm environments, and the conditions within your fridge are just right to prevent this from happening.
Therefore, allowing ground beef to defrost in the refrigerator is better for the quality of the meat and is better for you in the long term.
How Do You Defrost Ground Beef Quickly?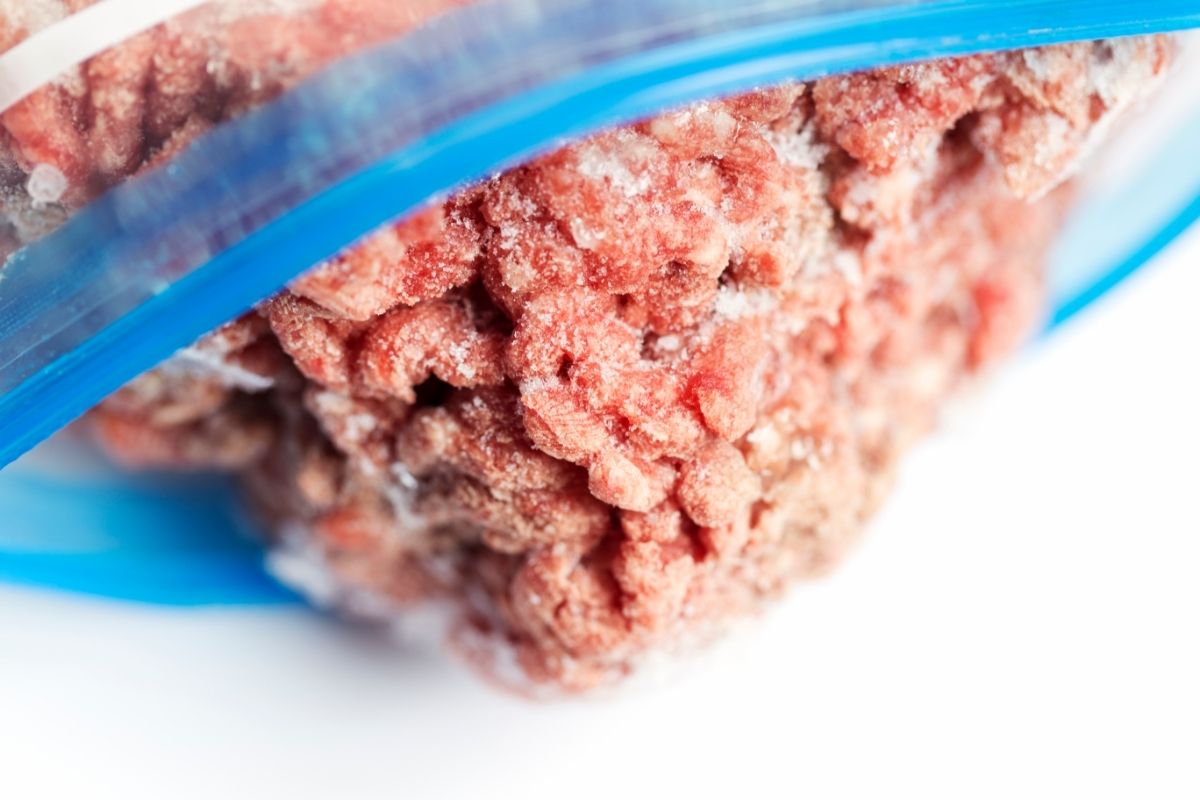 Found yourself in a situation where you need to use your ground beef, but you haven't yet defrosted it? Don't worry; it happens to all of us at some point.
But, if you need a quick method to defrost it safely and without degrading the quality, then why not try this?
Fill up your sink or a large container with plenty of hot water. Then place portions of your ground beef into ziplock bags and lightly submerge them in the water. Ensure the ziplock bags are sealed!
You will want the beef to remain under the water, to defrost evenly, so it may be worth placing something on top of the beef to keep it from floating.
Once the beef is submerged, leave it to defrost slowly while checking on it every five minutes or so. You'll notice that it quickly begins to soften up as it defrosts.
Break it up into smaller pieces occasionally to increase the surface area, which will speed up the defrosting process.
Occasionally, you will need to change the water, as the frozen ground beef will naturally begin to cool down the water. Keep this up for around thirty minutes, and your ground beef will likely be thoroughly defrosted and ready for use.
If you are defrosting larger portions of ground beef, you should try to divide it up into smaller pieces before defrosting so that it can defrost evenly.
Can You Defrost Beef In A Microwave?
Yes. If you need ground beef right now, but you cannot afford to wait half an hour for it to defrost in a bowl of hot water, you can simply defrost it in the microwave.
While modern microwaves feature a defrost setting, defrosting ground beef this way is extremely slow.
Place it into your microwave on a microwave-safe surface, and set it to cook at half power for around 2 minutes. This should be plenty of time and heat to get the job done.
However, you should be sure to keep an eye on the beef as it defrosts in the microwave so that it does not burn.
Try to remove the beef and flip it around every 45 seconds so that each side of the beef gets an even chance to defrost, which will also make the meat towards the center defrost far quicker.
Defrosting in the microwave is not a preferred method, and you should generally only aim to use it as a last resort.
Defrosting in the microwave will cause small amounts of the meat to cook, and the quick change from frozen solid to completely thawed could cause a slight thermal shock in the meat, which could cause the meat to degrade slightly in quality.
You should also be wary of the fact that defrosting ground beef in the freezer may not thoroughly defrost the meat, and meat at the very center may still be partially frozen.
Therefore, make sure to use the meat as soon as you remove it from the microwave!
Fantastic Ground Beef Recipes
Now that you've mastered unthawing and defrosting ground beef give one of these delicious ground beef recipes a try. Including my delicious salisbury steak recipe ready in 30 minutes!
To Finish
Defrosting ground beef thoroughly before cooking is crucial to enjoying it at its best. You preferably want to allow your ground beef to defrost over a long period, and within a controlled environment, such as your fridge.
However, sometimes life doesn't go to plan, and we need quicker solutions. Luckily, there are plenty of methods for defrosting ground beef quickly and efficiently with little trouble while still retaining good quality and strong taste.
I hope I've managed to clear up how you should try to defrost your ground beef and that you are now ready to create some inspiring and tasty meals!
Related Cooking How Tos
If your starting out or love cooking and want to learn more. Check out these helpful cooking how tos and learning something new.
Try one of my comfort recipes for your next family meal! And if you have any questions, I'm here to help!