Learn how to make the perfect cheesecake! I'll teach you the ins, outs, and how to make perfect cheesecake every time. As a chef, I've made thousands of cheesecakes and cheesecake variations.
You can increase your success baking cheesecake by doing two easy things. First, bake your cheesecake in a water bath. Second, cook on low heat. These two steps will ensure your cheesecake looks amazing and tastes fantastic.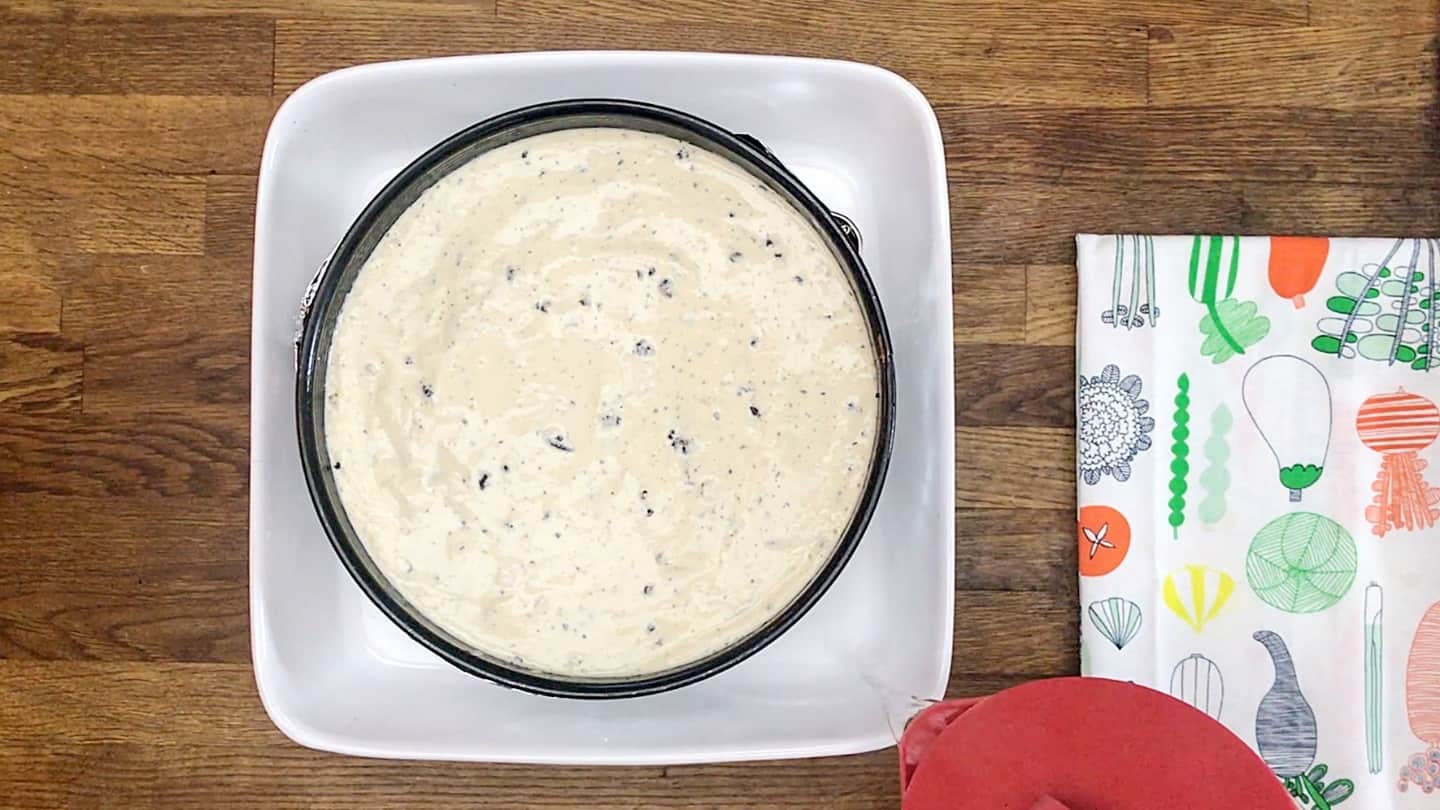 Contents
The Importance of Making a Cheesecake in a Water Bath
For cheesecake perfection, it is really important to bake the cheesecake batter in a springform pan half-submerged in a large roasting pan of water. The reason for this is to stop the cheesecake from cracking and instead keep it moist and creamy throughout the baking process.
To use a water bath is a simple method that involves little effort or time and just a few kitchen materials. the OUTCOME is a smooth, perfectly even baked cheesecake that your family and friends will devour and think you bought from the cheesecake factory!
This fail-safe method is perfect for home cooks busy with kids and work that don't have the time to keep checking the baking process and still want flawless results.
As long as the oven is on low to medium heat and the cake pan is half-submerged in water, it will cook on its own for an hour and a half without even checking on it, which gives you plenty of time to do other things.
Equipment Needed for a Water Bath
Springform pan
Although springform pans seem airtight and safe from leakages, water can still pass through at the bottom. Using a good quality springform pan that doesn't rust is needed when using the water bath cooking method.
Large Roasting Pan
Your roasting pan needs to be bigger than the Springform pan you are using to bake the cheesecake in so that water comes up halfway up the sides of the pan.
Aluminum Foil
Use aluminum foil to wrap around the bottom of the pan completely and halfway up the side so that water doesn't seep through.
Hot Water
Using hot water than cold water will help the cooking process, as pouring cold water into the pan will need more time to heat up in the oven.
How to Make a Water Bath for Cheesecake Recipe
There are many cheesecake recipes out there, from wobbly Japanese cheesecakes, no-bake cheesecakes to oven-baked cheesecakes. They all have their secret methods of preparing them perfectly every time, and the oven-baked cheesecake is no different.
The trick is to prepare a water bath that helps keep the cheesecake batter from cracking, browning, and then finally sinking in the center.
To prepare a cheesecake using the water bath method, follow these simple instructions for the perfect cheesecake!
Wrap a ring of aluminum foil around the bottom of the outside of the springform pan, coming up about halfway up the sides.
Put the cheesecake in a large baking pan or tray, then add hot water from a tea kettle to come about 1 inch up the sides.
Bake cheesecake on a low oven temperature of 150 degrees for 1 hour and a half.
Check the water level after about 40 minutes into baking and add more if needed.
After one and half hours, check the cheesecake with a toothpick to see if it comes out clean from the filling.
Remove the cheesecake springform pan from the oven and let it c#ool on a cooling rack.
Remove the side casing, and voilà you have a perfectly baked cheesecake.
Alternative options to water baths
Having a giant-sized pan hanging around is not something many home cooks will have. If you are unfortunate not to have a bigger pan than your springform pan, do not worry, as you can easily create a cheesecake water bath differently.
If you have a double oven rack, you can put the cheesecake on the top and pour the hot water into an oven dish on the bottom. This method cooks the cheesecake the same way, apart from the cheesecake pan is not directly sitting in the water.
Top Tips
Fill the water as close to the top of the springform pan as possible so that the water does not evaporate halfway through cooking. Opening the oven to add more water will let the steam out, and the temperature will drop slightly.
After baking the cheesecake, you end up with cracks in the center, do not worry, as you can mix 50 grams of cream cheese, 50 grams of sugar, and 25 grams of sour cream to smooth over the cracks. Nobody will be any wiser!
One method to completely prevent moisture or water from seeping into the cheesecake is to cover the aluminum foil in an oven bag before putting it in the water bath.
To help with the filling not cracking or falling in the middle, make sure the ingredients for the cheesecake batter are at room temperature before pouring it into the biscuit crust.
Why should you use a water bath for baking a cheesecake?
Simply put, cheesecakes are full of dairy products, like, eggs, cream cheese, and sour cream that need to be cooked properly without them curdling, drying out, and burning. To do this, they need a humid environment in which to bake them.
The slow baking process with a cheesecake water bath in the oven will create steam that will help the filling rise evenly and slowly, reducing the chance of cracks forming and sinking as it cools down.
Final Thoughts
Now that you've mastered the water bath technique and perfected cheesecakes, you can apply this to similar recipes like:
You can always add some delicious cheesecake toppings to this recipe!ENJOY!
Try one of my comfort recipes for your next family meal! And if you have any questions, I'm here to help!