Lemon is a great way to enhance the flavor in anything. It is used in cooked meals and is used frequently in baked desserts, and a lot of the time, you will find recipes that require lemon zest.
However, many do not know how to zest a lemon, which can lead to a lot of complications during the baking process.
Here, we will explain how to zest a lemon and highlight ways to incorporate lemon zest into your delicious creations.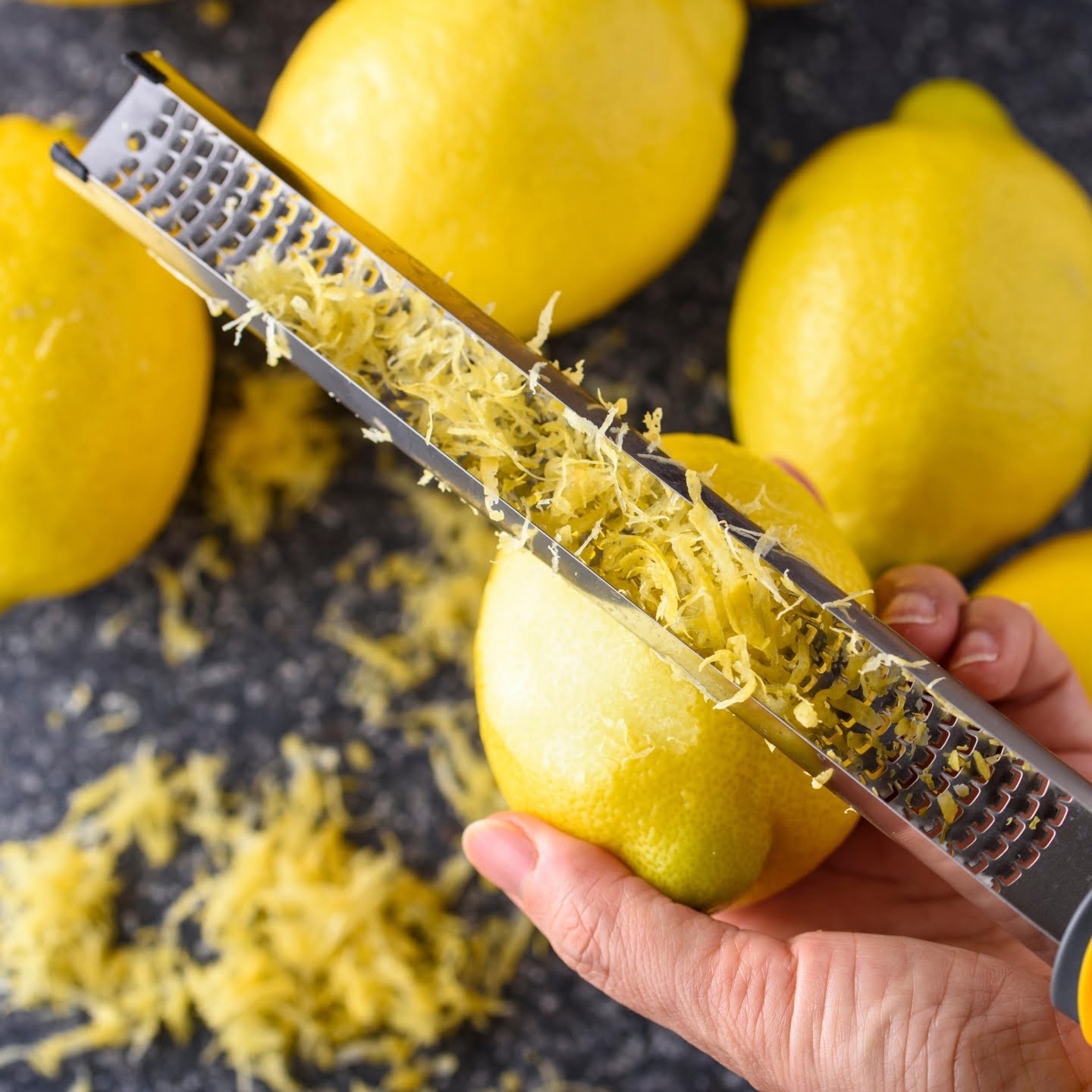 Contents
What Is Lemon Zest?
Lemon zest is the ingredient found in various recipes consisting of the outer yellow layer of the lemon.
This outer layer is attained by scraping it off using utensils such as a knife or a grater.
Although you can replace this ingredient with other options such as lemon juice, lemon zest is recommended to enhance the flavor and bring out that bold yellow color.
How to Zest a Lemon
With zesting a lemon, there are many routes you can go down. What you prefer is generally based on what feels most comfortable for you. However, the result will always be the same.
Below we will be listing several ways to zest a lemon, giving plenty of options for you to try out at home.
Cheese Grater
A cheese grater is one of the most convenient ways to zest your lemon. You don't have to bother about going out of your way to buy a specific tool for zesting (assuming you have the common household appliance already), and it is easy to use. A block-shaped cheese grater is favorable for its balance and steady form if you have one.
Place your lemon on the grater using the sides with the smallest holes.
Slide the lemon up and down the grater, being mindful of your hands and fingers.
Continue this until the entire outer yellow layer has been removed.
Knife
Your next option is a knife. Knives can be used for more than cutting and slicing – they are great for peeling too. Many people use the knife to do this, and it comes as no surprise that you can use the knife to zest your lemon.
You need to have a steady hand when using this technique, which can be difficult. However, as long as you follow these steps and be careful, the zesting process should run smoothly.
Cut off one end of the lemon and place the lemon onto the surface. Cut end down (this helps to keep the lemon steady).
Gently cut into the outer layer of the fruit, making sure to collect all of the bright yellow skin.
Feel free to slice these into finer pieces if these outer layer bits are too big once finished.
Microplane
Using a microplane is one of the easiest methods and great for beginners learning to zest. If using a knife isn't for you, this utensil will help you zest lemons comfortably and without fear.
Holding the lemon steady in your hand, use the microplane to scrape off the outer layer of the lemon, gently rotating as you do so.
Continue this until all of the bright yellow has disappeared.
Vegetable Peeler
Here is another convenient use of your kitchen appliances. A vegetable peeler is a great way to zest a lemon but, like the knife, can take some getting used to.
Carefully drag the peeler against the skin of the lemon, using the sharp edge.
Continue dragging the peeler downwards, repeating this movement as you rotate the lemon.
Once peeled, use a knife to slice the yellow skin into slimmer pieces.
How To Use Lemon Zest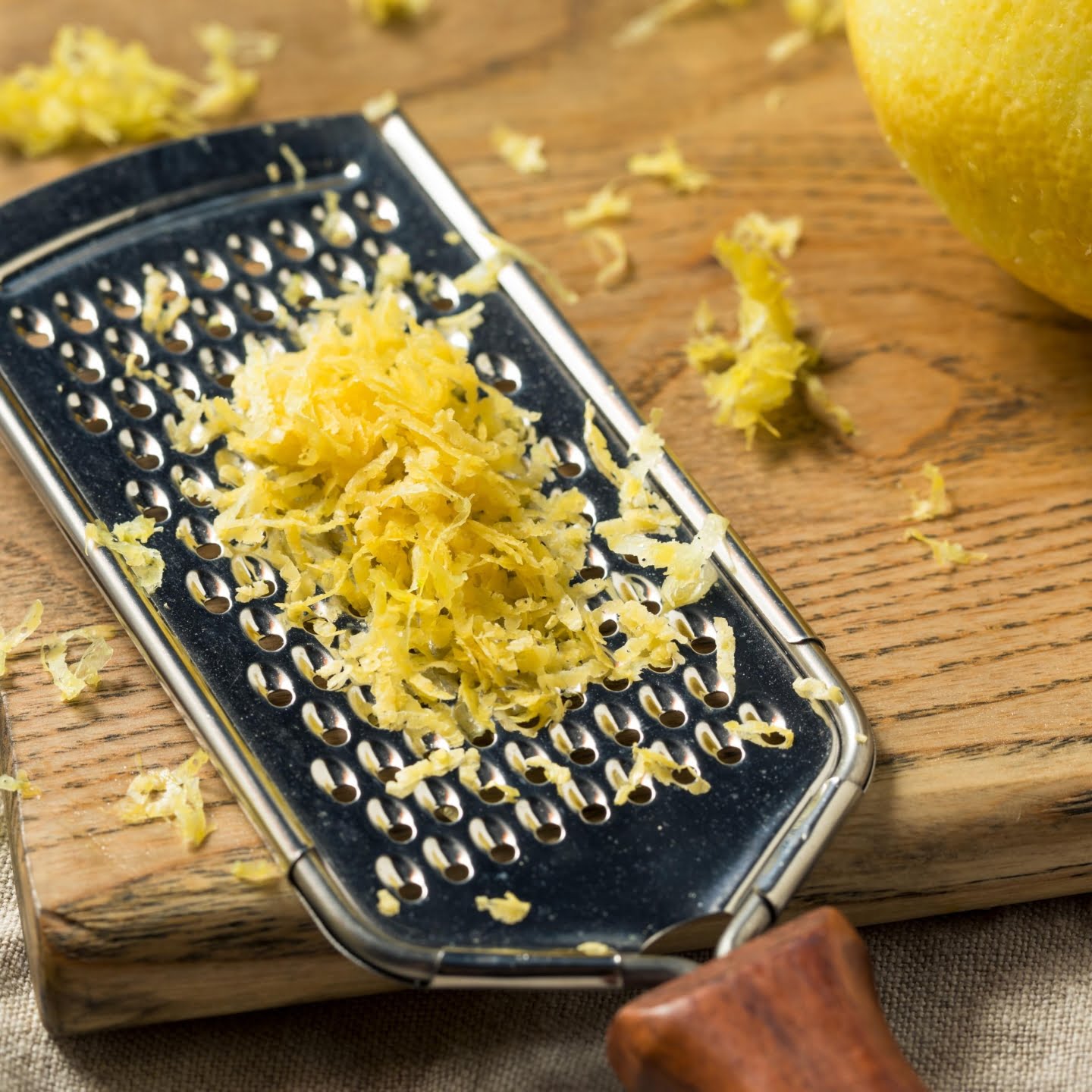 Lemon zest can be used in a variety of cooked foods and baked goods and works to enhance the flavor of a dish. Once you know how to zest a lemon, you will want to put those skills to good use.
Lemon zest can be used in many dishes, whether cooking with the zest or sprinkling that zest on top.
Below are some ways how to use your lemon zest:
In food dishes
Desserts
Lemon cheesecake
Lemon meringue
Lemon drizzle cake
Poundcake
Rich custards
Sprinkled on top
Oatmeal
Pancakes
Fruit
Scrambled eggs
Frequently Asked Questions
What is the point of zesting a lemon?
Using lemon zest adds a tangy flavor and lifts recipes to new heights. Lemon zest comes from zesting the yellow outside portion of the lemon's peel.
What is the best tool for zesting lemons?
Microplanning is the best tool for zesting lemons. This tool is easy to use, inexpensive, and designed specifically for zesting lemons, limes, and more. And compared to a grater and citrus zester a microplaner produces finer pieces with less pith than any other tool.
Can you buy grated lemon peel?
Yes, you can! However, I can tell you from experience that you do not want to buy grated lemon peel. Store-bought lemon peel is old, dry, and does not match FRESH lemon zest.
Related Cooking How-tos
Helpful cooking how-tos based on my extensive experience preparing and cooking comfort food.
Final Thoughts
Knowing how to zest a lemon can come in handy. There are a variety of recipes that incorporate lemon zest into their dishes, and by knowing the skill, you will be able to enrich your food creations. Whether you are making a sweet treat for yourself or a delicious hot meal, lemon zest can come in handy.
There are several ways you can zest a lemon. Some methods are easier than others. However, it is important to know which method feels the most comfortable for you. You don't want to end up cutting yourself or slicing a finger, so it is essential to keep a close eye on your hands while you are zesting.
Zesting is not only limited to lemon either. You can zest anything from lemons or oranges to limes, and each of these citruses brings a new flavor to your dish.
Zesting is a simple task for some, and others may struggle, and that may not always be because of your own ability. It has been found that lemons with thick skin are the easiest to zest, so this will be a lemon to look out for if you are a beginner.
Before zesting, I recommend scrubbing the skin of the lemon to remove any of its residue (soak the lemon in warm water to help with the scrubbing process).
Once that is completed, you are free to zest, creating a mass of delicious concoctions with that extra kick of lemon.
Try one of my comfort recipes for your next family meal! And if you have any questions, I'm here to help!