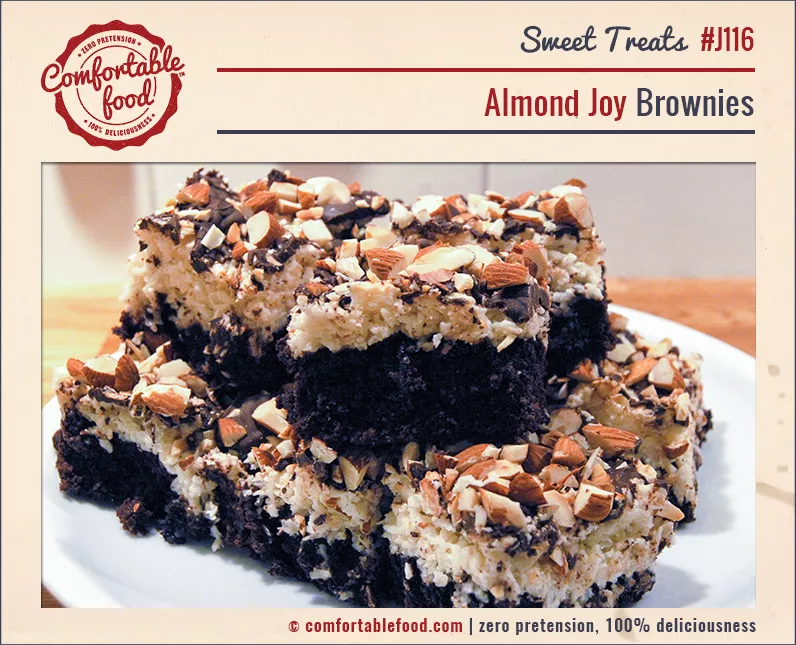 Creamy coconut and almonds top these Almond Joy Brownies and they turn this everyday chocolate treat into something very special. Almond Joy's are quite possibly my favorite candy bar and all that chocolatey, coconuty, almondy flavor is present in these dense, chewy brownies.
I don't know anyone who doesn't love brownies – and these are perfect for dessert or an afternoon indulgence with a cup of tea. I promise that anyone who loves the combination of coconut and chocolate is sure to love these brownies. I've made them a bunch of times to take to picnics and potlucks, and everyone is constantly wanting the recipe – so if you're gonna do the same maybe print a few copies out before you go. 😉
These brownies don't take long at all to make 'n bake – they are out of the oven about 1 hour after you start prepping them, and depending on how big you cut the slices, this recipe should make up to 2 dozen bars.
brownies! brownies! brownies!  check these out:
Almond Joy Brownies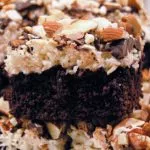 Print
Nutrition facts

(per portion)
Nutrition facts
(per portion)
Calories: 339
Carbohydrate Content: 45.2g
Cholesterol Content: 38mg
Fat Content: 16.7g
Fiber Content: 1.9g
Protein Content: 5.3g
Saturated Fat Content: 6g
Serving Size: 26
Sodium Content: 92mg
Sugar Content: 33.8g
Ingredients
how to
Preheat the oven to 350 F and grease a 9 x 13 baking pan.
Stir together the flour, sugar, cocoa powder, salt and baking powder in a large bowl.
In a separate bowl, mix together the oil, eggs and almond extract.  Use a spoon to stir the wet mixture into the dry ingredients - be careful to not over mix.
Spread this mixture into the prepared baking dish and bake for about 20 - 25 minutes, or until a toothpick test comes back clean.  Set aside and allow to cool while making the coconut topping.
In a medium saucepan, over medium heat, bring the condensed milk to a boil - stirring often.  Stir in the marshmallow cream until combined, then stir in the coconut and remove from heat.
Poke holes all over the surface of the brownies with a fork, then spread the coconut mixture over the top.  Put them back in the hot oven for about 10 minutes, then remove and set aside.
Melt the chocolate chips in the microwave, stirring often so they don't burn.  Drizzle the melted chocolate over the bars and sprinkle with the almond pieces.
Allow to cool, then refrigerate until ready to serve.
this post contains affiliate links