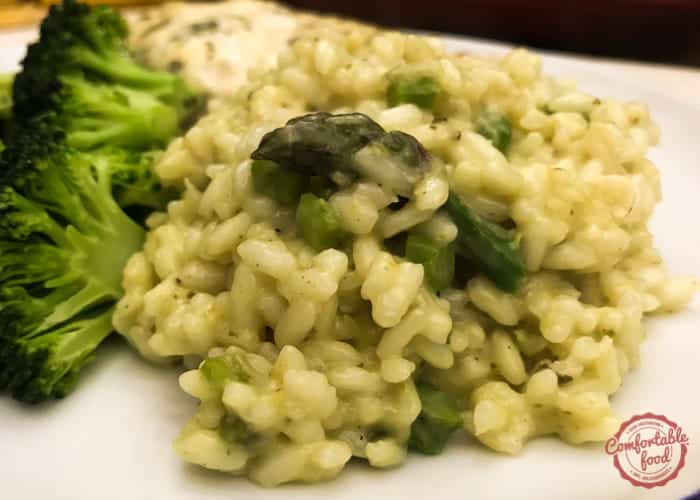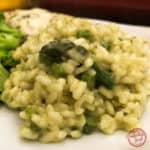 This is the most traditional, classic way I know to make risotto.  I love asparagus risotto, I think it gives the best flavor, and the pesto really balances it all out.  Risotto isn't hard to make, you just have to pay attention to the water – keep adding it and don't let it dry out or you will end up with a sticky mess.

Check out these kitchen essentials helpful in making this recipe:
here's a video showing how to make it:
Ingredients
how to
Cut off the  tips of the asparagus spears and set aside.
Take the remaining part of the stalk and hold at both ends, bend until it breaks in the middle, then discard the hard 'woody' part, and keep the tender part.
Heat the chicken stalk in a medium pot, over medium heat.
Boil the tender asparagus spears for about 5 minutes, then remove from the stock with a slotted spoon and set aside.  Boil the tips in the same stock for about 30 seconds, then remove to a separate bowl.  Remove the stock from heat.
Use a hand held blender to puree about 1/2 of the asparagus stalks, then stir that puree into the stock.  Cut the remaining spears into thin slices, and add them to the tips.
In a large pot, heat the butter and oil over medium heat until hot, then add the onion and cook for about 2 minutes.
Lower the heat to medium - low, then stir in the rice and mix well.  Add the wine, and stir until absorbed.
Begin to add ladles of the hot stock into the rice, stirring very often.  Keep adding liquid and stirring the rice until it does not stick to itself anymore and becomes tender and doubled in volume - about 20 minutes.
Stir in the asparagus pieces and pesto, generously add salt and pepper and continue to cook for about 3 - 5 more minutes, adding more liquid if necessary.  Remove from heat and cover, allow to rest for about 5 minutes.
Serve with Parmesan cheese sprinkled on top.