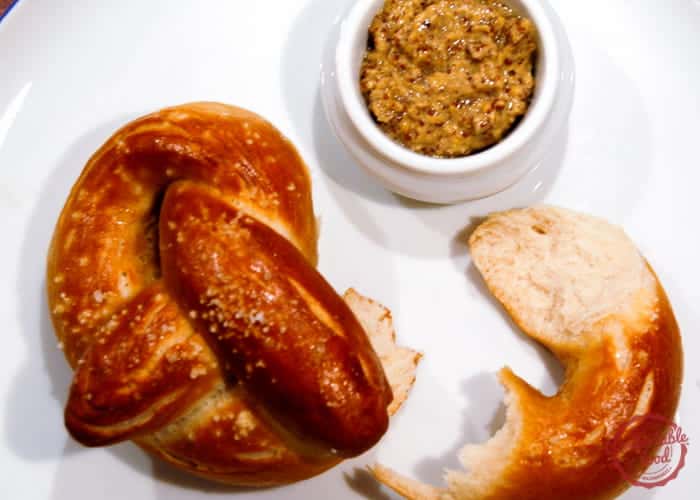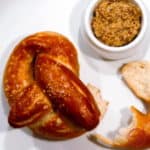 Making homemade German pretzels isn't as hard as you might think.  This recipe is easy to follow, and yields the most chewy, dense, flavorful German pretzels.  Serve with a side of stone ground mustard and maybe a beer - these are delicious.
Ingredients
how to
In a small bowl combine the water, sugar, salt and yeast - then set aside until the yeast foams.
Put the flour in a larger bowl, then add the yeast mixture and butter and use an electric mixer with a dough hook attached to  mix on low speed until combined.
Increase the speed to medium, and mix until the dough comes together and pulls away from the sides of the bowl - about 5 minutes.
(if you don't have a dough mixer attachment, you can put the dough on a floured surface, and knead it for about 10 minutes, until it comes together and becomes elastic)
Form the dough into a ball and put it back in the bowl - drizzle a little oil over it and roll it around well, oiling the ball of dough and the inside of the bowl.
Cover with a damp kitchen towel, and leave in a warm place to rise for about 1 hour, or until doubled in size.
Bring the 10 cups of water and the baking soda to a boil in a large pot.
Preheat the oven to 450 F (225 C)
Line two baking sheets with baking paper, and grease the paper.
Divide the dough into 8 equal size balls, then roll each one out into a 2 ft (24 cm) long rope.
Form a U shape with each rope, then cross the ends down to form a pretzel shape.
Gently place each pretzel into the water, one at a time, and boil for about 30 seconds, then remove carefully with a slotted spoon, and place on the prepared baking sheets.
Use a fork to mix the egg yolk and tbsp of water together in a small bowl, then brush each pretzel well with the mix.
Sprinkle the pretzels with pretzel salt (I couldn't find any pretzel salt, so I used fleur de sel, and it worked great) and bake in the oven for about 12 - 15 minutes, until golden brown.