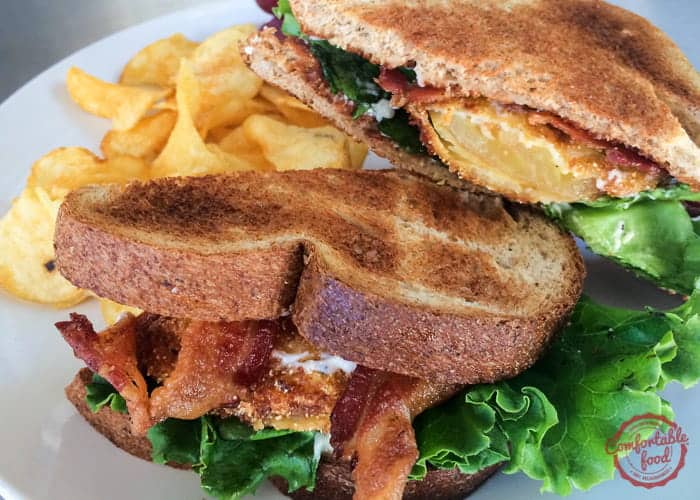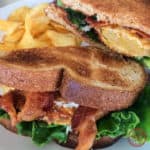 I love a good BLT sandwich. There really aren't too many ways to vary it—except when green tomatoes are in season. Fried, they're perfect in this sandwich. The flavors really all combine together so well; the garlic aioli really does its job pulling everything together.

If you see green tomatoes in your local market, you should snatch some up and make this sandwich. It really does kick a traditional BLT up a few notches. You're gonna love it.

Ingredients
how to
for the tomatoes:
Slice the tomatoes into ⅓" slices, discarding the ends.
Whisk the eggs and buttermilk together in a bowl and set aside.
Put ½ cup of the flour on a small plate. In a shallow bowl, stir together the remaining flour, cornmeal, breadcrumbs, salt and pepper.
 Heat ½" of oil in a cast iron skillet to medium-high heat. The oil should sizzle if you drop a drop of water into it.
Dredge the tomato slices in the flour, then dip in the egg wash then coat completely with the cornmeal mixture. Drop in batches into the hot oil and cook until golden brown - about 2 minutes per side.
Drain on paper towels and season with a little extra salt.
for the aioli:
Press the garlic cloves into a small bowl, and use a spoon to mash it together with the salt. Add the mayonnaise, parsley, pepper, olive oil and lemon juice and whisk together until combined.
for the sandwich:
Spread all 8 slices of bread with aioli on one side.
Put a piece of lettuce on each of 4 pieces of bread. Top each sandwich with 3 - 4 slices of fried tomato and 3 pieces of bacon.
Put the top piece of bread on, slice on the diagonal and serve.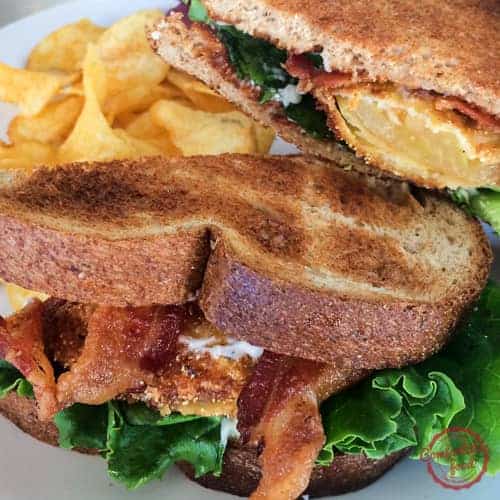 5

stars - based on

1

review(s)