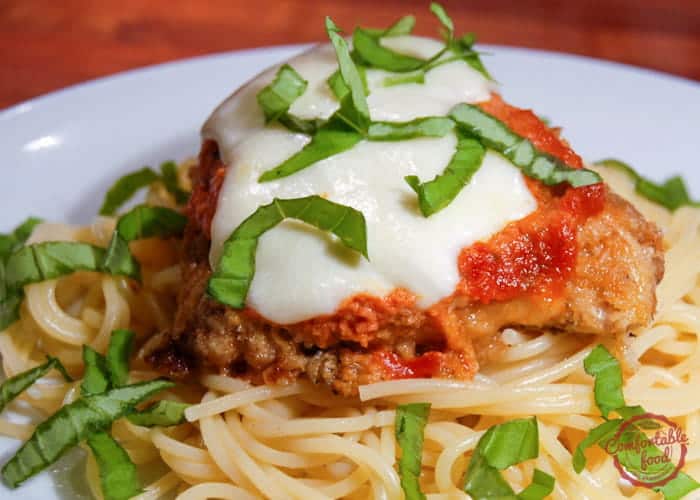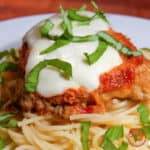 For a lighter take on a delicious classic, try this oven baked chicken parmesan.  It's way less greasy, and just as delicious as the pan fried version.  This dish is an excellent weeknight choice - it's quick, easy and crazy good.
Ingredients
how to
Preheat the oven to 425 F (205 C).
Mix the dijon, oregano, cayenne and salt and pepper together in a shallow bowl.  In another bowl, whisk the egg and milk together.  In a third bowl, combine the parmesan and bread crumbs.
Dredge the chicken in the mustard mix, coating both sides, then dip it in the egg mix and finally coat completely with the breadcrumbs/parmesan, pressing the meat into the breadcrumbs to coat well.
Place the chicken breasts in a glass or ceramic casserole dish and brush lightly (or spray) with olive oil on all sides.  Bake until they chicken breasts are browned and cooked through - about 20 - 25 minutes.
Remove from the oven, and spoon about 1/4 cup of tomato sauce on each piece, then top with the sliced mozzarella.
Return to the oven for about 5 more minutes to heat the sauce and melt the cheese, then serve on a bed of pasta and garnish with fresh basil and more grated parmesan.