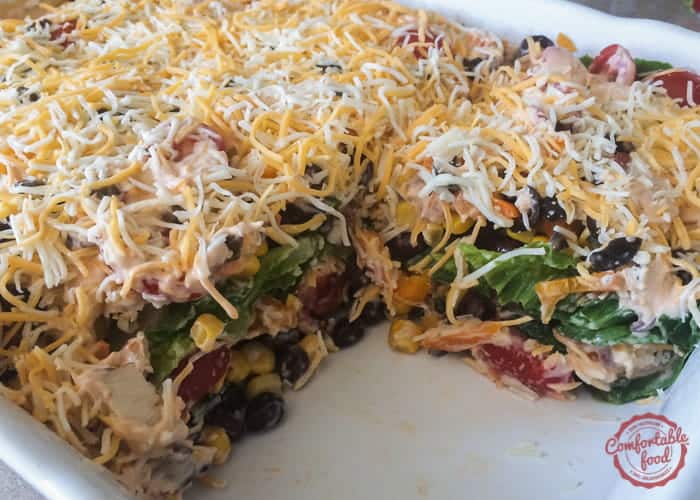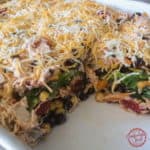 Layered salads are always a great way to impress at a potluck, BBQ, or family gathering. Traditionally they are served in a glass bowl, so you can see all the layers—but once a few people dig in, things can start to get a little messy.  I got this idea to try a layered salad in a cake pan from Melissa at ChinDeep—and what a great idea it is. It serves up beautifully, almost like a salad lasagna.
The creamy, zesty ranch and BBQ dressing is the perfect complement to the fresh veggies and chicken. This salad is super-flavorful, ridiculously easy to make and serve, and oh so delicious.
(This recipe was originally published here on 09/04/2014)
Ingredients
how to
Whisk the BBQ sauce and ranch dressing together in a bowl and set aside.

 In a 9 x 11" casserole dish, arrange half of the pieces of Romaine across the bottom, overlapping them slightly and making sure the entire bottom of the dish is covered.

Evenly sprinkle half of the chicken pieces on the lettuce, then add ½ of each remaining ingredient - the beans, corn, tomatoes, red pepper and olives. Spread half of the dressing on top, then sprinkle on half of the cheese.
Layer on the remaining lettuce and the second half of the remaining ingredients again, ending with the cheese.
Wrap tightly with plastic wrap and chill overnight in the fridge.
Cut into squares and serve cold.