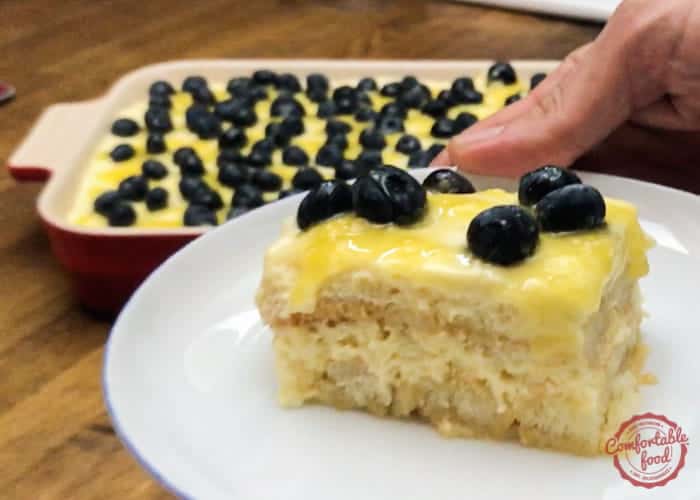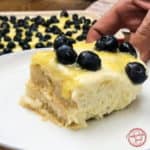 So, first of all I have to say this is probably the best dessert I've ever made.  I'm not a huge fan of 'traditional' tiramisu, usually the coffee part is too sweet for me.  I was at an Italian pizzeria the other evening and they had this as a dessert option, so I tried it and I LOVED it, but (as usual) I thought I could improve the recipe a bit.
After doing some research and finding out that Limoncello Tiramisu is actually a real thing, I went to work trying to write the best recipe for it that I could.  After taking one bite, I knew this was my absolute new favorite dessert.  It's rich and creamy and sweet, but at the same time tart from the lemon juice and the blueberries - it's absolutely perfect.  I can't wait for my next dinner party to make this again - it's THAT good.  🙂
here's a video showing how to make it:
Ingredients
how to
Put the lemon juice, 1 cup of the limoncello, 1/2 cup sugar and the water in a small saucepan and bring to a boil.  Let it boil for about 4 - 5 minutes, stirring constantly to dissolve the sugar, then set aside and allow to cool completely.
Put a medium/large pot of water to boil, then in a heat safe bowl that is large enough to fit on top of the pot, beat together the egg yolks, 1/4 cup of lemon curd, the lemon zest, th1/4 cup of sugar and 1/2 cup of the limoncello.
Put this bowl over the boiling water, and whisk constantly, scraping down the sides for about 5 minutes, or until the mixture thickens and makes ribbons when dropped on the surface.  Remove from heat and allow to cool.
Put the egg whites and remaining 1/4 cup of sugar in a bowl, and use an electric mixer to beat until firm peaks form and set aside.
Put the mascarpone in a large bowl, and stir with a wooden spoon until broken up and soft.  Add the cooled egg yolk/lemon mixture and gently fold together with a spatula.  Begin to fold in the egg whites a little at a time, until the mixture is light and completely blended.
Pour some of the cooled syrup into a small dish - no deeper than 1/4".  Begin to gently soak the lady fingers - one at a time - by rolling them gently in the syrup.  Don't leave them in the syrup long as they will fall apart.
Line the bottom of a 9x13" casserole dish with an even layer of lady fingers, then spread 1/2 of the mascarpone mixture evenly over the top.  Repeat with another layer of lady fingers and custard, then cover and refrigerate overnight or for at least 4 hours.
Before serving, sprinkle blueberries over the top.  Whisk together about 1/4 cup more of lemon curd with some limoncello until runny, then drizzle this over the top of the blueberries.