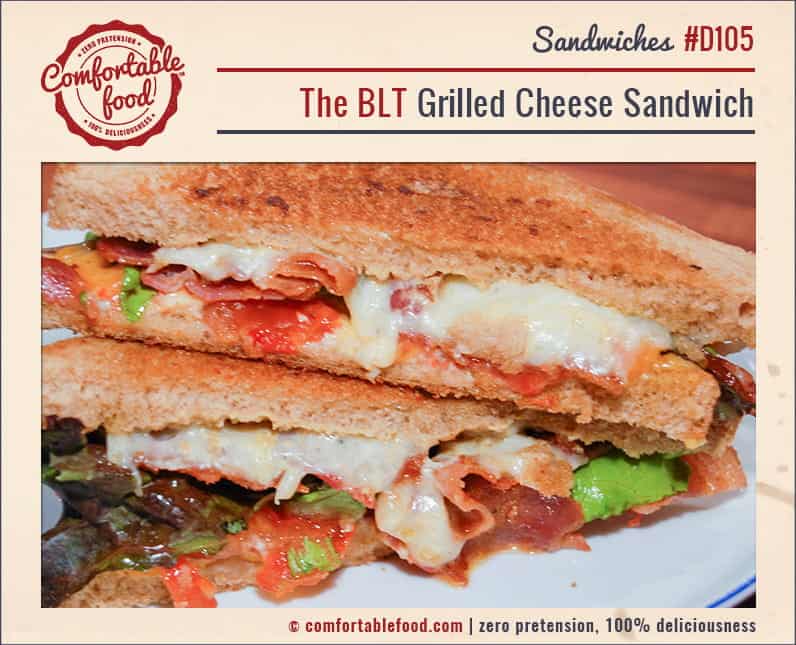 This Grilled Cheese with Bacon, Lettuce and Tomato is the best combination ever of two amazing sandwiches. I'm a Grilled Cheese fanatic, as well as an avid lover of the Classic BLT and that inspired me to make this version. I'm glad I did, because it is SO good. Tons of gooey cheese, crispy bacon and finished off with thick slices of tomato and crispy romaine. Yum, yum, yum. 🙂 


I didn't want the lettuce to get soggy, so I added it in after the sandwich has grilled. It's pretty easy to open them up and slide that romaine in there, and trust me it's worth it, because that fresh crunch of the lettuce really does send this grilled cheese sandwich into the stratosphere.
These sandwiches are a cinch to make, prep time is just a couple minutes, then grill them up and serve them and prepare yourself for the ooooh's and aaaah's as they get devoured.



grilled cheese on your mind? check these out:
The BLT Grilled Cheese Sandwich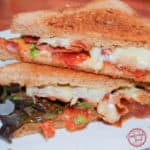 Prep Time: 10 minutes
Cook Time: 15 minutes
Serving: 2 sandwiches
Print
Nutrition facts

(per portion)
Nutrition facts
(per portion)
Calories: 855
Carbohydrate Content: 21.1g
Cholesterol Content: 175mg
Fat Content: 65.4g
Fiber Content: 3.4g
Protein Content: 46.6g
Saturated Fat Content: 31g
Serving Size: 2
Sodium Content: 2447mg
Sugar Content: 7.5g
Ingredients
how to
Cook the bacon in a large skillet until crispy, then remove to a paper towel lined plate to drain.
Remove most of the grease from the skillet, then return it to medium heat and fry the tomatoes for about 1 - 2 minutes on each side, enough to seal them.  Remove from heat and set aside.
Stir the pressed garlic into the melted butter, and let sit for a couple of minutes.
Use a brush and spread the butter on one side of the pieces of bread, then stack the pieces together 2 by 2 with the buttered sides touching.
Spread some mayonnaise on the top pieces of bread, then add the shredded cheddar.
Put the seared tomato slices on the cheese, then stack the bacon on top and pack on the grated havarti.
Heat a clean skillet up over medium-low heat and carefully lift the open sandwiches into the pan, leaving behind the bottom pieces of buttered bread.
Spread some dijon mustard on the non-buttered side of the remaining slices of bread, then place them on top of the sandwiches in the pan.
Cook about 4 minutes on each side, pressing down occasionally with a spatula - until the bread is golden brown and the cheese is melted.
Remove the sandwiches from the skillet and use your spatula to open the sandwich between the bacon and tomatoes and slide in the lettuce.
Serve with chips, or better yet a warm bowl of tomato soup.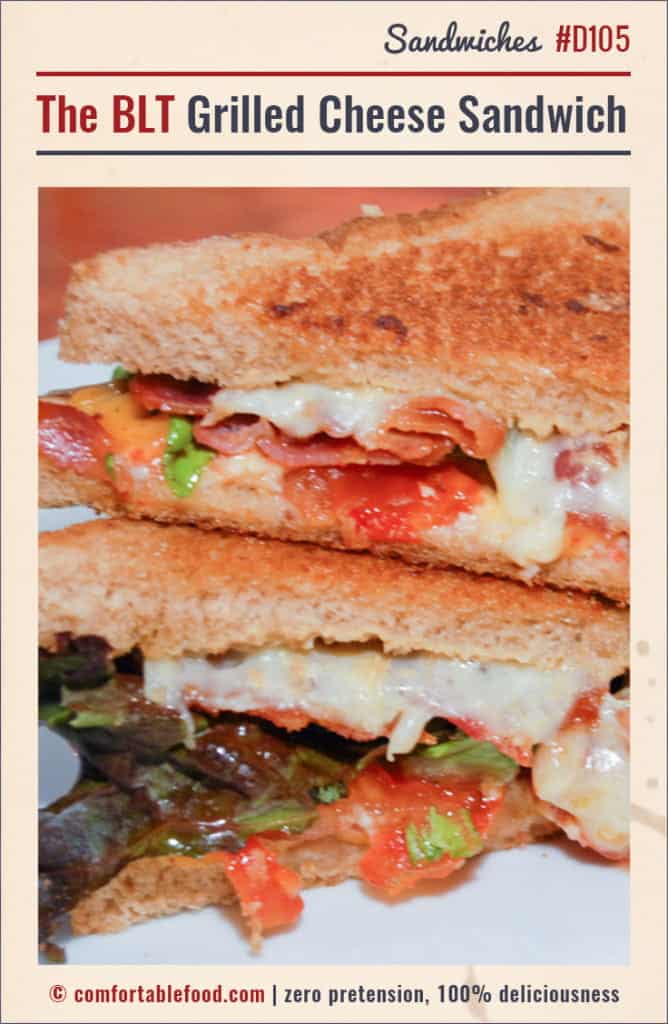 (this post contains affiliate links)