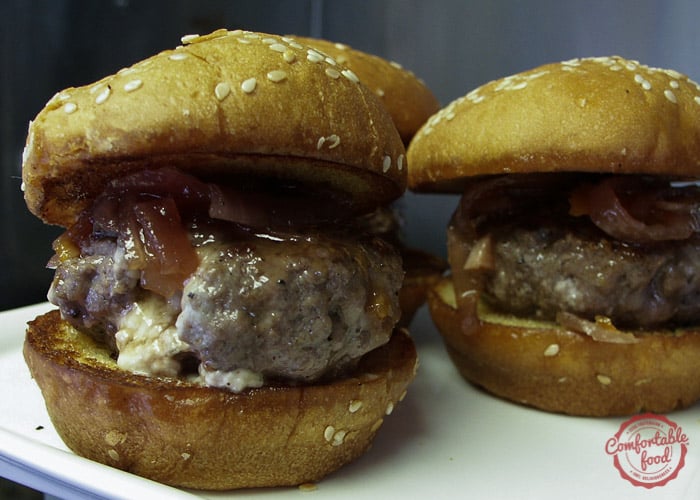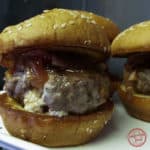 The blue cheese in the center of the burger gives these sliders the perfect tangy deliciousness, and the compote provides a delicious sweetness that gives just the right amount of contrast. These are great to serve up as an interesting appetizer, or a perfect addition to any summer BBQ.  They're really easy to throw together and unique enough to impress.

(This recipe was originally published here on 04/10/2014)
Ingredients
how to
for the compote:
Heat the olive oil in a heavy bottomed sauce pan over medium heat. Add the onions and cook until translucent, then add the garlic. Cover the pot with a lid, lower the heat to low and let simmer together for about 15 minutes.
Remove the lid, stir in the marmalade and bring the heat back up to medium high. Cook and stir for about 10 minutes, until the marmalade thickens. Remove from heat and set aside.
for the sliders:
Put the ground beef in a bowl. Add the onion, mustard, and salt and pepper, and mix together well with your hands until well combined.
Use a kitchen scale to measure out 3 oz pieces of beef, then roll them together with your hands to form balls. (You can wet your hands a bit to keep the beef from sticking.)
Take about 1 tsp of blue cheese, roll it up into a ball and press it gently into the meatball, then pull the beef flat around it to form a small patty - about 3" in diameter.
Heat some butter in a heavy bottomed skillet and cook each burger for about 3 minutes on each side, or until done. Use a spatula to press down on the burgers while they're cooking to help keep them flat.
Brush the buns with melted butter, and put them face down in a hot skillet for a few seconds to brown them. Place a burger on the bottom of each bun, top with about 1 Tbsp of the onion compote - put on the top bun and serve.