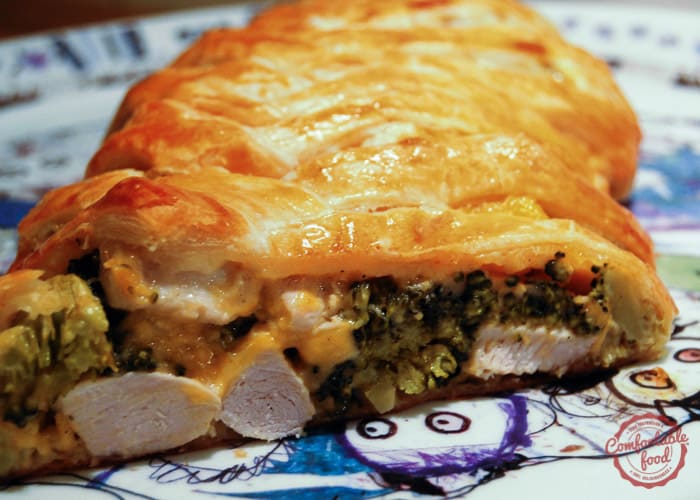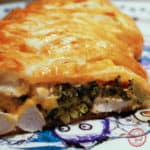 I love this bread/sandwich. It makes a perfect lunch with a cup of soup, but it's also great finger food for a party, or the perfect addition to any brunch menu. It's also great to wrap up and throw in your child's lunchbox.
I really like the combination of flavors; the chicken gives great protein, and we all know how well broccoli and cheddar go together. The creamy bechamel holds it all together, making this the ultimate homemade hot pocket.
(This recipe was originally published here on 04/17/2014)
Ingredients
how to
for the bechamel:
In a medium, heavy bottomed sauce pan, melt the butter over medium heat. When the butter is melted, use a whisk to whisk in the flour. Whisk until smooth and creamy.
Increase the heat to high, and gradually whisk in the milk. Add the nutmeg and salt and pepper, and cook - stirring constantly, until the sauce thickens and is very smooth, then stir in the parmesan cheese and remove from heat.
for the bread:
Preheat the oven to 375 F and spread the pastry dough on a prepared baking sheet - making a large rectangle.
In a large bowl, toss the chicken, cheddar, and broccoli together with the behcamel.
Spread the chicken mixture down the center of the pastry dough, leaving about 5 inches of dough on each side.
Use a sharp knife to cut angled strips in the dough down each side, starting about 1 inch from where the filling ends. Fold the strips up over the filling in a criss-cross pattern to form a braid.
Brush the egg wash over the top, and bake for about 30 - 45 minutes, or until golden brown.