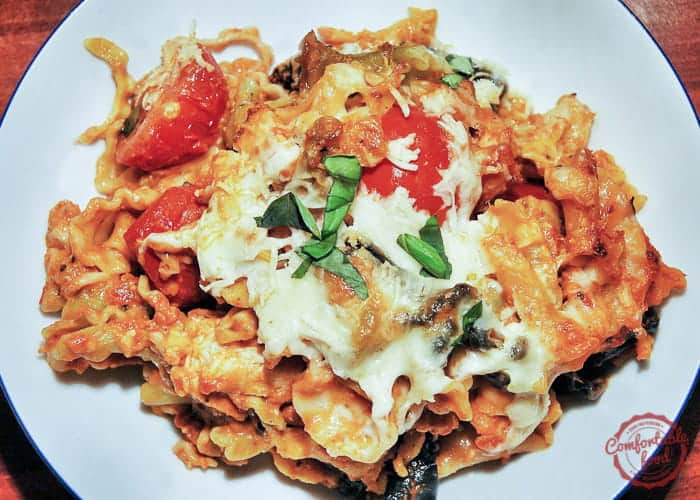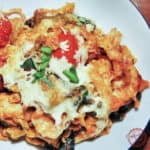 Nothing says summer to me more than a great caprese salad. As soon as I can get my hands on some perfect tomatoes, I find the best mozzarella (or better yet, burrata) I can — add some shredded basil and it's summer on a plate. Where I live, the heirloom tomatoes aren't quite ready yet, but the cherry tomatoes are perfect. I decided to apply some of those delicious summer flavors into a pasta bake to see how it would work.
I bought some really good pasta, added a bit of cream to flavor it up, some peperoncini to give it some heat, and tons of fresh mozzarella to hold it all together. It came out just as I had hoped, definitely inspired by the flavors of summer, but so rich and creamy and cheesy that it could not be described as anything other than completely comforting and delicious.
(This recipe was originally published here on 05/24/2013)
Ingredients
how to
Heat the oven to 375 F (190 C), then cook the pasta for about 1 minute less than the package directions call for.
In a large saucepan over medium heat, heat the tomato sauce with the cream, about ½ of the Parmesan, pesto and crushed red pepper. Generously salt and pepper, and cook until the cheese melts, stirring often.
When the pasta is cooked, drain it and return it to its pot. Stir in the chicken, tomatoes, and about ½ of the mozzarella and basil. Add the tomato sauce and stir well to combine.
Pour the mixture into a greased casserole dish and top with the remaining cheeses. Cook, uncovered, for about 20 - 25 minutes, until the cheese begins to brown.
Allow to rest for about 10 minutes before sprinkling with the remaining basil and serving.