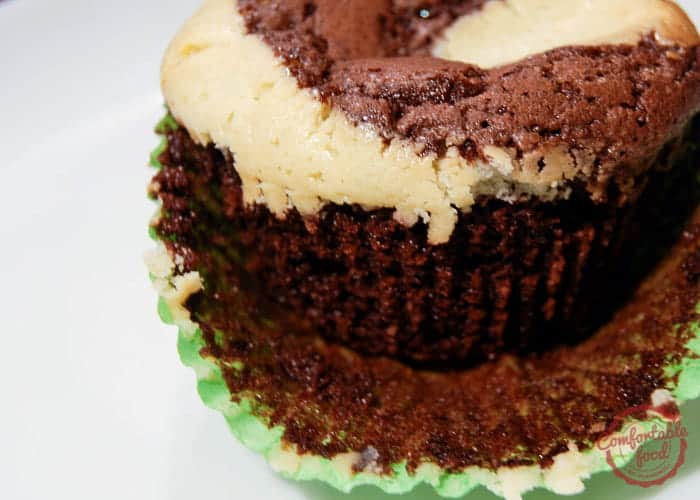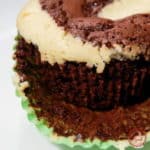 These cupcakes combine two of the best things ever: cheesecake and brownies.  The texture on these amazing cupcakes is perfect - they're not too light yet not too dense.  The cheesecake topping is just sweet enough and gives a bit of a crispy texture to counter the chewy brownie.  Very, very yummy.
Ingredients
how to
Preheat the oven to 350 F (175 C) and line a muffin tin with paper cupcake liners.
for the cheesecake topping:
In a medium bowl, use an electric mixer to beat the butter and cream cheese together until smooth and creamy, about 1 minute.  Beat in the sugar and vanilla until smooth, then add the egg and mix well - then mix in the flour and set aside.
 for the cupcakes:
In a large bowl, use an electric mixer and mix together the sugars and oil until well blended,  then add the eggs one at a time, blending well after each addition - then mix in the vanilla.
In a separate bowl, whisk together the flour, salt, baking powder, cayenne and cocoa.
Add the dry mixture to the wet mixture in a few batches, mixing well after each addition, then stir in the chocolate.
Pour this mixture into the muffin cups, filling about 3/4 full, then spoon about 1 tbsp of cheesecake mixture on top.  Use a toothpick to gently swirl some of the cheesecake mixture into the brownie batter.
 Bake for about 25 - 30 minutes, or until a toothpick test comes out clean.
Allow to cool slightly in the pan, then remove to cool completely on a wire rack.