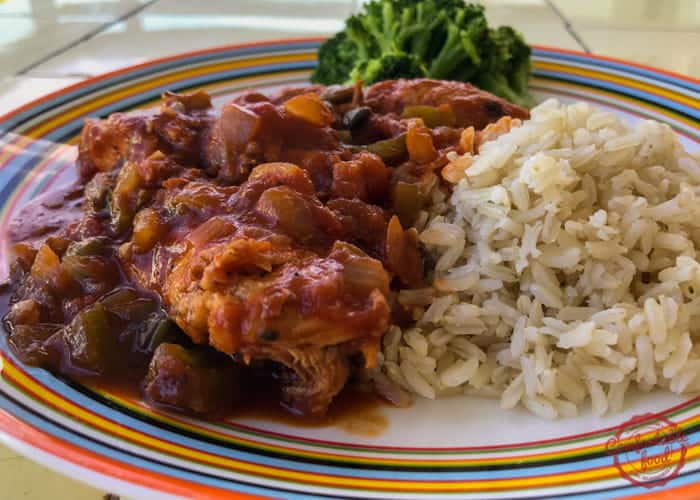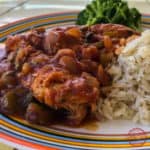 Tangy tomatoes and peppers blend together seamlessly to give this chicken cacciatore its perfectly delicious traditional Italian flavors.  Light, yet hearty - this dish never fails.
here's a video showing how to make it:
Ingredients
how to
Dry chicken with a paper towel, then sprinkle both sides with salt and pepper, and coat with a light dusting of flour.
Heat the oil in a heavy bottomed skillet over medium-high heat and brown the chicken on both sides, about 5 minutes per side.
Remove cooked chicken to a plate.
Lower the heat to medium-low, and put the onions, peppers and garlic in the skillet. Add some salt and pepper and cook until the onion and garlic are browned, and the pepper softens – about 5 – 6 minutes.
Add the wine, and raise heat slightly to reduce the liquid, about 3 – 5 minutes.
Add the tomatoes (with juice), capers, and oregano and cook for about 5 more minutes.
Add the chicken stock and bay leaf, then place the chicken breasts in the pan, nestling them into the sauce.
Simmer, partially covered, for about 25 – 30 minutes, or until the chicken is cooked through.
If the sauce isn't thick enough, remove the cooked chicken and keep warm, then increase the heat until the sauce reaches its desired consistency.
Remove bay leaf from sauce and serve the chicken with rice or pasta, and maybe a green vegetable for color.
I like this dish with brown rice and a hearty green vegetable like broccoli.