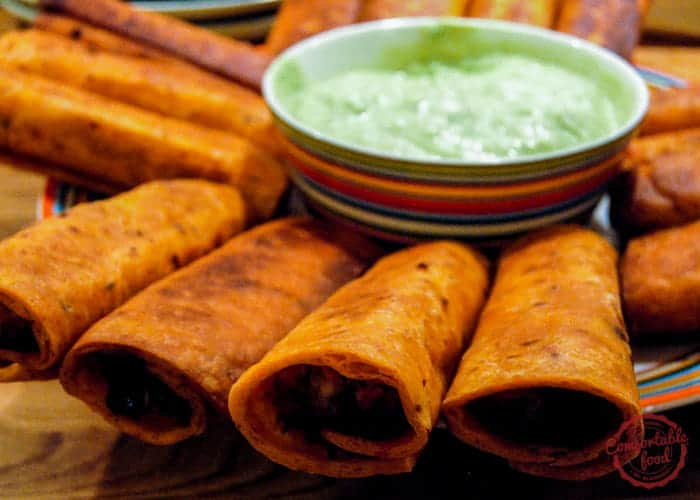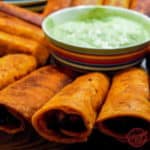 These crispy flautas are really simple to make and very very tasty.  They make an excellent spicy appetizer, and are perfect finger food.  Serve them at your next fiesta and you're guaranteed to spice things up.
Ingredients
for the flautas:
vegetable oil - for frying
butter - 1 tbsp
red onion - 1 small, finely diced
jalapeno - 1, finely diced
garlic cloves - 2, minced
cumin - 1 tsp
cayenne pepper - 1/2 tsp
chicken - 1 small rotisserie, skin removed and finely shredded
salsa - 1 cup
cilantro - 1/4 cup, finely chopped
shredded cheese - 1 cup, shredded, cheddar or mexican blend
limes - 2, juiced
salt - use very generoulsy
tortillas - 12, small flour or corn
for the crema:
avocado - 1, very ripe, pitted and flesh removed
sour cream - 1/2 cup
lime - 1, juiced
salt - use very generoulsy
how to
to make the flautas:

In a heavy bottomed skillet, heat the butter over medium heat and sautee the onion and jalapeno until they begin to soften, about 4 - 5 minutes.
Stir in the garlic and cook for about 2 more minutes, then stir in the cumin and cayenne.
Add the chicken and the salsa,  mix well to combine, then cook for about 5 more minutes, or until heated through.
Remove from heat, allow to cool slightly, then stir in the cilantro, cheese, and lime juice and salt to taste.
Place about 1/3 cup of filling in the center of a tortilla, and roll tightly, pulling the filling towards you as you roll.  Place the rolled tortilla with the flap side down, if it doesn't stay together easily, then secure it with a toothpick
Fill a frying pan with about 1 inch of oil, then heat it over medium high heat until hot.
Place the flautas in the oil with the open side down, and fry until golden and crispy, about 2 - 3 minutes per side, checking often to make sure they're not browning too much.  When they are cooked, remove to a plate with paper towels to allow them to drain, then keep them warm in the oven.
to make the crema:
In a medium bowl, mash the avocado, then whisk in the sour cream, lime and salt until smooth and creamy - serve with warm flautas.