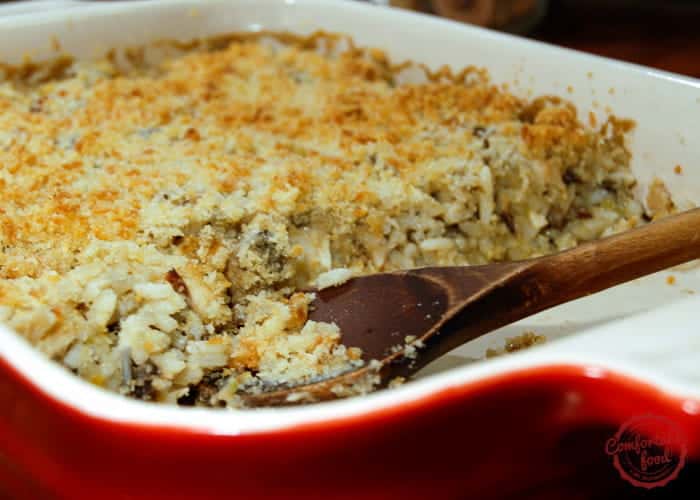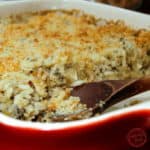 This creamy chicken and rice casserole is loaded with tasty portobello mushrooms and wild rice.  A cheesy homemade cream sauce holds it all together - it's a great one dish dinner bake, so easy to throw together.  It's a perfect solution for a quick, easy, great meal.

Check out these kitchen essentials helpful in making this recipe:


[adinserter block="1"]
[adinserter block="2"]
Ingredients
how to
Bring about  4 cups of water to boil in a medium pot, add the rice blend then cover, reduce heat and simmer until about 5 minutes below  package recommended cook time.
Preheat the oven to 350 F (175 C).
Heat the butter in a large, nonstick skillet, then add the celery and onion and cook over medium low heat for about 3 - 5 minutes, until softened.
Increase the heat to medium high, add the mushrooms and cook for about 3 more minutes, or until the mushrooms begin to release their juices.
Sift the flour over the mushrooms, stir to combine, then add the stock and milk and cook over medium high heat until thickened and bubbling (stirring constantly)  - about 5 minutes.
Stir in the chicken and cheese, generously salt and pepper and  remove from heat.
When the rice is cooked, drain it well, then immediately stir into the chicken mixture.
Grease a large casserole dish and transfer the chicken to the dish.
Put the breadcrumbs in a small bowl, add the parmesan - drizzle with melted butter and toss well, then sprinkle over the top of the casserole.
Cook in the oven for about 35 - 40 minutes, until golden brown and bubbly.