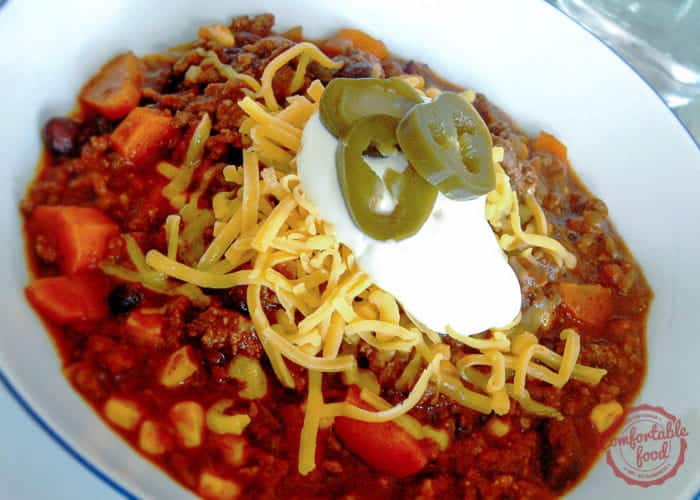 Nothing says fall like a big pot of chili con carne.  I love making chili because it never comes out the same way twice – but it's always delicious and comforting.  This recipe makes chili con carne that is not too spicy, but you can easily just add extra heat with jalapenos or chipotles.  This recipe is also very easy to make vegetarian, just skip the meat and add more beans and vegetables, the base is the same.
Ingredients
how to
Heat the olive oil in a large, heavy bottomed pot.
Saute the onion over medium heat for about 2 – 3 minutes, then add the garlic and cook for about 3 more minutes.
Increase the heat to medium-high, add the beef, generously salt and pepper, then stir frequently until the beef is browned.
Add all seasonings and stir well.
Add the beans, carrots, tomato puree, tomatoes, and the water.
Add a few more pinches of salt, and bring almost to a boil.
Reduce the heat to low and simmer for about 30 minutes, or until the carrots are just tender.
Stir in corn, remove from heat and let rest before serving. (this chili is MUCH better served the next day, so if you can plan ahead, make it the day before)
Top the chili with shredded cheese, sour cream and sliced jalapenos – YUM.