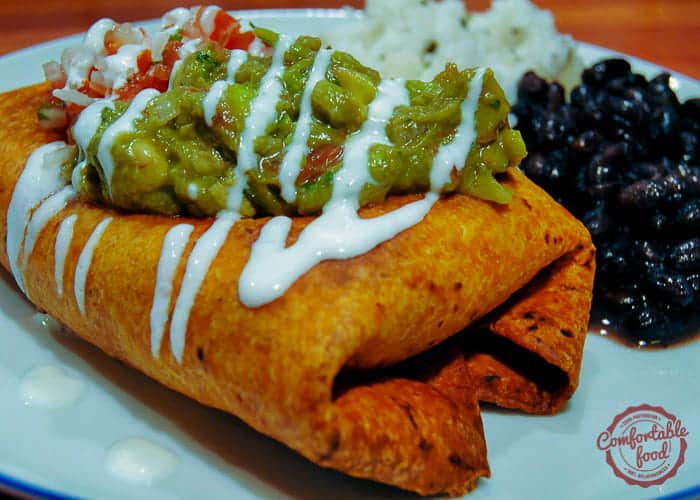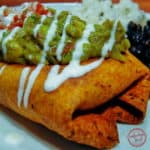 Chimichangas are definitely my favorite Mexican inspired comfort food.   They are super easy to make at home.  They are delicious with ground beef, just cheese, or with roasted vegetables.  I love chipotles, and this mixture of chicken and that smoky spice in this recipe is just delicious.
Ingredients
vegetable oil - for frying
flour tortillas - 8 large, or 6 extra large
toothpicks - 16
refried beans - 1 14 oz (400 g) can
cheese - about 2 cups - mexican, monterrey jack, or cheddar, shredded
for the chicken filling
chipotle - 2, with about 1 tsp adobo sauce
tomato paste - 1 6 oz (140 g) can
water - 1/2 cup
vegetable oil - 2 tbsp
red onion - 2 medium, finely diced
red pepper - 1, chopped
yellow pepper - 1, chopped
taco seasoning - 3 tbsp
oregano - 1 tbsp
tomatoes - 1 14 oz (400 g) can, with juices
chicken - about 4 cups, cooked and chopped
cilantro - 1/2 cup, chopped
how to
Use a hand blender and puree the chipotle with the tomato paste and water, then set aside.
Heat the 3 tbsp of vegetable oil in a large skillet over medium heat, then add the onion and peppers and cook until beginning to soften, about 4 minutes.
Increase the heat to medium high and add the taco seasoning and oregano - mix well and cook for about 2 minutes.
Stir in the tomato paste puree, the canned tomatoes and the chicken then allow to simmer for about 5 minutes.  Stir in the cilantro and remove from heat.
In a large frying skillet, heat enough oil to cover half of the burrito.
While the oil is heating, make your burritos.  Take a flour tortilla and spread about 1/4 cup of refried beans in the center and pile some cheese on the beans.
Spoon about 2/3 of a cup of the chicken mixture on top of the cheese, then fold the tortilla over the mixture - folding in two sides first, then the other two sides over the top.  Make sure the tortilla is rolled tight, then use two toothpicks to secure the top flap so it wont open.
Fry them two at a time for about 2 minutes or until golden brown, then flip them over and fry the other side.  Remove to a plate with paper towels to drain, then keep warm in the oven while you fry the rest.
Serve topped with sour cream, salsa and guacamole with rice and beans on the side.