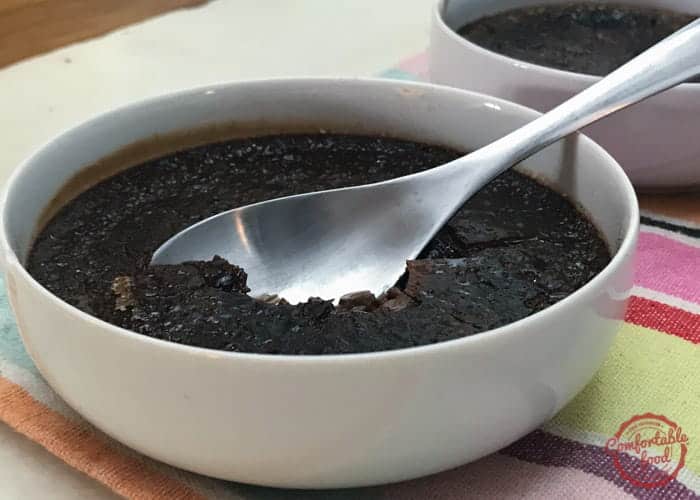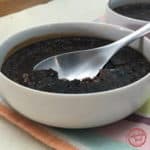 Today is Mother's Day and I wanted to post a special dessert.  Creme brulee can sound intimidating to make, but in reality it's really very simple.  The most traditional version is with vanilla beans, but I wanted to spice things up a bit, and the combination here of chipotle and chocolate gives an amazing result.
You can use smaller ramekins and make 6 of these, I only have large custard cups so I just made 4.  Adjust the chipotle powder to your liking, I actually used more than is called for in this recipe, but I like things spicy.  You can also leave out the brown sugar if you don't like things too sweet.  I really wanted the chocolate to dominate here, so I left it out and it was perfection.
Check out these kitchen essentials helpful in making this recipe:
here's a video showing how to make it:
Ingredients
how to
Preheat the oven to 325 F.
Whisk the whipping cream, vanilla, chipotle powder and brown sugar together in a medium saucepot over medium heat. Bring to a boil, whisking occasionally, then remove from heat.
Add the chopped chocolate and whisk until smooth.
In a medium mixing bowl, whisk together the egg yolks. Add the hot custard mixture a little at a time, whisking constantly.
Divide the custard evenly between 6 custard or soufflé dishes, then put them in a large casserole dish. Pour enough hot water into the casserole dish to come about halfway up the sides of the cups.
Bake until the custard is just about set - about 30 - 40 minutes. Remove the custard from the water and allow to cool, then cover and refrigerate for at least 3 hours, or overnight.
Right before serving, whisk the sugar and cinnamon together in a small bowl, then sprinkle evenly over the tops of each custard.
Use a brulee torch to melt the sugar over the top - creating a crispy sugary crust. If you do not have a brulee torch, you can use your broiler. Just make sure it's on the highest setting and the custard are placed directly underneath it for about 2 minutes. Watch carefully.