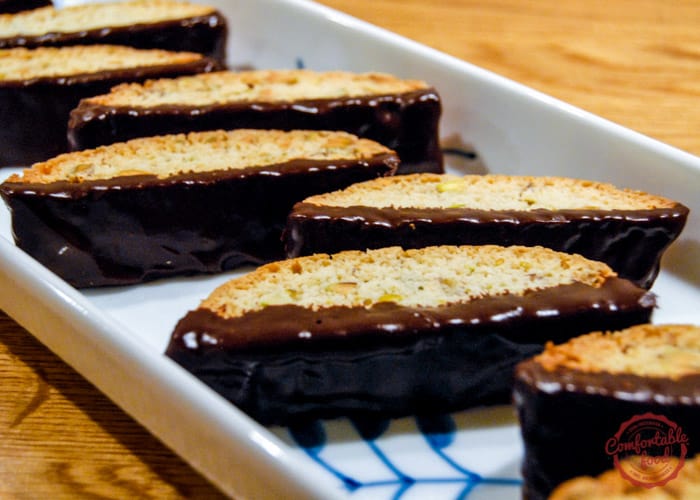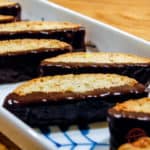 I am the kind of guy who doesn't need a cup of coffee to enjoy biscotti. I love the delightfully crunchy cookies just by themselves. This recipe is super-easy to follow and make, and you can make any variety of biscotti you'd like. They're good with dried fruits, like cherries or cranberries, and you can use whatever nut you choose. Here I used pistachios (because I love them) but almonds are also a very popular choice.
As far as the chocolate dipping goes, you can go crazy and drizzle white chocolate over the top if you want them extra-fancy, or just dip the bottoms as I have done here. These can be very elegant, and they last quite a while if packaged correctly, so they can make excellent homemade gifts for a special someone.
(This recipe was originally published here on 01/16/2014)
Ingredients
how to
for the biscotti:
Preheat the oven to 350 F.
In a large bowl, use a spoon to mix the flour, sugar, baking powder, salt and cinnamon together. With a pastry blender, or your hands, cut in the butter until the mixture resembles fine crumbs.
Put about 1 Tbsp of the beaten eggs into a small cup and set aside. Add the pistachios, vanilla, and remaining beaten eggs to the flour mixture and stir until evenly moistened. With lightly moistened hands, press the dough together to form a ball.

 Lightly moisten your hands again, and divide the dough into 4 equal pieces. On 2 large cookie sheets lined with baking paper, shape 2 pieces of dough into 9″ by 2″ logs, about 4 inches apart. Use a pastry brush to coat the tops and sides of the logs with the reserved egg.

Bake the logs in the top and bottom thirds of the oven for 25 minutes, rotating the cookie sheets halfway through baking. Cool the logs on cookie sheets on wire racks for 10 minutes.
Place 1 log on a cutting board and use a serrated knife to cut the warm log crosswise into ½" thick diagonal slices. Place the biscotti, cut side up, at least ¼ inch apart, on the same cookie sheets. Repeat with the remaining logs.
Bake the slices for 15 minutes, rotating pans again halfway through baking, to allow biscotti to dry. Cool the biscotti completely on cookie sheets on wire racks. (The biscotti will harden as they cool.)
for the dipping chocolate:
In a heatproof bowl over a pan of boiling water, stir and melt the chocolate and butter together until melted and combined.
When the biscotti have cooled, dip the bottoms in the melted chocolate, then allow to set, lying on their sides on baking paper.