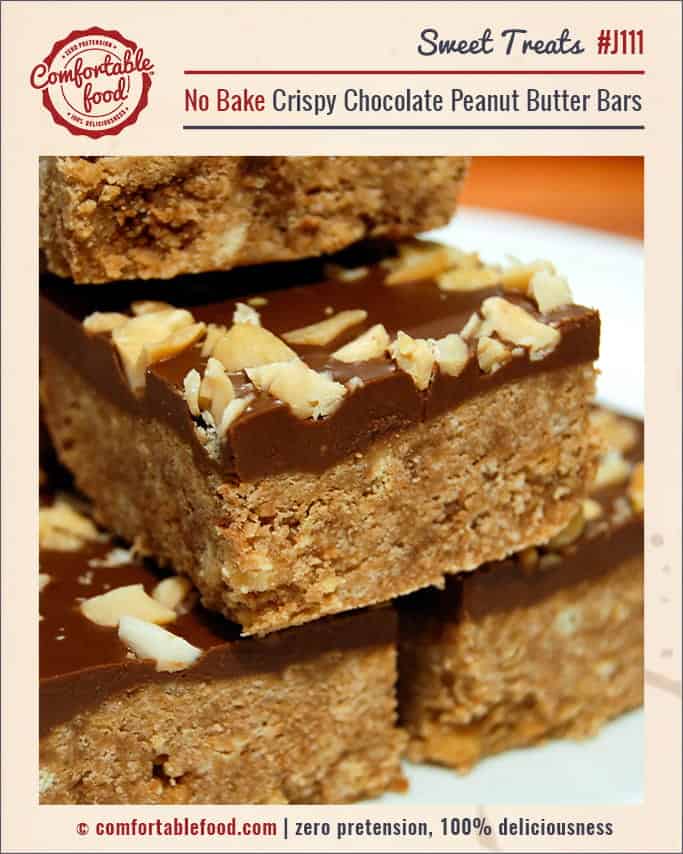 These No Bake Crispy Chocolate Peanut Butter Bars are the perfect embodiment of that magic that chocolate and peanut butter create when paired together.  They are layered on top of a crushed graham cracker crust which gives the perfect crunchy base for all that chocolatey nutty deliciousness. I have been obsessed with chocolate and peanut butter together for most of my life and it's funny that now I live in Europe people think I am crazy for it. They can call me crazy all they want, or think what they wish, but no way, no how will I ever renounce my deep and true love for peanut butter and chocolate.
I love no-bake cookies, especially in those summer months when turning on that oven just sounds like a horrible thing to do.  If you're in that same camp – you should check out these  Super Easy Nutella No-Bake Cookies. My mom made them all the time growing up and they're ridiculously easy and require zero heating up of the oven either.  🙂
There's only about 30 minutes of prep time to make these Chocolate Peanut Butter Bars, then you just let them chill in the fridge for a while and soon you'll be enjoying about 2 dozen slabs of crispy, nutty, chocolatey deliciousness.  These bars will keep for several days (yeah, right) at room temperature, but I love them cold out of the fridge.


do you love peanut butter and chocolate as much as I do?
check these out:
No Bake Crispy Chocolate Peanut Butter Bars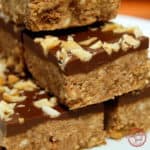 Prep Time: 30 minutes
Cook Time: 30 minutes
Serving: 2 dozen
Print
Nutrition facts

(per portion)
Nutrition facts
(per portion)
Calories: 373
Carbohydrate Content: 34.1g
Cholesterol Content: 15mg
Fat Content: 25.6g
Fiber Content: 2.9g
Protein Content: 8.4g
Saturated Fat Content: 10.1g
Serving Size: 24
Sodium Content: 215mg
Sugar Content: 23.8g
Ingredients
how to
make the peanut butter layer:
In a heatproof bowl over boiling water, melt the butter and 1½ cups peanut butter together, stirring until smooth. Remove from heat, stir in the vanilla and set aside, allowing to cool for about 10 minutes.
In a large bowl, mix together the graham crackers, powdered sugar, salt and chocolate chips. Stir in the peanut butter mixture and mix well to combine.
 Spray the bottom of a 9x13" pan, then spread the peanut butter mixture evenly in the bottom and set aside.
make the chocolate layer:
Use a heatproof bowl over boiling water and melt the 1½ cups chocolate chips and peanut butter together, stirring well to combine.
Pour the melted chocolate over the peanut butter layer, tilting the pan to cover evenly.
Let cool for about 5 minutes, then sprinkle over the chopped peanuts.
Chill in the fridge for about 30 minutes, or until the chocolate has set, then cut into bars and serve.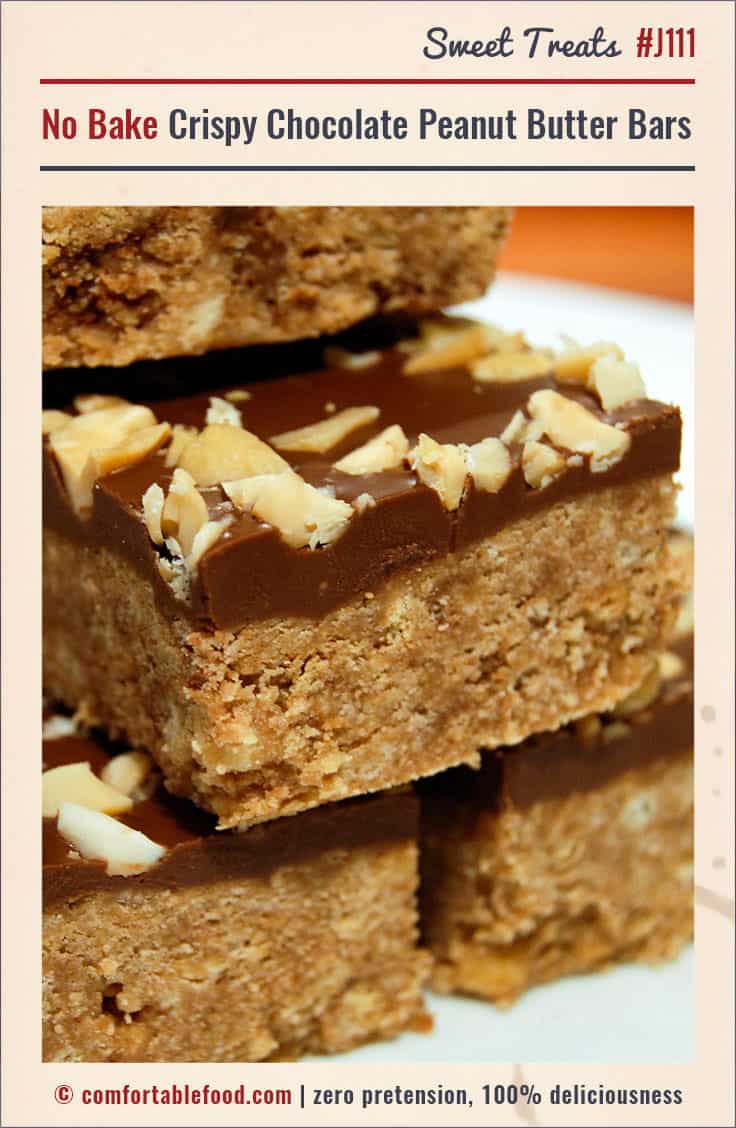 this post contains affiliate links
(This recipe was originally published here on 06/20/2013)