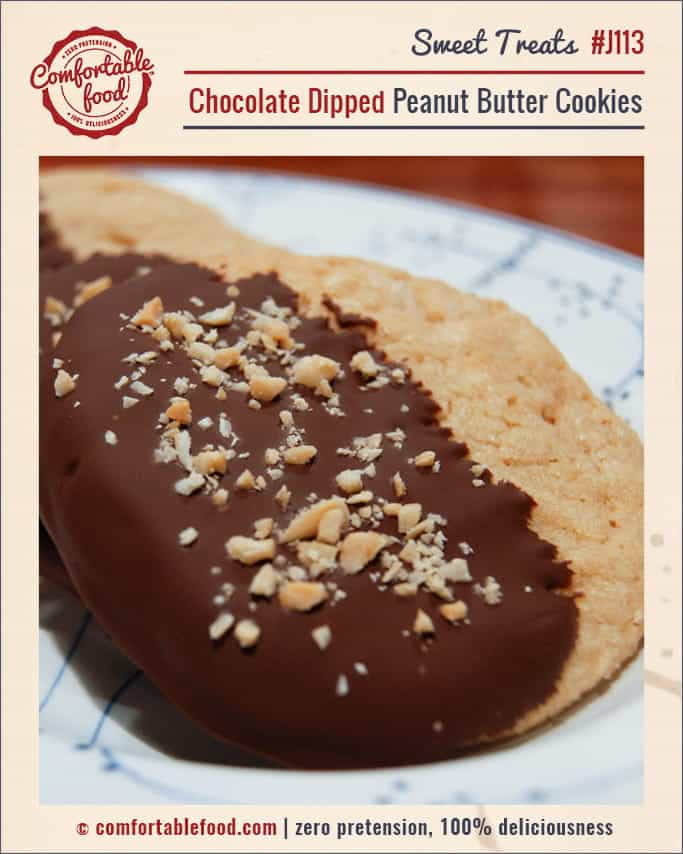 These Chocolate Dipped Peanut Butter Cookies truly embody one of the best flavor combinations around – in my humble opinion.  I've been obsessed with peanut butter and chocolate together since I was a kid, and making these cookies is a lot healthier than shoving handfuls of Mini Reese's Peanut Butter Cups into my mouth, haha.
These cookies are a bit crispy, but somehow chewy at the same time and the dark chocolate dip really just does take them to that next level. I am a creamy peanut butter person through and through and that's what I used in this recipe.  If you're a crunchy person, by all means use it – it will just add a bit more texture to them. These cookies could not be a better embodiment of the deliciousness that is the combination of peanut butter and chocolate. If you're a peanut butter and chocolate addict like me, I promise you will absolutely love these cookies.
This recipe makes about 2 dozen cookies, and the prep time is about 20 minutes and they don't cook long, only about 10 minutes so you can be snarfing them down in about 1/2 an hour. YUM!
is peanut butter and chocolate your thing? check these out:
Chocolate Dipped Peanut Butter Cookies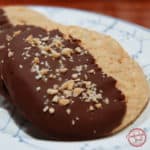 Prep Time: 20 minutes
Cook Time: 10 minutes
Serving: 2 dozen
Print
Nutrition facts

(per portion)
Nutrition facts
(per portion)
Calories: 254
Carbohydrate Content: 25.1g
Cholesterol Content: 20mg
Fat Content: 15.3g
Fiber Content: 1.7g
Protein Content: 5.8g
Saturated Fat Content: 6.8g
Serving Size: 24
Sodium Content: 179mg
Sugar Content: 15.5g
Ingredients
how to
Preheat the oven to 350 F (175 C).
make the cookies:
In a medium sized bowl, whisk together the flour, baking soda, baking powder and salt, then set aside.
In a large mixing bowl, use an electric mixer to beat together the butter and sugars, until light and fluffy. Add the egg and vanilla, mix well - then mix in the peanut butter.
Add the flour mixture and mix on low speed until combined.
Spread about 1/4 cup of sugar on a flat plate, then use a 1 tbsp measuring spoon to form balls of the dough, roll them in the sugar, then place on baking paper lined baking sheets - about 2 " apart.
Use a fork and gently press down twice in a criss cross pattern to flatten them slightly.
Bake for about 10 - 12 minutes - do not overbake. Cool slightly on the baking sheet, then remove to a wire rack to cool completely before dipping in chocolate.
to make the chocolate:
Melt the chocolate in the microwave, or in a heatproof bowl over a pot of boiling water - stirring often so it melts evenly.
Dip each cooled cookie halfway into the melted chocolate, shake off any excess, then place on baking paper to set and sprinkle the chocolate with chopped peanuts.
Transfer to the fridge for about 30 minutes to help the chocolate set.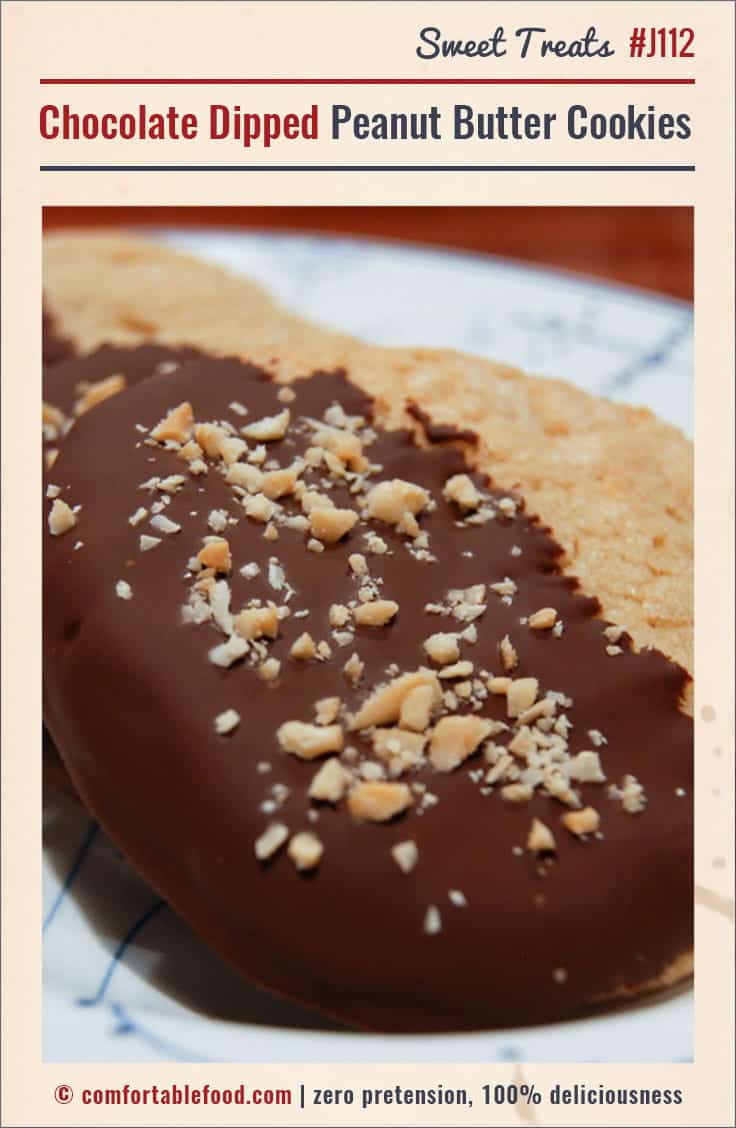 this post contains affiliate links