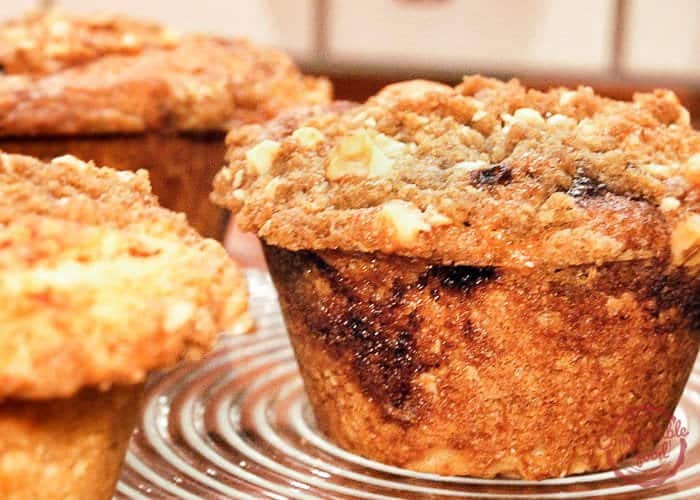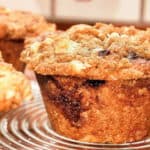 The texture in these sour cream muffins is amazing - they are just like coffee cake - firm and chewy, but not dry at all. They are perfectly sweet and the cinnamon sugar layer really does adds great flavor and sweetness.  The nutty crumble topping adds the perfectly crunch.
Ingredients
how to
to make the crumble:

In a medium bowl, sift the flour, sugar and salt together, then stir in the walnuts.
Use a pastry cutter or your fingers to mix the butter in until the mixture looks like coarse bread crumbs.  Cover with plastic wrap and refrigerate until you're ready to use it.
to make the swirl:
In a small bowl, mix the sugar and cinnamon together well, then set aside.
to make the muffins:
Preheat the oven to 350 F (175 C) and spray a muffin pan well (inside the cups and on the top) with cooking spray.
Sift the flour, baking powder, baking soda and salt together in a medium bowl, and set aside.
In a larger bowl, use an electric mixer to cream the butter and sugar together until light and fluffy.  Add the eggs one at a time, beating well after each addition.
Add the sour cream and vanilla, and mix until just blended.
Add the flour mixture in three equal additions, beating just enough to incorporate after each addition - do not over-mix.
Spoon the batter into the muffin cups, filling them about two thirds full then sprinkle over a large spoonful of the cinnamon sugar and use a knife to gently swirl it in.  Top with another spoonful of batter, spreading it evenly over the top.
Sprinkle the crumb topping on top of the muffins and bake in the oven for about 25 - 30 minutes, until a toothpick test comes clean.