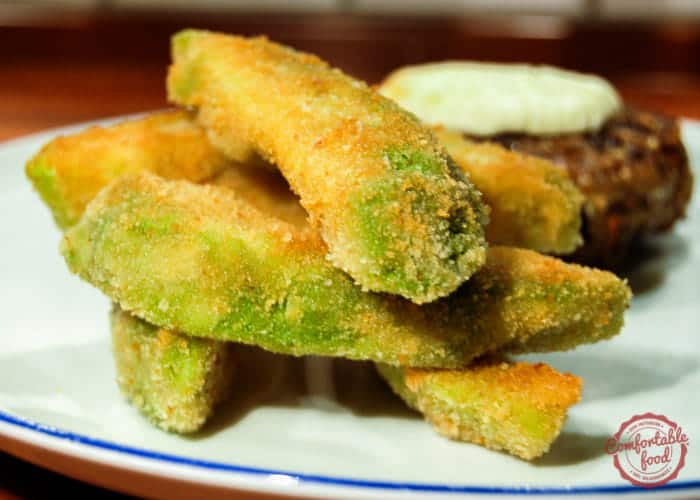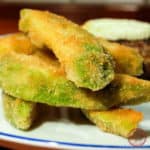 Crispy on the outside, flavorful and creamy on the inside, these avocado fries will change the way you think of this amazing fruit.  These delicious fries are perfect with a sandwich, served on the side of something hearty, or a great appetizer with a creamy dip.
Ingredients
how to
Cut the avocados in half, then carefully remove the seed and cut through the flesh, separating into 4 sections per half (be careful when cutting that you don't cut through the skin).
Use a soup spoon to scoop out the wedges from the skin, put on a plate and sprinkle generously with sea salt.
Put the flour on a shallow plate, then coat each slice well with flour and remove to a clean plate.
Beat the eggs well with the water and put in a shallow plate/bowl.
Put the bread crumbs in the same kind of bowl and season well with salt and pepper, then mix well.
Dip the floured slices into the egg wash, then roll quickly in the bread crumbs, being careful to not let them clump too much, then remove to a plate until all are coated. (add more breadcrumbs as necessary)
Pour about 1" of oil into a large frying pan, and heat over medium heat.
When the oil is hot and sizzles if you drop a breadcrumb in it, then add as many slices of avocado as can fit without touching, and let cook for about 45 seconds before turning carefully with a fork and cook for an additional 30 - 45 seconds, until crispy and brown.
Remove from oil and allow to drain on paper towels.
Keep warm in a warm oven if you want.