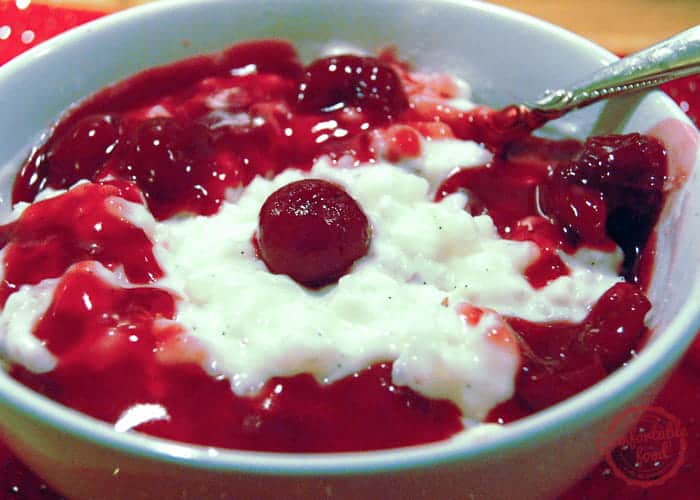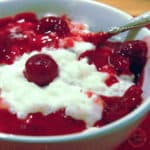 This rice pudding with cherry sauce is the most traditional Danish Christmas dessert.  The rice is so rich and creamy and sweet, and the cherries provide a perfect tartness to counter that.  If you can't find pudding rice, just use regular long grain, or arborio (risotto rice) works well too, due to its high starch content.  Fresh or frozen cherries work best, you can leave the pits in if you want extra flavor, (just warn your guests!) or pit them.
Ingredients
how to
for the rice pudding:
In a large, heavy bottomed sauce pan combine the rice and water, bring to a boil, then reduce heat and simmer until the water is gone.
Add the milk, bring it back to a boil, then reduce heat again and let it simmer until the rice has again absorbed almost all the liquid, about 30 minutes - stir it often so the mild doesn't burn.
Remove from heat, stir in the salt and sugar and allow to cool completely.
While the pudding is cooling, chop the almonds coarsely and whip the cream until it's almost stiff.
Halve the 2 vanilla beans and scrape the seeds into the cooled rice.  Add about 1/3 of the whipped cream and gently stir it in.  Add the remaining whipped cream and the almonds and gently stir to combine.
Pour this mixture into a serving dish, cover it and refrigerate until serving.
for the cherry sauce:
Put the cherries, sugar, vanilla pod and water in a medium saucepan, bring to a boil, then reduce heat and simmer for 15 minutes.
In a small bowl, mix the corn starch with a little water, until liquid, then add it slowly into the cherry sauce - stirring constantly until the sauce thickens as it slowly comes to a boil.
Serve the rice pudding cold, re-warm the cherry sauce if necessary, and serve on top.