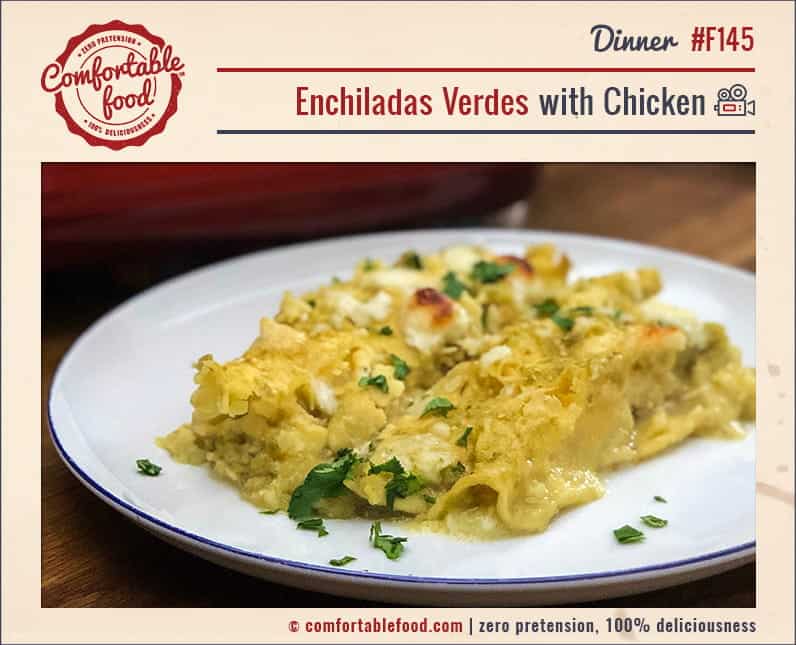 These Enchiladas Verdes with Chicken are sure to satisfy your craving for enchiladas – and if you're anything like me that's something you have to deal with often, haha. I pretty much love Enchiladas in any form possible, although I have to admit I tend more towards a hearty, spice red sauce over green. I have a ton of friends who are addicted to Enchiladas Verdes, so I decided to write a recipe (a receta, if you will) that I would love as well, and I have to tell you I succeeded.
These Chicken Enchiladas Verdes could not be better. They are a little creamy, a little sweet (but not too much) and a little spicy. The perfect combination for an enchilada, in my opinion. 🙂 For a green sauce I really think corn tortillas work best, white or yellow – but I would avoid flour, I don't think they absorb this sauce too well. As far as the cheese at the end, a good queso añejo or even chihuahua cheese is great, just something with a little saltiness to offset the sweet tomatillos. Seriously, if you want a delicious Enchiladas Verde Recipe, this one is for you. It's simple to make, and they are MUY RICO!!!
Prep time is only about 20 minutes, and they bake in the oven for the same time, so in 40 minutes you can have these on the table – so be ready to dig in!!


quieres enchiladas? here's some more:
watch this video and see how easy these Enchiladas Verdes are to make:
Enchiladas Verdes with Chicken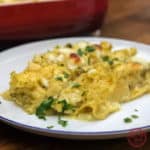 Print
Nutrition facts

(per portion)
Nutrition facts
(per portion)
Calories: 405
Carbohydrate Content: 32.8g
Cholesterol Content: 93mg
Fat Content: 15g
Fiber Content: 6.2g
Protein Content: 36g
Saturated Fat Content: 4.3g
Serving Size: 6
Sodium Content: 711mg
Sugar Content: 1.8g
Ingredients
for the salsa verde:
tomatillos - 1 28 oz can, drained
jalapenos - 2, seeded and diced more if you like
white onion - 1/2 onion, roughly chopped
garlic cloves - 2, minced
chicken stock - about 2 cups
for the filling:
vegetable oil - 1 tbsp
onion - 1/2 onion, finely chopped
garlic clove - 1, minced
chicken breasts - 4, cooked and shredded
cumin - 1 tsp
salt and pepper - to taste
chicken stock - 1/3 cup
limes - juice of 1
cilantro - 1/4 cup, chopped
sour cream - 1/4 cup
tortillas - 12 corn, less if you use flour
mozzarella - 1 cup, shredded
queso anejo - 1/2 cup, crumbled
how to
make the salsa:
Put the tomatillos, jalapeños, onion and garlic into a blender.
Pour in enough chicken stock to almost cover the tomatoes, then blend together until everything is pureed.
Pour the salsa into a medium saucepan and bring to just boiling, then reduce heat and allow to simmer for about 10 minutes.
make the enchiladas:
Heat the oven to 400 F (200 C) and spray a large casserole pan.  Spread about 1/2 a cup of the salsa in the bottom of the pan.
Heat the oil in a large skillet, over medium heat.  Add the onion and cook until softened, about 3 - 5 minutes.  Stir in the garlic and cook for another minute or two.
Add the shredded chicken and sprinkle with the cumin, generously add salt and pepper, then stir well to combine.  Stir in the chicken stock and increase the heat to medium.  Cook for about 4 - 5 minutes, or until most of the stock is absorbed.
Remove from heat and squeeze the lime over the chicken, then stir in the cilantro and sour cream.
Heat the flour tortillas for a few seconds in the microwave, then one at a time sprinkle with some mozzarella cheese and top with about 1/2 cup of the chicken filling.  Roll up tightly and place seam side down on top of the salsa in the casserole dish.
Spoon the remaining salsa over the enchiladas and sprinkle with the queso anejo.  Bake in the oven for about 20 minutes, or until heated through.
Garnish with additional sour cream and avocado.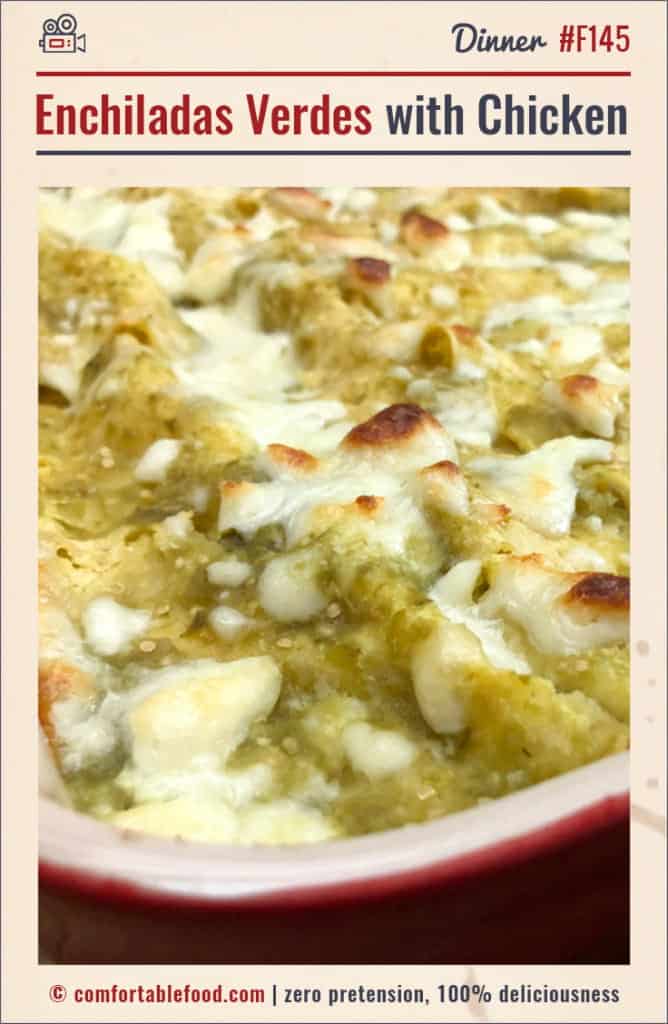 (this post contains affiliate links)