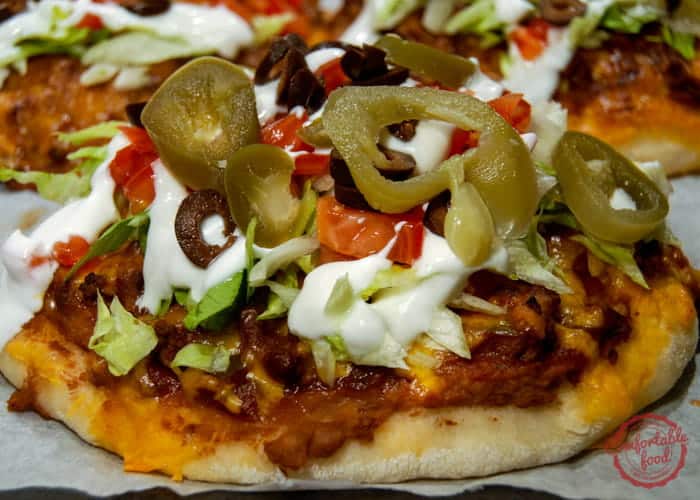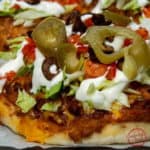 Spice up pizza night with these south of the border individual Mexican pizzas.  A traditional pizza crust provides the perfect base for refried beans, taco meat, gooey cheese and your choice of taco toppings.
[adinserter block="1"]
[adinserter block="2"]
Ingredients
how to
Preheat the oven to 400 F (200 C).
Heat the oil over medium heat in a large skillet and cook the onion and garlic until softened, about 5 minutes.
Increase the heat and add the ground beef, cook until browned, breaking it up often.  Add salt and pepper and the taco seasoning, then stir in the taco sauce, tomato paste and about 1/4 cup of water.  Allow to boil and thicken for about 7 - 8 minutes.
Lay out the pizza dough and spread an equal amount of refried beans on each one.  Spoon about 1/4 cup of salsa on top and spread out evenly.
Top with equal parts of ground beef, spreading it to the edge, then sprinkle each one generously with cheese.
Bake until the cheese is melted and golden and the crust is cooked, about 12 - 15 minutes.
Allow to cool slightly, then top with shredded lettuce, sour cream, tomatoes, olives and pickled jalapenos.  Serve with additional salsa if you like.