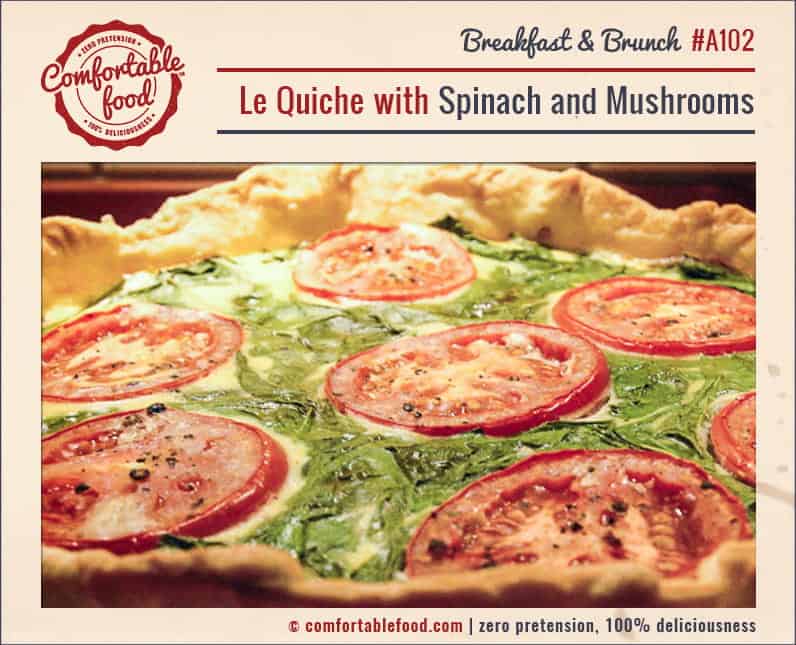 Quiche is always one of my go to meals when I want a quick dinner or am having a brunch or breakfast party and this Spinach Mushroom Quiche is one of my all time favorites.  Quiche are super easy to make and there are endless possibilities of what you can put in them and most likely you have everything you need already in your fridge.  That's what happened to me when I came up with this one – I had some spinach, mushrooms and a tomato so I put it all together, waited a few minutes then enjoyed this deliciousness.  🙂
A note on the tomatoes – one thing you really don't want is your quiche to be wet – it can get soggy and be a bit unappealing in texture and appearance.  Keeping that in mind, I let the tomato slices sit a little while on paper towels, then made sure they were sitting on the top of the quiche when it baked so the heat from the oven would do its job and dry up all that extra moisture.
Prep time for this Spinach Mushroom Quiche is about 20 minutes, and it can be in the oven up to 40 minutes, so in about an hour you can have enough Quiche deliciousness for about 4 – 6 people.
check out these other delicious quiche recipes:
Le Quiche with Spinach and Mushrooms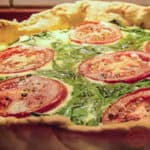 Print
Nutrition facts

(per portion)
Nutrition facts
(per portion)
Calories: 411
Carbohydrate Content: 33.5g
Cholesterol Content: 181mg
Fat Content: 27.4g
Fiber Content: 2.2g
Protein Content: 10.6g
Saturated Fat Content: 9.1g
Serving Size: 6
Sodium Content: 367mg
Sugar Content: 18.2g
Ingredients
how to
Pre-heat the oven to 175°C (350°F) degrees.
Grease a deep pie tin, or baking dish and line it with your crust.
Poke holes with a fork all around the bottom.
Line the crust with aluminum foil, and cover with pastry weights, or dried beans or rice, then pre-bake the crust in your heated oven for about 15 minutes. Remove the foil and weights, and bake uncovered for about 5 more minutes, or until starting to brown.
Remove from oven and let cool until you're ready to fill it. While the crust is baking you can prepare the mushrooms and egg filling.
Sautee the onion in olive oil over medium heat until it starts browning, about 3 – 4 minutes.
Add the garlic and sautee for a couple minutes more.
Increase the heat to medium high, add the mushrooms and sprinkle generously with salt and pepper.
Stirring frequently, cook until most of the liquid is evaporated and mushrooms have halved in size, about 10 minutes.
Place in a strainer, and let drain and cool until you need them.
To make the egg filling, beat the eggs with the sour cream and salt and pepper with a whisk until completely combined, about a minute.
Spread the dijon mustard on the bottom of the pre-cooked dough.
Add the drained mushrooms and spread evenly around the bottom.
Add the fresh spinach pushing it down slightly to pack it tighter.
Pour the egg mixture over the spinach, making sure to cover it all.
Pat the tomato slices with a paper towel, sprinkle with salt and pepper, and arrange on top of the quiche, pushing down slightly to make sure the egg covers them partly.
Bake the quiche in the oven for about 30 – 40 minutes, or until puffed up and set.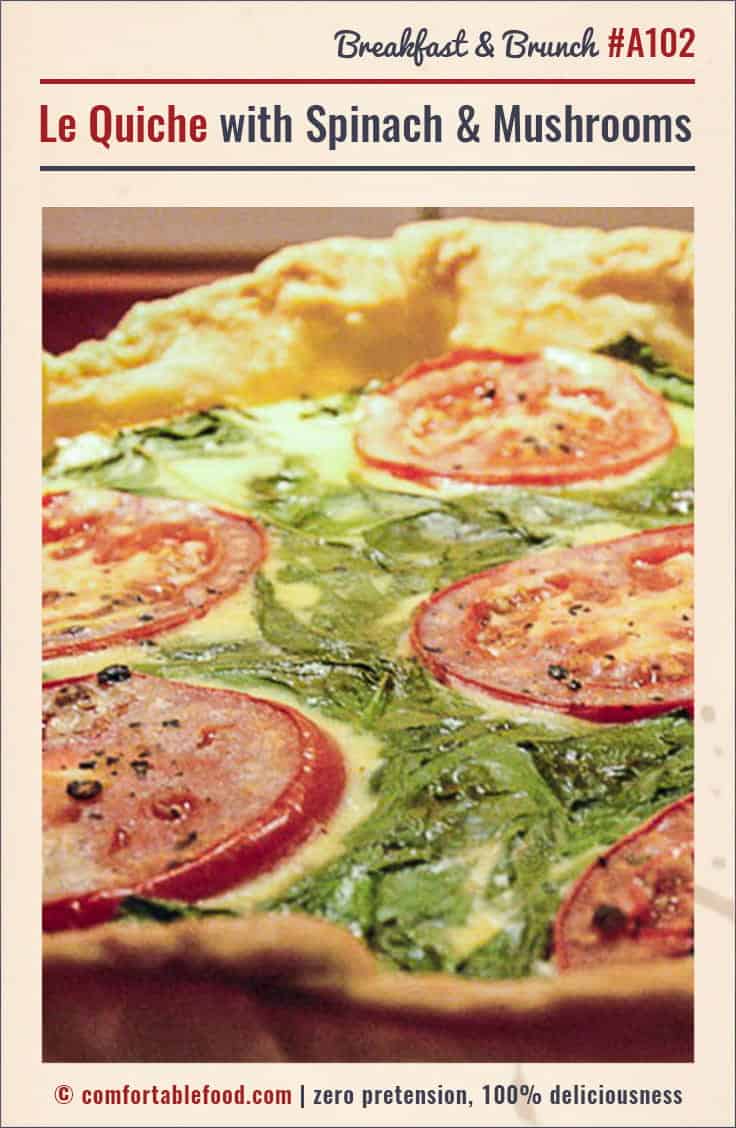 this post contains affiliate links