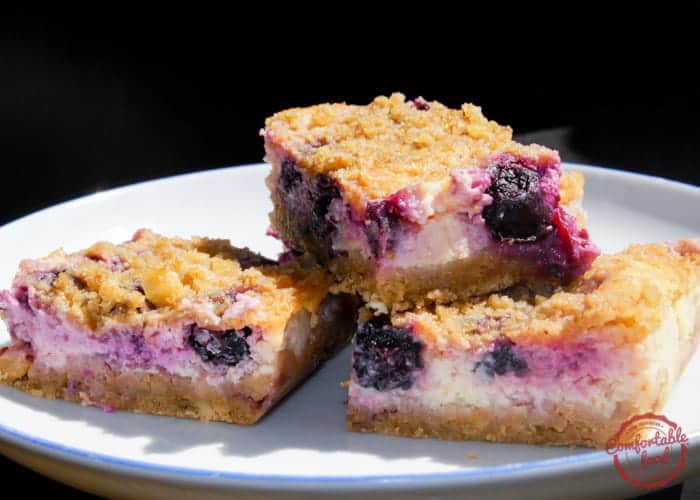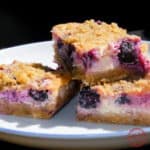 These cheesecake bars are so good.  They are just sweet enough to counter the supreme tartness of the lemon and blueberry.  I baked them in a large 9 x 13 dish, but if you want thicker bars just do it in a smaller dish - adjust the baking time a bit though.  I used frozen blueberries, and even though I rinsed them well, there still was a bit of color bleeding into the cheesecake.  Fresh blueberries would be optimal.  I love cheesecake (who doesn't) and I love tart sweets - and these bars are a perfect combination.
Ingredients
how to
Pre heat the oven to 350 F (175 C) and grease a 9" x 13" baking pan.
In a large bowl, stir together the flour, cinnamon, nuts and brown sugar.  Rub in the butter with your fingers until the mixture resembles coarse bread crumbs, then remove about 1 cup and reserve it for the topping.
Press the remaining mixture into the bottom of the prepared pan and bake for about 12 - 15 minutes - or until lightly browned.
While it's baking use an electric mixer and beat the cream cheese in a large mixing bowl until it's light and fluffy.
Add the lemon juice and zest, sugar, vanilla, and egg and beat on medium speed for a couple of minutes.
Spread the cream cheese mixture on the crust and sprinkle with the blueberries, then sprinkle on the reserved crumble.
Bake for about 30 - 35 minutes, or until lightly browned and set.  Allow to cool, then refrigerate until chilled.