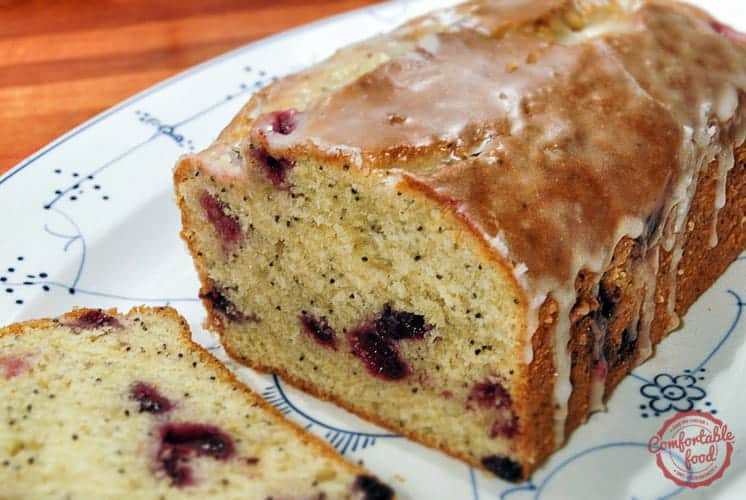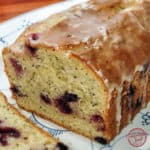 Lemon and blueberry flavors blend together so well in this pound cake.  Its sweetness really ties the tartness of their flavors together.  This recipe makes a not too moist, not too dry, but just right pound cake - the icing adds a crunchy sweet topping that's perfect with a cup of tea or coffee.
Ingredients
how to
Pre heat oven to 350 F (175 C).
Grease two 9x5" (23x12cm) bread pans, line the bottoms with baking paper, then grease paper.
In a medium bowl, combine dry ingredients.
In a large bowl, rub the lemon zest into the sugar with your hands, until the sugar yellows and turns very fragrant.
Add the butter to the sugar, and using hand held mixer, mix until fluffy and white, about 3 – 5 minutes.
Add the eggs one at a time and blend well after each one.
Add the vanilla and buttermilk, and mix well.
Add the dry ingredients all at once, and mix until just combined.
Using a wooden spoon, stir in the lemon juice, then gently fold in the blueberries.
Scrape the batter into the prepared pans, and bake on a center rack for about 1 hour, or until a toothpick inserted comes out clean.
 Check the cakes after about 45 minutes, and if browning too much, cover with an aluminum foil 'tent'.
Allow cakes to cool in pans on a wire rack for about 10 minutes.
To make the icing, whisk the lemon juice into the powdered sugar until combined and smooth.
Remove the cakes from their pans, poke holes in the top with a skewer and generously brush on the icing.
Allow to cool almost completely before slicing.