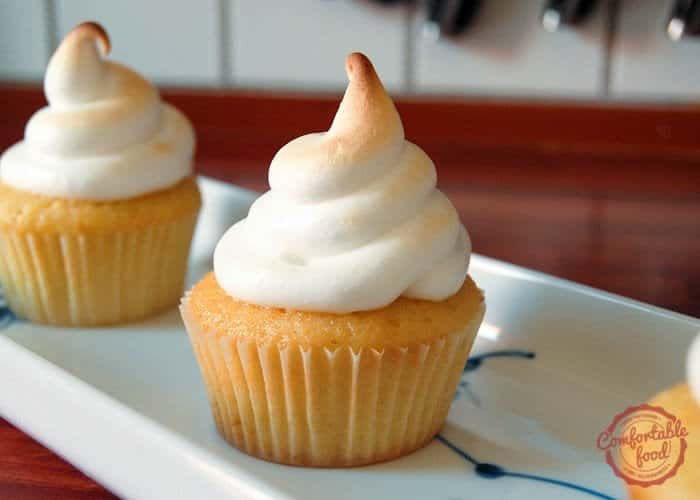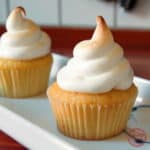 These beautiful little lemon meringue cupcakes are absolute deliciousness.  I have an obsession with lemon desserts, and these are perfect.  The cupcakes have the perfect amount of lemon flavoring, the curd is sweet and tart, and the meringue tops them off with the perfect texture and sweetness.
Ingredients
how to
to make the curd:
In a small saucepan over low heat combine the egg, butter, lemon zest, juice and sugar.
Stir often as the mixture cooks, and let it reach a boil and thicken - about 5 minutes, then remove from heat.
Strain the curd through a fine mesh sieve into a bowl, then put it in the fridge to cool and thicken.
(the longer the curd cools, the thicker it gets, so if you have time, make it the night before, or try to let it cool at least an hour before putting it in the cupcakes)
to make the cupcakes:
Preheat oven to 325 F (160 C) and line a 12 cup muffin tin.
Whisk the flour, baking powder and salt together in a large bowl and set aside.
In a separate bowl, use an electric mixer and beat the butter, sugar, and lemon rind until pale and creamy.
Add the eggs, one at a time and beat well after each addition, then add the vanilla and mix well.
Add the flour and milk in 3 alternating batches, mixing just enough to combine after each addition.
Divide the batter equally between the 12 cups, filling each about 3/4 full, and smooth the surface.
Bake for about 20 minutes or until a toothpick test comes out clean, then remove and allow to cool.
While the cupcakes are baking you can make the meringue.
to make the meringue:
Put the egg whites into a large, clean bowl and use an electric mixer to beat until soft peaks form, then add about half of the sugar, a little at a time.  Beat after each addition, but don't over beat.
Beat in the corn starch, then the rest of the sugar, again a little at a time - until the meringue is smooth and thick.
finishing the cupcakes:
Take the cooled cupcakes and core a small section out of the top in the center and fill the well with a tablespoon of the lemon curd.
Pipe the meringue decoratively on top of the cupcake, covering the lemon curd.
Use a brulee blow torch to brown the meringue, or put the cupcakes on a sheet pan near the broiler in your oven and watch carefully until the meringue browns.