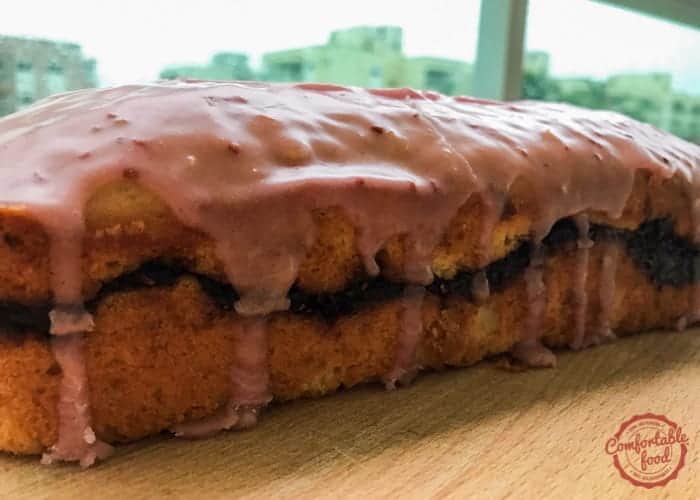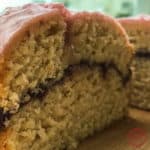 This is the perfect breakfast bread for any brunch or tea time.  It's super easy to make, you just throw the ingredients together, then watch it bake.  It's sweet and tart and the perfect accompaniment to a nice cup of tea or coffee.
I used seedless raspberry jam for this recipe, but I think it would be just as good with seeded jam if that's your preference.  It you want to change things up a little bit, you can use blackberry jam too, or any other kind that blends well with citrus flavors.
Ingredients
how to
make the cake:
Preheat the oven to 400 F and grease a 9x3x5" loaf pan.
Use an electric mixer to cream the butter and sugar together in a large mixing bowl until light an fluffy.
Add the eggs, one at a time, beating well after each one.  Beat in the sour cream, vanilla, lemon extract and lemon zest.
In a separate bowl, mix the flour, salt and baking soda together, then add to the wet mixture and mix until just combined.
Fill the load pan about 1/3 full, then gently spread the raspberry jam across the top, going all the way to the sides.  Gently spoon on the remaining batter and carefully spread evenly with a spatula.
Bake for about 40 - 45 minutes, or until a toothpick test comes back clean.
make the glaze:
Whisk together the powdered sugar and lemon juice until smooth.  Add the lemon zest and raspberry jam and mix until combined.
Spoon the glaze over the warm cake, spreading it gently and evenly with a rubber spatula.
Serve warm.