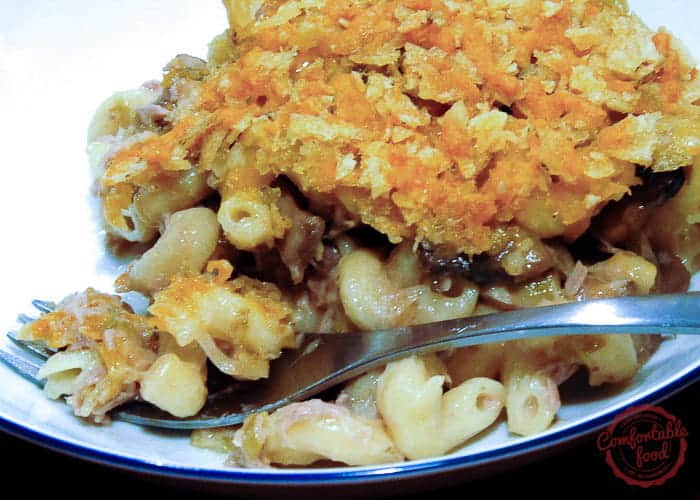 Not your mother's tuna casserole, this recipe uses fresh mushrooms and a homemade creamy sauce, not condensed soup.  The result is an extremely flavorful casserole, full of creamy tuna and mushroom deliciousness.  It's relatively easy to make, and sure to please even the most discriminating of diners.
here's a video of me making this casserole: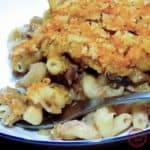 Ingredients
how to
Preheat your oven to 375 F (135 C) and butter a shallow baking dish.
In a skillet, over medium heat, melt 1 tbsp butter and cook the leek until softened, about 5 minutes.
Increase the heat to medium high then add the mushrooms and cook, stirring often, until the liquid they have released is evaporated, then add the soy sauce and cook until evaporated, then set aside.
Melt the 3 tbsp of butter in a heavy saucepan over low heat, then whisk in the flour and cook, whisking constantly, for about 3 minutes.
Add the broth in a steady stream while whisking, increase the heat and bring to a boil.
Whisk in the milk and simmer for about  5 minutes, stirring occasionally, then stir in mushrooms, tuna, lemon juice and generously add  salt and pepper.
While the milk is simmering, start cooking your pasta to very al dente.
When the pasta is cooked, add it to the creamy sauce, stir to coat all over, then pour into prepared baking dish.
Crush the potato chips in a bowl, hand mix in the cheese, then pack down on top of the pasta.
Bake until the chips are crisp, and the sauce is bubbling, about 25 - 30 minutes.