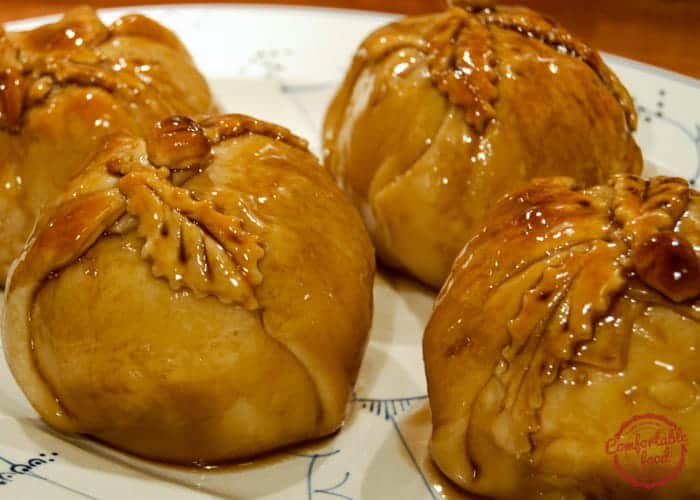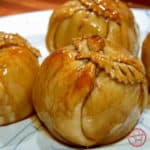 I visited my mother this summer and asked her for copies of all of her recipes, and I have been gradually going over them and re-making some of my favorite childhood foods. As we are well into fall—the perfect time for baked apple desserts—I decided to make her apple dumplings.
This recipe is super simple and easy to make, and the apples are to die for. I love the way the pie crust cooks in the syrup bath. It gets a perfect texture—the steam/baked combination is just fantastic. If you like your apples to be a bit firm, just reduce the cooking time about 5 minutes. And keep an eye on the crust—if it starts to get too brown, just put a foil tent over the top halfway through cooking.
(This recipe was originally published here on 10/24/2013)
Check out these kitchen essentials helpful in making this recipe:
Ingredients
how to
Heat oven to 425 F. Prepare pastry as directed except roll ⅔ of the dough into a 14" square; cut into 4 squares. Roll remaining dough into a 14x7" rectangle and cut in half. Place an apple in the center of each square.
Mix the raisins and nuts together and fill center of each apple. Moisten the corners of the squares and bring 2 opposing corners of pastry up over the apple and press together tightly. Fold the sides of the remaining corners (as if wrapping a package); bring corners up over apple and press together. Place the dumplings (not touching each other) in a large ungreased baking dish.
Heat the brown sugar and water to boiling and carefully pour around the dumplings. Spoon syrup over dumplings 2 or 3 times during baking (I used a baster) and bake for about 40 minutes or until the crust is golden and apples are tender. Serve warm with vanilla ice cream or sweetened whipped cream.