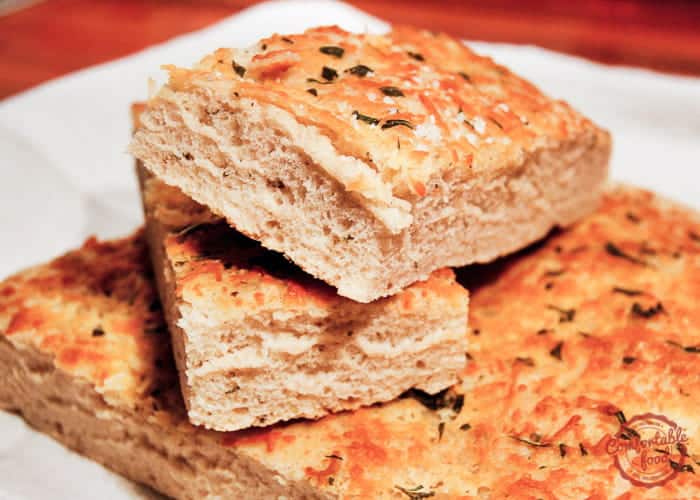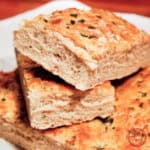 Italians know food, and their bread is no exception.  This foccacia is perfect for soaking up any leftover sauce from your pasta or for making a delicious hearty sandwich.  The texture is firm and just tough enough, it's deliciously flavored from the herbs and the parmesan, and it's insanely easy to make.  If you don't have a lot of time, but love fresh baked bread - this is the one for you.
Ingredients
how to
Put the water in a small bowl, stir in the yeast and sugar and let sit until bubbly, about 5 - 6 minutes.
In a large bowl, sift together the flour, salt, pepper and herbs.
Make a well in the center of the flour, pour in the yeast mixture and 1 tbsp of the olive oil and stir together with a wooden spoon until a dough forms.
Turn the dough out onto a lightly floured surface, and knead until smooth and elastic - about 8 minutes.
Form the dough into a ball, put in a clean large bowl and drizzle a little oil on top.  Roll the ball around to cover completely with oil, then cover with a damp cloth and leave to rise in a warm place for about 30 minutes.
Heat the oven to 425 F (220 C) and cover a baking sheet with baking paper, then spray or grease the paper.
Punch the dough down, then turn out onto the baking paper and pat into a large 1/2 " (1 cm) rectangle.
Use your fingers to gently poke the dough, making indentations all over the bread, then prick gently with a fork.
Brush the top of the bread with the remaining 1 tbsp olive oil, then sprinkle on the parmesan and fresh herbs, if using.
Bake for about 12 - 15 minutes, until golden brown.