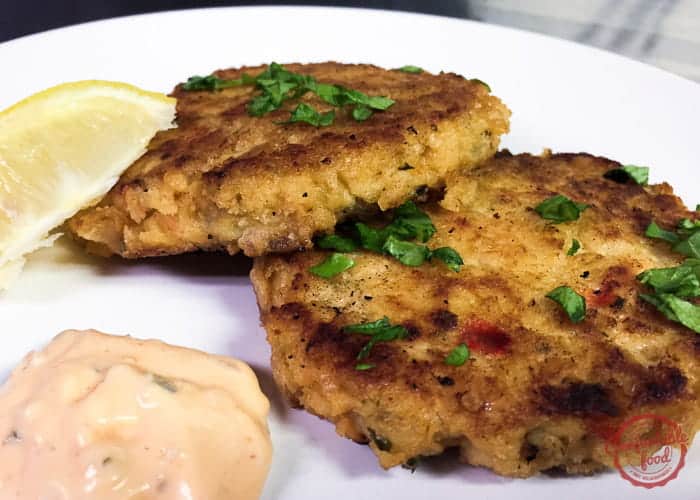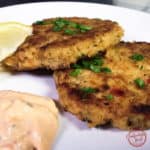 My mom used to make salmon patties all the time when I was growing up and even though I didn't care much for fish, I absolutely loved them.  Something about the crispiness of the patties and the zesty tartar sauce – yum.  I decided to try to come up with my own version of them as I remembered from childhood and I'm pretty sure I nailed it – these are delicious.
I did use fresh salmon filets for this recipe, but you can use canned if you'd like – just make sure it's very well drained.  I also think my mom used Ritz crackers, and I loved the buttery flavor they add, you can absolutely substitute them for the saltines, or use a mix.  I am actually serving these on my food truck right now with a Sriracha tartar sauce for some extra spice.  I just whisk Sriracha into store bought tartar sauce, and it's delicious.
(This recipe was originally published here on 02/06/2015)
Ingredients
how to
Place the salmon on a sheet pan, skin side down. Brush with 2 tbsp of the olive oil and salt and pepper and bake at 350 F for about 15 - 20 mins, or until just cooked. Cover tightly with aluminum foil and allow to rest for 10 minutes before putting in the fridge and allowing to cool completely.
Melt 2 tbsp of the butter in a large skillet and cook the onion, celery and bell pepper until just beginning to soften - about 5 minutes. Stir in the parsley, Tabasco, Worcestershire sauce and Old Bay seasoning and cook for a few minutes more. Remove from heat and allow to cool to room temperature.
When the salmon is cooled, flake it into a large bowl, then add ⅓ of the cracker crumbs, the beaten eggs, mayonnaise, Dijon mustard and the cooled onion and pepper mix. Mix together until well blended, then form into 6 patties. Coat the patties in the remaining cracker crumbs.
Heat the remaining 2 tbsp of butter and olive oil in a heavy bottomed skillet (preferably cast iron) over medium heat. Cook the patties in batches for about 3 - 4 minutes per side, until browned. Keep warm in the oven until ready to serve.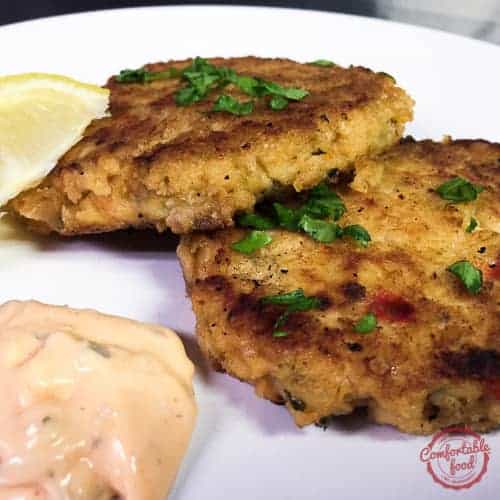 5

stars - based on

2

review(s)