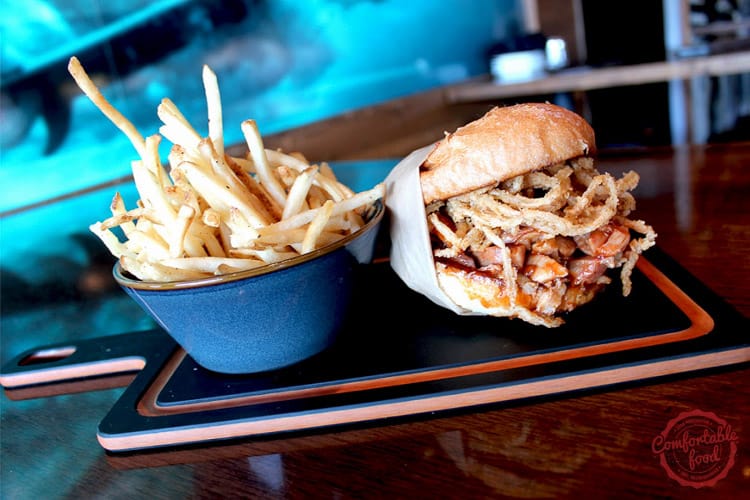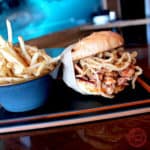 This recipe was submitted to me by The Duck Dive in San Diego, courtesy of Chef Ryan Tuskan.  It looks and sounds so amazing, I just thought I had to share it with you all here! There is some time and prep involved, but the end result is so perfectly delicious, it's worth every minute.
I haven't made it yet, but based on the reviews on The Duck Dive's Facebook page, I am sure it's a guaranteed success. If you've dined there, or had this sandwich, please feel free to share your experience with us in the comments section!
(This recipe was originally published here on 07/31/2015)
Ingredients
how to
for the pulled chicken:
Preheat oven or barbecue to 350 degrees.
Smother the chicken inside and out with dry rub, and place on chicken stand.
Squeeze lemon juice over the upright chicken and then drizzle with the melted butter.
Let chicken cook for 60-80 minutes.
Let cooked chicken sit for 30 minutes to cool.
Hand shred cooled chicken for sandwiches.
Toss shredded chicken in BBQ sauce
for the bbq sauce:
Place all ingredients into a pot and bring to a simmer.
Immediately shut off the heat when sauce reaches a simmer. If you let the sauce boil, it will turn bitter and scorch the bottom of the pan.
Use immersion blender to smooth out sauce.
For the crispy onion strings:
Preheat a small pan of oil to 350 degrees.
Dredge the onion strings first in the buttermilk then into the seasoned flour.
Fry small batches of onion strings at a time in the oil to ensure crispy strings.
Let onion strings drain on cooling rack and reserve for sandwich preparation.
building the sandwich:
Split brioche buns and spread a little mayo on each side.
Toast buns on grill.
Place a generous handful of chicken onto bottom bun.
Top pulled chicken with crispy onion strings.
Finish sandwich with top bun.