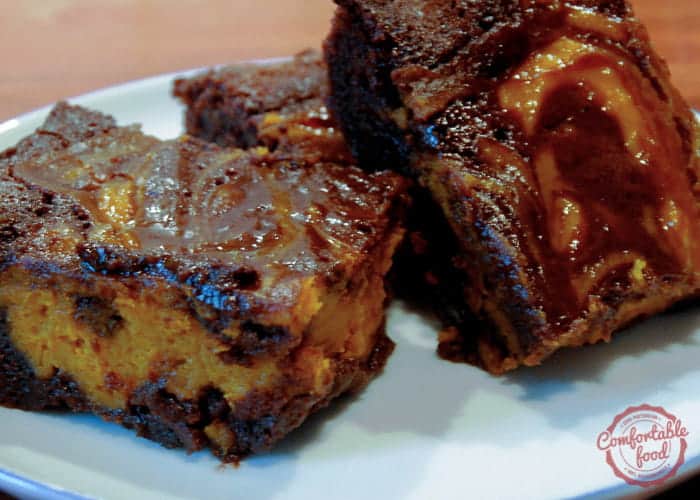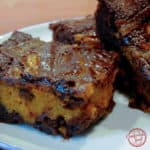 These chocolate brownies are enhanced by a creamy pumpkin cream cheese swirl.  The flavors combine here perfectly - these brownies are rich and dense and sweet and delicious - so be warned.
Ingredients
for the pumpkin cream cheese:
cream cheese - 3 ½ ounces (100 grams), softened
butter - 1 tbsp, softened
sugar - ½ cup
egg - 1, large
pumpkin - 1½ cup canned, or fresh, pureed smooth
vanilla - 1 tsp
maple syrup - 3 tbsp
cinnamon - 1 tsp, ground
ginger - ½ tsp, ground
all-purpose flour - 2 tbsp
for the brownies:
cocoa powder - ⅓ cup, good quality
instant espresso powder - ½ tsp
boiling water - ½ cup plus 2 tbsp
chocolate - 2 ounces (60 grams) unsweetened, finely chopped
butter - 4 tbsp (115 grams), melted
vegetable oil - ½ cup
eggs - 2 large
egg yolks - 2 large
vanilla extract - 2 tsp
sugar - 1½ cups
all-purpose flour - 1¾ cups
salt - 1 tsp
bittersweet chocolate - 6 ounces (170 grams), cut into ½-inch pieces
how to
Preheat oven to 325 F (160 C).
Grease a large baking pan, line the bottom with aluminum foil - leaving about a 1 inch overhang on all sides, then grease the foil.
In a medium mixing bowl, beat the cream cheese and butter on high speed for about 30 seconds, until well combined, then add the sugar and beat well.
Beat in the egg, the pumpkin puree, vanilla, syrup, cinnamon, nutmeg and ginger and combine, then stir in the flour and set aside.
Whisk together the cocoa, espresso powder and boiling water until smooth.
Add the unsweetened chocolate pieces, and whisk until melted, then whisk in the butter and the oil.
Add the eggs, yolks, and vanilla and whisk until mixture blends and comes together, then mix in the sugar.
Stir in the flour and the salt, and fold in the chocolate pieces.
Spread the chocolate mixture on top of the aluminum foil in the pan and spoon the cream cheese mixture in several mounds on top of the chocolate batter.
Using a kitchen knife, gently swirl the cream cheese mixture into the chocolate batter.
Bake for almost an hour, or until center is very set, and an inserted toothpick comes out clean.
Cool the brownies in their pan on a wire rack then use foil to lift uncut brownies out of pan, and slice.