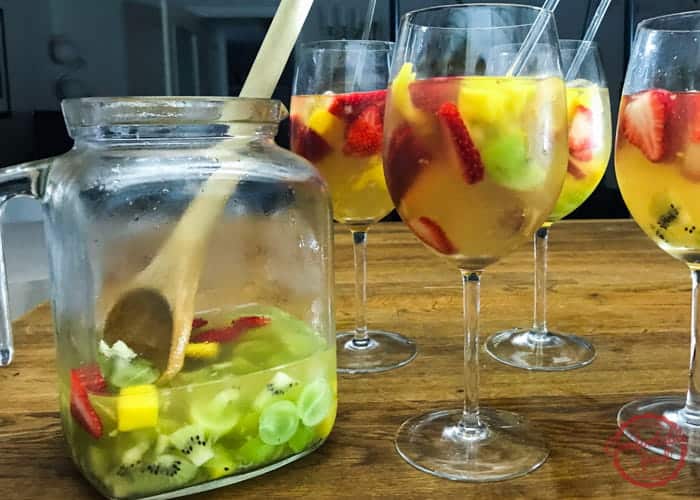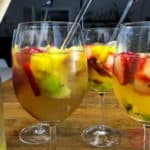 Keeping in my theme of drinking Sangria all summer, I decided to make one with white wine and with more tropical fruit.  It's every bit as good as the Traditional Red Sangria I posted last week, it's just a bit more fun and lively.  I used mildly sparking white wine in this recipe, very similar to a Portuguese Vinho Verde.  You can use something flat, something mildly effervescent as I did or go all the way and use a decent Prosecco or Cava and get some serious bubbles.
As with any Sangria recipe, you can use whatever fruit you want.  I really think that the combination I chose here is perfect, you have a variety of tart and sweet fruit - the combination is amazing.  This whole pitcher takes about 30 minutes to whip up - including chill time, so it's the perfect last minute solution to getting a party started off right.
here's a video showing how to make it:
Ingredients
how to
Put the fruit (minus the strawberries) in the bottom of a large pitcher.
Sprinkle the sugar on top, then pour in the orange liquor and the rum and stir together.
Add the white wine, then put in the fridge for at least 30 minutes for the flavors to combine.  )You can leave it in the fridge overnight if you're using white wine, but don't let it sit for more than 30 minutes if you're using sparkling.)
Before serving, add the strawberries, stir well and pour into glasses - making sure you scoop out a good amount of fruit into each one.